Recipe: Simona's Neapolitan Ragu
Posted on 5/26/2020 12:00:00 AM in The Buzz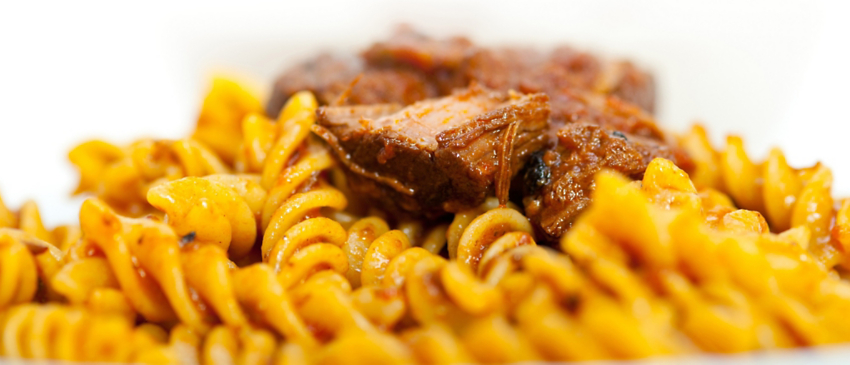 When we asked our associates what they've been doing to keep busy during lockdown, we got several responses about baking and cooking—but we were especially excited to receive this recipe from Simona Salvatori, our Vice President in Italy. Italian-Americans might recognize this ragu as the inspiration for a classic "Sunday gravy"—a rich braise of meat in tomato sauce that slow-cooks all afternoon before feeding the whole family.

While you might not be cooking for a crowd these days, this ragu freezes well. And, as Simona points out, you can adapt it to your preference of meat, or whatever you have on hand. For example, if you have meatballs in the freezer, by all means throw them in. Or if you're feeling ambitious, prepare a brasciole and let it simmer away. Regardless of what you choose, your house will smell heavenly—and it will pair perfectly with your favorite pasta and a glass of red wine.

Simona's Neapolitan Ragu

Ingredients

1 1/2 lb beef chuck
3/4 lb pork spare ribs
3/4 lb pork sausage
3 cups tomato puree
1 medium yellow onion or 2 small
4 Tbsp extra virgin olive oil
1/3 cup red wine
1 1/4 cups water
Salt to taste



Instructions
Peel and chop the onion.


Using a sharp knife, trim large pieces of visible fat from the beef and cut into 1-inch pieces.


In a very large sauce pan, heat olive oil over low heat and add the onion. Cook for a few minutes until softened.


Increase heat to medium. Add the beef, pork, and sausages. Cook for 6-7 minutes until browned on all sides.


Add the red wine and cook until evaporated.


Add the tomato puree, water, and a pinch of salt. Bring to a boil and reduce heat to low. Simmer for at least 4 hours, adding more water as needed.


When the meat is very soft and the flavors have blended, season to taste with salt. Enjoy with the pasta of your choosing.



Storage note: Ragu freezes well. It will also keep in the refrigerator in an airtight container for up to 3 days.

See how your own efforts compare to real Italian cooking when you join O.A.T. for Tuscany & Umbria: Rustic Beauty in the Italian Heartland.