Recipe: Pugliese Brasciole
Posted on 1/28/2020 12:00:00 AM in The Buzz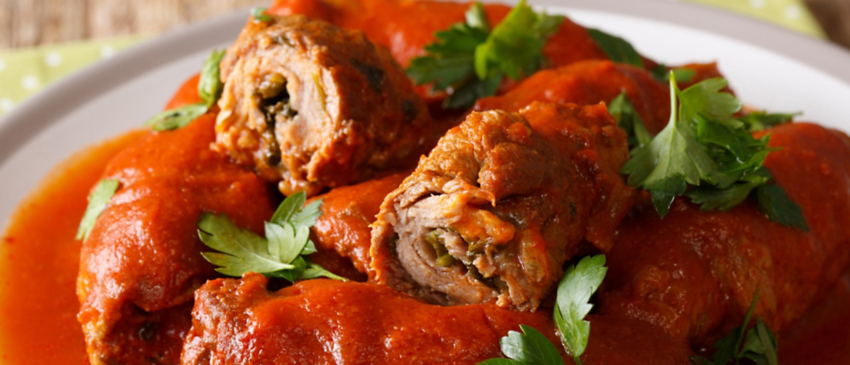 Slice it, roll it, tie it, and buon appetito! That's pretty much the core recipe of an Italian dish that varies by region and even by country—with Italian-Americans calling it brasciole, though many Italians call it involtini. In all versions, thinly sliced meat (beef is the classic, but veal, pork, or even chicken are used) is rolled up roulade-style around a filling (often cheese and breadcrumbs), with each individual brasciola tied to keep its shape before being browned and cooked. It can be a main dish with a sauce or a gravy, or served as a side. We're using the classic approach from Puglia, in which the brasciole is slow-cooked and served along with its cooking sauce on pasta. We think Nonna would approve.
Ingredients
1 lb beef top round (thinly sliced) or flank steak (pounded thin) to make 8 brasciola
1/2 cup coarse breadcrumbs
1/2 cup grated pecorino or parmesan cheese
1 Tbs minced parsley
1 tsp minced garlic
1 cup red wine (white if you prefer)
2 cups tomato sauce
1 tsp dried oregano
1 tsp dried basil
Salt and pepper to taste
Instructions
Combine the breadcrumbs, cheese, parsley, and garlic.


Distribute the filling evenly over each of the beef slices.


Roll up the meat and secure each roll with cooking twine or toothpicks.


Heat the olive oil in a large sauté pan and brown the brasciole on all sides.


Removing the brasciole, but leaving the heat on, deglaze the pan with the wine, scraping up any brown bits.


Add the tomato sauce, oregano, basil, salt, and pepper.


Returning the meat rolls to the sauce, cover and simmer 30 minutes. Uncover the pan and let simmer 10-15 minutes more.


Bring a pot of water to boil and prepare pasta as instructed. Drain when ready.


Serve the pasta with the brasciole on the side, drizzling as much or as little sauce as you like over both.
Pro tip: Once you know the basics, you can change the filling (for instance, adding prosciutto, raisins, and pine nuts for a Neapolitan spin) or the meat (thinly sliced veal and pork both work well), adjusting the cooking time to match the meat.
Savor the mouthwatering culinary heritage of Puglia during O.A.T.'s Puglia: Italy's Undiscovered Heel pre-trip extension to Sicily's Ancient Landscapes & Timeless Traditions.