Recipe: Peruvian Suspiro Limeña
Posted on 5/15/2018 12:00:00 AM in The Buzz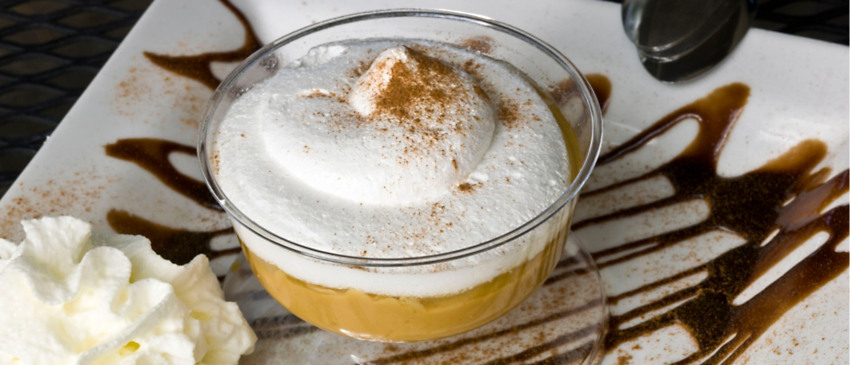 For many Peruvians, the perfect ending to dinner is suspiro a la limeña. Whether they make their tia's recipe at home or let the fine chefs of Lima serve it up with modern twists, the creamy confection hits the spot for anyone craving sweets.
The name means "sigh of a girl from Lima," and was coined by early 20th-century poet Jose Galvez. He claimed that his wife's rendition of the dessert was so silky, so ethereal, it reminded him of a young girl's love-struck sigh. While Galvez may have come up with the name, the caramel-flavored pudding was already popular, first referenced in writing as "Royal Delight" back in 1818.
With sweetened condensed milk, evaporated milk, and egg yolks, the custard is the Peruvian version of blancmange. Blended with caramel and crowned with a topping of meringue whipped into peaks, waves, or cones, it's a truly dish worth sighing over from the very first bite.
Suspiro a la Limeña
Things to consider: We use port here, but you can infuse your meringue with another liquor if you wish (such as pisco), or substitute vanilla, using a smaller amount (only a tablespoon or so).
Also, make sure your metal mixing bowl for the meringue is completely dry (since moisture makes it harder to achieve stiff peaks) and that your egg whites have no trace of yolk.
Ingredients
1 12-ounce can evaporated milk
1 14-ounce can sweetened condensed milk
3 eggs (yolks and whites separated)
1 cup sugar or superfine sugar (if you prefer powdered sugar, use 1 ½ cups)
¼ cup Port wine
2 tablespoons water
¼ tsp cinnamon
Instructions
To make the custard:
In a heavy saucepan, cook the evaporated milk and the sweetened condensed milk over low heat, stirring constantly with a wooden spoon, until the mixture thickens to a smooth custard and turns a pale caramel color (about 30 minutes). Remove from the heat.
Whisk the egg yolks in a bowl. Add a couple of tablespoons of the hot custard and keep beating for a few seconds. Pour the egg mixture into the saucepan with the remaining custard and stir gently till blended. Let the custard cool to room temperature or chill in the fridge.
To make the meringue:
In a separate saucepan, mix the sugar, Port, and water over high heat. Bring to a boil for 6 minutes without stirring. The syrup is ready when it forms a caramel thread that can be drizzled from a spoon.
Beat the egg whites with an electric beater at high speed until stiff peaks form.
Add the hot syrup in a thin and steady stream, beating until the resulting meringue is cool.
To assemble:
Fold the custard into individual cups and pipe meringue onto each serving. Or put all the custard in the bottom of a single serving dish and swirl the meringue across the entire surface.*
Dust meringue lightly with cinnamon.
Serve at room temperature or chilled.
*To apply the meringue at its most decorative, use a pastry bag or make your own, by cutting an inch off the corner of a gallon plastic bag.
Serves 4-6
Savor all the delights of Lima and beyond during your Machu Picchu & the Galápagos adventure.