Recipe: Peruvian Picarones
Posted on 2/25/2020 12:00:00 AM in The Buzz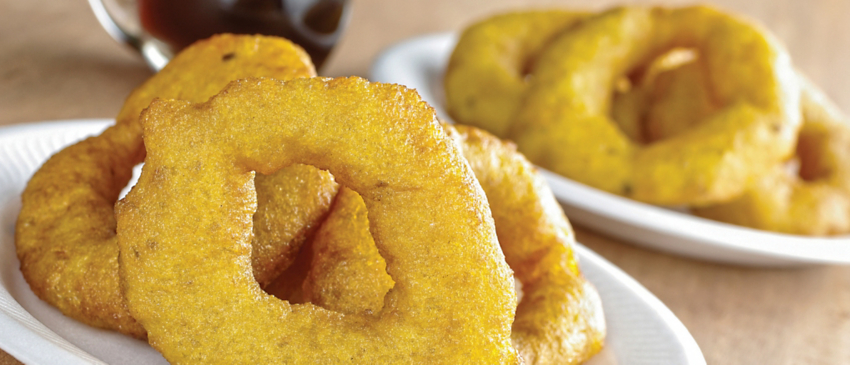 Beignets in New Orleans, churros in Mexico—the perfect fried dough is at the heart of many cultures' culinary traditions. That's true in Peru, where picarones have been made for at least 210 years, first referenced in a book about the Thirty Years War, in which the author describes eating picarones on the Plaza de Armas in 1810.
To this day, picarones are made fresh on street corners, served as the follow-up to meal of anticuchos (meat skewers) or as snack in their own right. Unlike some doughnuts, picarones get less of their texture from flour; instead, they are composed heavily of pumpkin and sweet potato puree. To make picarones, the dough (which will be sticky) is rolled around the fingers into rings, which are then cooked in hot oil. But they're not finished until they're doused with syrup made from chancaca (solid molasses) or an equivalent. Good news for first-timers: picarones are not precise in shape, so if your doughnut rings vary in appearance, you're keeping the tradition, not breaking it.
Ingredients
3 cinnamon sticks (divided, 2 sticks and 1 stick)
2 tsp. whole anise seed
2 tsp. whole cloves (divided, 1 tsp and 1 tsp)
1 lb. sweet potatoes, peeled
1 lb. raw pumpkin (or 3/4 cup canned pumpkin)
1 tbsp. instant yeast
1 tbsp. sugar
2 eggs
Salt
1/4 cup Pisco (or brandy)
3 cups flour
Juice of 1 orange
Juice of 2 limes
1/4 cup molasses
1 1/2 cups light brown sugar
1/2 cup water
1 quart vegetable oil
Instructions:
Bring a large pot of water to a boil. Add two cinnamon sticks, both teaspoons of anise seed, and 1 teaspoon of cloves to the water.


Cut sweet potato and pumpkin into large chunks (if you are not using canned), then add to spiced water, cooking until soft. Check pumpkin (which cooks faster) for doneness first, then remove, and continue cooking sweet potato till ready.


Reserve 1/2 cup of the cooking water for later, passing it through a sieve to strain out spices. Discard the remaining cooking water.


When the pumpkin and potato are cool, mash together by hand, in a food mill, or in a food processor. You need 1 1/2 cups for the dough.


Dissolve the yeast and sugar in the reserved cooking water, which should be slighter warmer than room temperature. (Do not add yeast while it is still hot).


In a standard mixing bowl, mix eggs, puréed pumpkin and potato, Pisco, and the now-spiced cooking water, using a dough hook if possible.


Add the flour slowly and continue mixing until smooth. The dough should come together and be pliant, but will likely remain sticky. If it is too loose, add just enough flour to bring it together.


Cover the bowl and let rise in a warm place until doubled in bulk (at least an hour and maybe two).


Mix molasses, sugar, orange rind, lime rind, orange juice, lime juice, the remaining cinnamon stick, the remaining 1 teaspoon of cloves, and 1/2 cup water in a large saucepan. Bring to a boil, stirring.


Lower heat and simmer 15 minutes, or until liquid thickens somewhat to resemble pancake syrup. Strain out the rind and spices, and set aside.


When the dough has doubled, prepare a large pot for frying. Heat the vegetable oil in a pot to 350 F°.


With wet fingertips, pull a piece of dough from the whole, and quickly form it into a ring to toss into the oil. Cook 30 seconds and then use a wooden dowel or the handle of a wooden spoon to flip the ring and cook 30 seconds more, before lifting out of the oil and draining on paper towels. Once you have the hang of it, you can do several at a time, just making sure they do not touch each other.


Drizzle with the spiced syrup and serve hot.
Discover ancient traditions and contemporary city life during your Real Affordable Peru adventure.