Recipe: Pastitsio (Greek Pasta Pie)
Posted on 10/22/2019 12:00:00 AM in The Buzz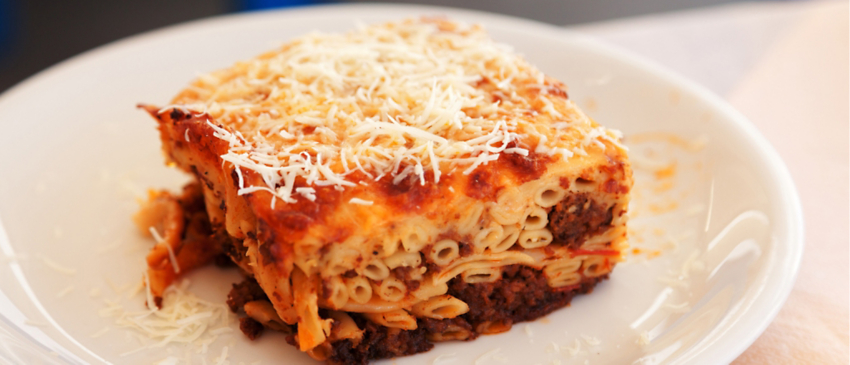 Greek pastitsio is a comfort food of the highest order. Adapted from the Italian pasta pie (pasticcio) but with no crust, it's fairly straightforward: a cheesy pasta base topped with beef and tomatoes, then smothered with creamy béchamel sauce. Pastitsio has been around for centuries and has given rise to versions in Cyprus, Turkey, and Egypt as well. Home cooks might argue about cheese (kasseri, mizithra, feta, or parmesan) or spices (nutmeg or cinnamon, or only salt and pepper), but they agree on the meal's greatest virtue: you can make all three components ahead separately and then assemble at the last minute to bake.
Pastitsio
Tip: One of the key elements in Greece is the thin tube-shaped noodle of the same name, also called "long macaroni"; any hollow tubular pasta will do: bucatini, penne, or ziti.
Ingredients
¼ cup olive oil
2 medium onions, finely chopped
2 cloves of garlic, minced
3 cups lean ground beef
14 ounces canned, diced tomatoes
1 Tbs tomato puree
1 tsp sugar
1 cup red wine
1 bay leaf
1 cinnamon stick
1 whole clove
½ cup butter
½ cup flour
3 ½ cups milk
2 egg yolks
¼ tsp salt
¼ tsp ground black pepper
a pinch of nutmeg
½ cup + ¼ cup kasseri or parmesan cheese
12 ounces of pastitsio, bucatini, penne, or ziti
4 ounces feta cheese
2 whole eggs
Instructions:
Heat the olive oil in a large pan over medium heat. Stir in the chopped onions and sauté until softened.


Stir in the garlic, tomato puree, and the beef. Sauté, breaking the meat up with a wooden spoon.


Add the red wine and cook till wine is absorbed.


Add tomatoes, sugar, cinnamon, clove, bay leaf, and salt and pepper to taste. Bring to a boil, then lower heat and simmer with the lid on for about 30 minutes, till most juice is absorbed. (Remove bay leaf, clove, and cinnamon stick at this point.)


Melt butter in a large pan over medium-low heat. Add the flour bit by bit, whisking continuously to avoid making clumps.


Whisk in the milk in a steady stream, until you have a thick sauce. If it's too thin, keep whisking over the heat a few more minutes.


Remove pan from heat and add egg yolks, salt, pepper, nutmeg, and ½ cup parmesan, whisking quickly so the egg is incorporated.


In a medium pot, cook the pasta in boiling water for 2 minutes less than the package indicates, so they are only partially cooked (as they will finish in the oven). Drain.


Fold the feta and whole eggs into the pasta.


Butter a large baking dish, then layer in first the pasta, followed by the meat sauce, and then topped with béchamel sauce, smoothing each layer with a spatula as you go. Sprinkle with remaining ¼ cup of cheese.


Bake at 375F for about 40 minutes, till crust is golden, and then let rest to cool down before serving.
Savor the rich culinary traditions of Greece during our The Aegean Islands, Athens & Istanbul Small Ship Adventure.