Recipe: Panama's Sancocho
Posted on 2/4/2020 12:00:00 AM in The Buzz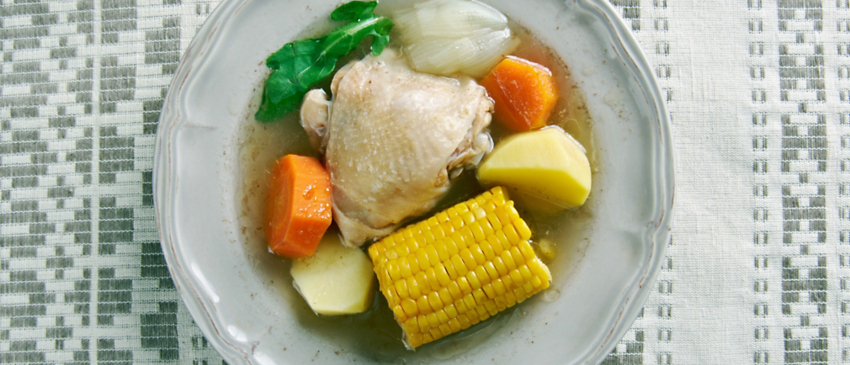 Everyone loves sancocho, the national comfort food of Panama. Its proper name is a mouthful—sancocho de gallina Panameño—but however one says it, it invokes friends and family, lively conversations around the table, and happy bellies. You can eat sancocho year round, but on a chilly day, the satisfying blend of chicken, root vegetables, and corn on the cob hits the spot with as a warm, nourishing meal.
Across Panama, recipes vary largely by which spices and vegetables are included, which can change not only the flavor of the broth but its color. For instance, using a lot of the herb culantro (not the same as cilantro) can make the stew vividly green, while emphasizing yams can render it orange. What unites all versions is the browned chicken and the fact that the dish (like most Panamanian cuisine) is typically more flavorful than spicy.
Though visitors may commonly see it on restaurant menus, fewer are aware of sancocho's other claim to fame among the local people: it is said to be a killer hangover cure. Happily, you don't have to imbibe first to enjoy our recipe below.
Panamanian Sancocho
Ingredients
1 whole chicken, cut into pieces
1 Tbsp. olive oil
3 garlic cloves, minced fine or pressed
2 Tbsp oregano
1 tsp black pepper
3 Tbsp chopped culantro (available from Latin markets) or cilantro*
1 large onion, diced
3 pounds peeled yams, yuca, green plantains, or potatoes, chopped into 1-inch pieces
3 ears corn, broken into 2-inch rounds
3 tsp salt (to taste)
*Culantro is stronger in flavor than cilantro; if cilantro is used, double the amount to 6 Tbsp, chopping both stems and leaves.
Instructions
Make a spice rub of the garlic, oregano, and pepper. Rub all over the chicken.


In a tall, heavy pot, heat the oil till glistening and brown the chicken all over.


Cover the chicken with water and add the culantro or cilantro. Bring to a boil and then reduce to a simmer for 20 minutes.


Add the chopped onions and root vegetables. Simmer on medium-low for 50 minutes, adding water as need to keep the ingredients just under water.


Add the corn and cook 15 minutes more until tender.


Add salt to taste and serve.
From the famed canal to the countryside, discover all the flavors of this diverse nation during our Panama Canal Cruise & Panama: A Continent Divided, Oceans United Small Ship Adventure.