Recipe: Pad Thai
Posted on 8/1/2017 12:01:00 PM in The Buzz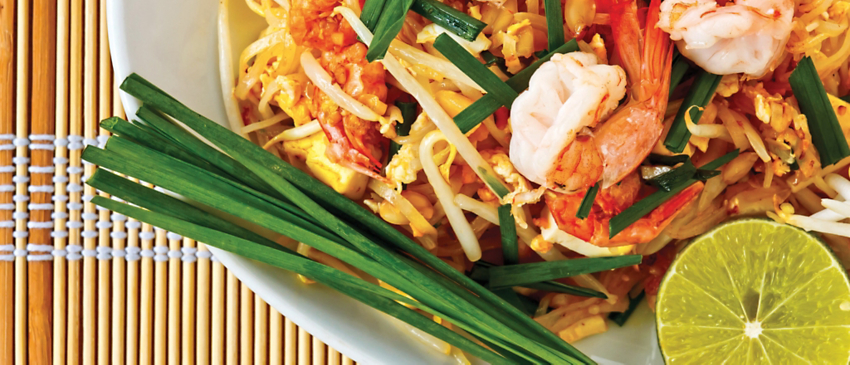 The cuisine of Thailand is about balance—hot and sour, sweet and salty—and while it varies regionally, there are several ingredients shared in common across this tropical country, like coconuts, limes, chilies, seafood, and rice. Thai meals usually feature one main dish featuring a mixture of complementary flavors and ingredients, which is served from a common platter and eaten with a fork and spoon.
Pad Thai (which translates to "fried, Thai style") is almost synonymous with restaurant-style Thai food in America, but in Thailand it's more of a "street food," a good meal to grab if you're on the go. Unlike what you'll find in many western Thai restaurants, authentic pad Thai is light-bodied and fairly dry—not oily—with a complex flavor: a mixture of earthy garlic and shallots, a touch of heat, a little sweetness, and a nice citrus tang from the juice of tamarind and lime.
This is an easy dish to make vegetarian by omitting the shrimp and using soy instead of fish sauce. Many large U.S. supermarket chains carry fish sauce in the Asian food sections, or you can find it in specialty shops. Called nam pla in Thai, it is essentially a condiment made from a fermented mixture of fish, salt, and water. While pad Thai can be thrown together quickly for a flavorful, filling dinner, it is also—as the countless street vendors in Bangkok have proven through years of intense competition—a recipe that rewards practice.
Pad Thai
Ingredients
1 package Thai rice noodles (8 oz)
1 package extra firm tofu (12 oz), cut into 1" sticks
3 cups fresh chives (use Chinese or garlic chives, if available), cut into 1" pieces
3 cups bean sprouts (canned or fresh), rinsed and drained
6 cloves garlic, minced
2 shallots, minced
¼ cup vegetable oil
¼ cup tamarind juice (or lime juice)
4 tsp fish sauce (or soy sauce)
¼ cup sugar
1 tsp red pepper flakes
2 tsp pickled radish (optional)
2 eggs
½ - 1 lb shrimp (optional)
1 lime, cut into wedges, for garnish
¼ cup roasted peanuts, roughly chopped, for garnish
Preparation
In a large bowl, soak the rice noodles in lukewarm water for 5-10 minutes, until flexible, but not soft.


Meanwhile, heat a wok (or large pot) over high heat and add the vegetable oil.


Add garlic, shallots, and tofu, and cook, stirring occasionally, until they start to brown.


Drain the rice noodles and add them to the wok, stirring quickly to keep them from sticking.


Add tamarind juice, fish sauce, sugar, red pepper flakes, and pickled radish (if using) and stir.


Once the juice is absorbed, clear some space at the bottom of the wok and add the eggs, scrambling them until they are mostly cooked.


Fold the eggs into the noodles, then add the shrimp (if using), half of the bean sprouts, and chives (saving a small amount for garnish).


Cook, stirring, until the noodles are soft and tangled.


Transfer the noodles onto a large serving dish and sprinkle with peanuts.


Serve hot with wedges of lime on the side and raw chives and bean sprouts on top. Season individually with additional sugar, red pepper flakes, tamarind juice, or fish sauce as desired.
Perhaps you'll savor authentic pad Thai on the streets of Bangkok when you join us for Ancient Kingdoms: Thailand, Laos, Cambodia & Vietnam.