Recipe: Pad Krapow Gai
Posted on 9/11/2018 12:00:00 AM in The Buzz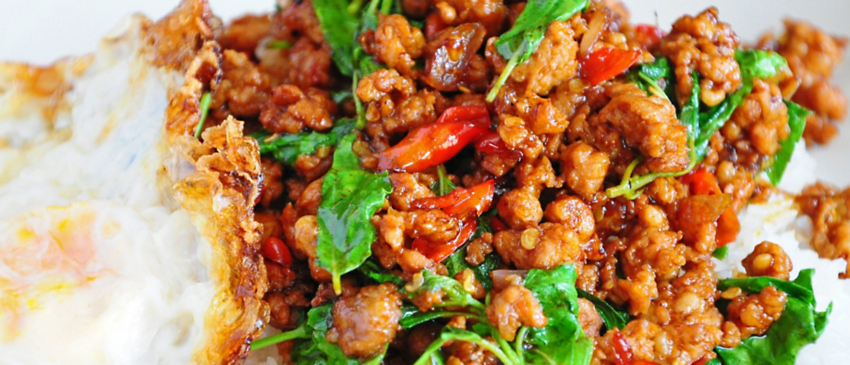 The technique of stir frying originated in China—and while today this cooking method is practically synonymous with Chinese food, it didn't become popular until the 17th century due to the steep price of cooking oil. Still, as the Chinese migrated throughout Asia, they brought their woks with them, introducing the stir fry to India, Japan, and Southeast Asia.
While the technique in this recipe is borrowed, the flavors are decidedly Thai, with that signature balance of salty, sweet, sour, and spicy—but there's one more ingredient with a surprising provenance. Chilies are so beloved in Thailand, the country lent its name to a particularly fiery variety. But the little peppers actually arrived here by way of Portuguese missionaries … who had adopted them from South America.
Whatever you choose to stir fry, it's easy to see why the concept caught on: it's fast, flavorful, and retains more nutrients than boiling or steaming. The recipe below comes courtesy of the Meatmen, who created a series of short films for the Cooking Channel. You can watch them prepare the dish after the recipe—and we dare you not to get hungry.
Pad Krapow Gai (Basil Chicken)
While the chef in the film grinds his own chicken thighs, we've taken the liberty of suggesting pre-ground meat—but feel free to grind your own if you're so inclined.
Ingredients:
7 oz ground chicken thigh meat
4 garlic cloves
3 shallots
4 Thai chilies
2 Tbsp vegetable oil
1 1/2 Tbsp Asian fish sauce
1 tsp soy sauce
1 tsp sugar
3/4 oz sweet basil leaves
Dash of white pepper
2 eggs
White rice
Preparation:
Finely chop garlic cloves and shallots. Combine in a small bowl and mix.


Chop chilies and grind in a separate bowl.


Heat vegetable oil in a wok or large skillet. Stir in mixture of garlic cloves and shallots until fragrant. Then, add ground chicken and stir-fry until golden.


Add chilies, fish sauce, soy sauce, sugar, and white pepper, and mix well. Sprinkle in well-washed sweet basil leaves and continue to stir-fry for another 15 seconds or until basil is wilted.


Serve with white rice and a fried egg, sunny side up.
Serves: 2
Follow along as the Meatmen prepare Pad Krapow Gai in this mouthwatering short film:
Contrast the balance of traditional Thai flavors with other cuisines from Southeast Asia when you join O.A.T. for Ancient Kingdoms: Thailand, Laos, Vietnam & Cambodia.