Recipe: Lomo Saltado
Posted on 2/27/2018 12:00:00 AM in The Buzz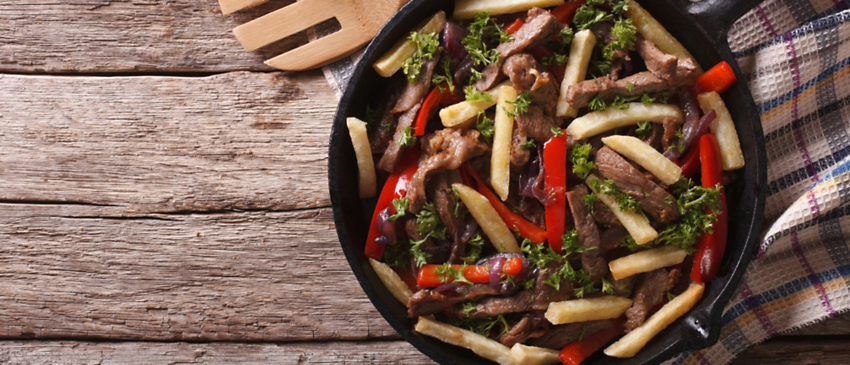 When you think of Peruvian food, ceviche and rotisserie chicken probably come to mind—but what about stir fry and fried rice? Chinese food has become so deeply ingrained in Peruvian culture, some dishes with eastern roots appear on menus right alongside traditional local specialties. The most popular, including lo mein (tallarin), fried rice (chaufa), and beef stir fry (lomo saltado), are no longer considered ethnic food.
In the mid-19th century, after slavery had been abolished in Peru, thousands of Chinese immigrants came to fill the resulting labor shortage, taking jobs in mines and on plantations. While they brought their beloved family recipes with them, they couldn't find many of their traditional ingredients, and had to improvise with South American staples. Realizing that the people of their adopted homeland shared a fascination with the cuisine of the Far East, they began opening restaurants in the 1920s—and Chinese food became a national obsession. The term "chifa"—which refers to both the style of cooking and the restaurants themselves—likely evolved from a mispronunciation of a Mandarin word for rice. In Lima, you'll find one on every block.
To sample the flavors of chifa in your own kitchen, try our recipe for lomo saltado. The technique and flavors come from China, but the addition of French fries is decidedly Peruvian.
Lomo Saltado: Beef Stir Fry
Ingredients:
2 russet potatoes, peeled and sliced into matchsticks
Oil, for deep frying
2 Tbsp soy sauce
3 Tbsp red wine vinegar
1/3 cup beef stock
2 tsp cumin
1 lb sirloin or rib eye, thinly sliced
Salt and pepper
3 Tbsp vegetable oil
1 small red onion, sliced vertically
3 plum tomatoes, sliced into strips
1 aji Amarillo chili pepper or jalapeno, seeded and sliced into strips
Handful of chopped cilantro or parsley for garnish (optional)
Instructions:
For crispier fries, soak potatoes in water for a couple of hours to remove excess starch. Drain and dry.


Heat oil for deep frying in a heavy-bottomed pot and fry potatoes until golden. Set aside.


Combine soy sauce, vinegar, beef stock, and cumin in a small bowl. Set aside.


Season beef with salt and pepper.


In a wok or skillet, heat oil over high heat. Brown beef, working in batches to avoid steaming your meat instead of searing, about 2-3 minutes per side. Remove meat from pan.


Add onion and cook until softened, about 3 minutes.


Add tomato and chili pepper, and cook until tomato has just begun to soften, about 1 minute.


Return beef to pan and add soy sauce mixture. Cook for about 3 minutes. Toss with French fries right before serving.


While it may not be necessary—or nutritious—to double down on starch, Peruvians enjoy this with white rice, in a nod to the dish's Chinese roots.
Serves: 4
Seek out chifa and other Peruvian specialties when you join O.A.T. for Machu Picchu & the Galápagos.