Recipe: Korean Kimchi
Posted on 7/16/2019 12:00:00 AM in The Buzz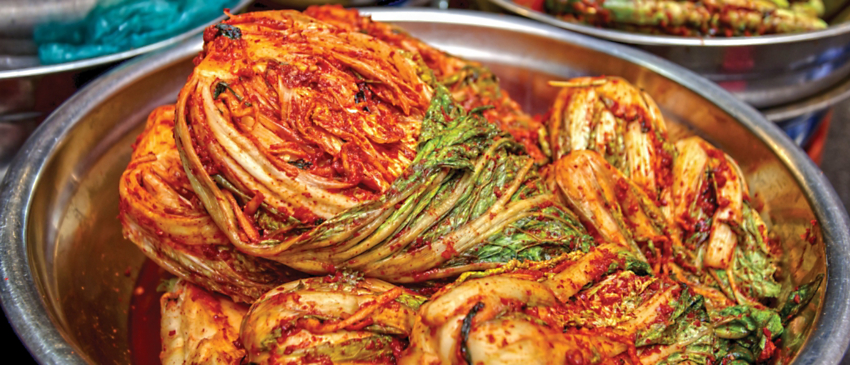 Fermented foods have been an important part of the Korean culinary landscape for thousands of years—and kimchi, arguably the most popular fermented product in South Korea, has been around since 37 BC. The classic version is made with cabbage, radish, and gochu, a red pepper that counteracts harmful bacteria. Koreans use the culinary technique of fermenting foods to preserve ingredients, which is important during harsh winters when it may be more difficult to cultivate crops.
If your gut is telling you to try kimchi, then you should listen to it because research has proven that this trendy food has great health benefits. Kimchi protects the immune system, is rich in vitamins A and C, and promotes healthy bacteria that aids in digestion. If that isn't reason enough to try it, it's also a versatile ingredient that can be added to a variety of dishes—including soups and fried rice. Kimchi is so revered in South Korea that the "tradition of kimchi-making" was added to the Intangible Cultural Heritage of Humanity list in 2015.
Kimchi
This recipe makes a one-gallon jar of kimchi, which can be consumed alone for about 3 weeks. After 4 weeks, the kimchi gets too fermented, so it is recommended that you cook it as part of a hot dish.
Ingredients:
1 cup plus 1 tablespoon sea salt
Water
2 heads Napa cabbage, cut into quarters or 2-inch wedges, depending on size of cabbage
1 bulb garlic, cloves separated and peeled
1 (2-inch) piece of ginger root
1/4 cup fish sauce or Korean salted shrimp
1 Asian radish, peeled and grated
1 bunch of green onions, cut into 1-inch lengths
1/2 cup Korean chili powder
1 teaspoon sugar (optional)
Instructions
Add 1 cup of salt to a 1/2 gallon of water. Place cabbage in the salt water and let sit for 3 to 4 hours.
In a food processor, mince garlic, ginger, and fish sauce or shrimp. Combine garlic mixture with radish, green onions, chili powder, 1 tablespoon salt, and optional sugar. Toss ingredients together. (Please note: Wear gloves if you choose to toss with your hands to avoid chili burn.)
Remove the cabbage from the salt water, rinse, and drain. Place the radish mixture in between the cabbage leaves, starting with the outermost leaf. Spread the radish mixture evenly over the leaves. Once the cabbage is filled, wrap the largest leaf around the whole cabbage. Place cabbage in a 1-gallon jar—make sure to seal the jar tightly.
Place the jar in a cool setting and leave it for 2 to 3 days. Remove kimchi from jar and cut into bite-sized pieces. Keep refrigerated after opening.
Taste the many ways in which kimchi features in South Korean cuisine when you join O.A.T. for South Korea & Japan: Temples, Shrines & Seaside Treasures.