Recipe: Italian Torta Fregolotta
Posted on 7/10/2018 12:00:00 AM in The Buzz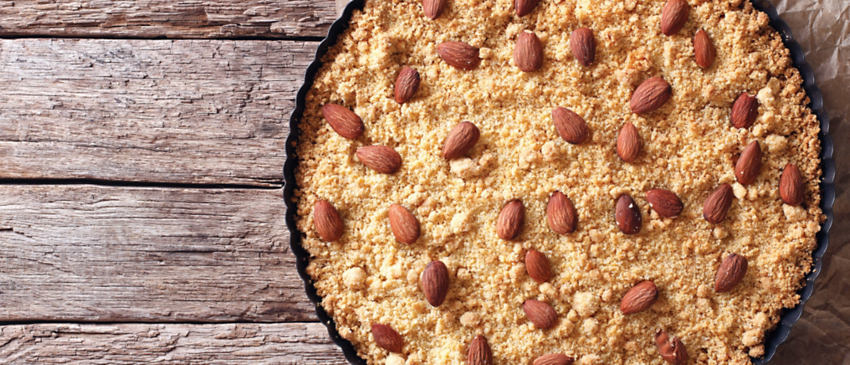 Spread across the Dolomite Alps, the Alto Adige region of Italy identifies more with its northern neighbors—Austria and Germany—than its pasta-loving fellow countrymen to the south of the country. That's because the capital of Bolzano was part of Austria until World War I, and the people who live here—as with every region of Italy—are fiercely protective of their culture and traditions. So while you will find typical Italian dishes on menus up north, you can also enjoy sausage instead of salumi, or spaetzli instead of spaghetti. It's the type of rustic, stick-to-your-ribs home cooking that you'd expect from Central Europe.
Alto Adige desserts are similarly humble in appearance and execution. In the local version of apple strudel, apples are tossed with breadcrumbs, butter, pine nuts, and raisins, then flavored with rum, lemon zest, and cinnamon sugar. Some purists say you must use Renatta apples from the Val di Non, but (just like anywhere else on earth) a hundred grandmothers will each have their own ideas about the real secret to good strudel.
Another rustic favorite is torta fregolotta, a crunchy almond tart that is as simple as mixing a few ingredients into a shaggy dough that gets pressed into a pan before baking. You can serve it on a plate, but the crumbly nature means it will slice a bit raggedly, so many people just break off pieces to eat at room temperature with a nice white wine. Either way, it's a homey dish that reflects the warm welcome of Alto Adige.
Torta Fregolotta (Almond Tart)
Ingredients:
1/2 cup finely ground blanched almonds
1/2 cup ground cornmeal
1/2 cup sugar
2 cups cake flour
2 large egg yolks
1 teaspoon vanilla extract
1 teaspoon grated lemon zest
1 teaspoon grated orange zest
10 tablespoons butter softened
Preparation:
Preheat the oven to 375 degrees. Grease a 9 by 13-inch baking sheet or an 11-inch tart pan and set aside.


In a large bowl, mix almonds, cornmeal, sugar, and cake flour.


In a glass measuring cup, lightly mix the yolks, vanilla, and zests.


Make a well in the center of the dry ingredients. Gently pour the liquid mixture into the well.


Incorporate the liquid into the dry ingredients with a fork, until nicely combined and holds together somewhat.


Press the butter* into the ingredients until a crumbly dough forms. (The name of the dish means "rubbing dough" so you would traditionally use your fingertips to do this.)


Turn the dough onto the baking sheet, distributing it evenly and then patting it into place.


Bake 25 minutes or so, until firm and golden. Allow to cool completely before serving.


Broken into pieces and bagged in a Ziploc bag or Tupperware, fregolotta will keep for one week.
See how the cuisine of Alto Adige differs from quintessential Italian during our new Northern Italy: The Alps, Dolomites & Lombardy adventure.