Recipe: Israeli Shakshuka
Posted on 1/16/2018 12:00:00 AM in The Buzz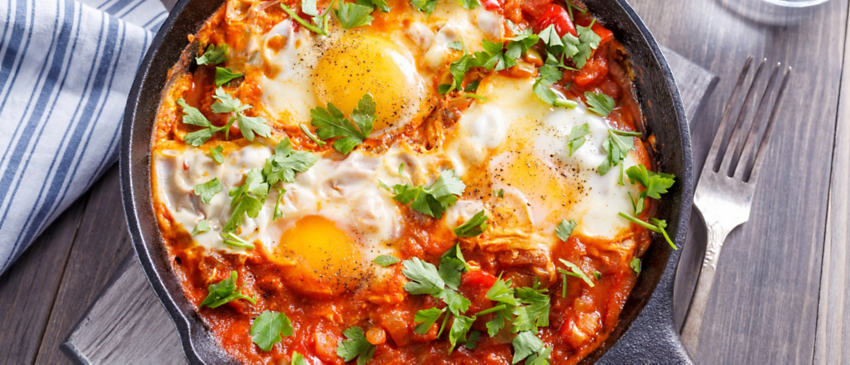 Shakshuka may have originated in North Africa, but Israel made it a phenomenon—both nationally, and internationally. It arrived by way of Tunisian Jews, who immigrated to Israel in the 1950s. A simple concoction of eggs cooked in vegetables and served with bread, its popularity spread quickly due to its affordability; it even became a staple food of the Israeli army. And while it's primarily considered a breakfast food, it's versatile enough to enjoy any time of day.
As early as the 1980s, shakshuka began popping up on brunch menus in the U.S.—but in 2010, it practically reached cult status when Israeli-born chef Yotam Ottolenghi included a recipe in his wildly popular cookbook, Plenty. Shakshuka also appeals to health-conscious diners; not often can you find a brunch dish that's both low in carbs and easily made dairy-free.
Most traditional recipes are simple, including just tomatoes, peppers (sweet or hot), garlic, salt, paprika, and poached eggs. In the recipe below, we use roasted red peppers, which cuts down on the cooking time (always a win at breakfast). We also use onion to flavor the sauce, which Israelis embrace and frown upon in equal measure.
But at its most basic, shakshuka means eggs cooked in sauce. Beyond that, the ingredients are up to you: change up the vegetables, add a splash of cream, omit the dairy altogether, or use a different spice profile. The one rule we recommend you not break? Serve your shakshuka alongside a good, crusty bread to mop up your delicious sauce—health-conscious brunching be damned.
Israeli Shakshuka
Ingredients:
1 Tbsp olive oil
1/2 onion, diced
6 cloves garlic, chopped
1 28-ounce can diced tomatoes
1 roasted red pepper, sliced
2 tsp salt, or to taste
1 tsp sweet paprika
Pinch of cayenne pepper, to taste (optional)
6 eggs
1/4 cup parsley, chopped
1/2 cup feta, cubed or crumbled (optional)
Preparation:
In a large skillet or sauté pan, heat olive oil over medium heat. Add onion and cook until translucent. Add garlic and cook for a moment more, just until fragrant.
Add the tomato, roasted red pepper, salt, paprika, and cayenne (if using). Bring to a simmer over medium heat and cook for about 10 minutes, or until the sauce has slightly reduced.
Use a large spoon to make a well near the edge of the pan. Crack an egg into the space, and gently spoon a little sauce over the white, leaving the yolk exposed. Work your way around the pan with the remaining 5 eggs.
Sprinkle feta around the eggs (if using). Reduce heat to low. Cook for 5-8 minutes, or until whites are just set and yolks are still runny.
Sprinkle with parsley and serve with crusty white bread.
Serves: 4-6
Perhaps you'll sample shakshuka—and plenty of other local specialties—when you join O.A.T. for Israel: The Holy Land & Timeless Cultures.