Recipe: Irish Soda Bread
Posted on 10/10/2017 12:00:00 AM in The Buzz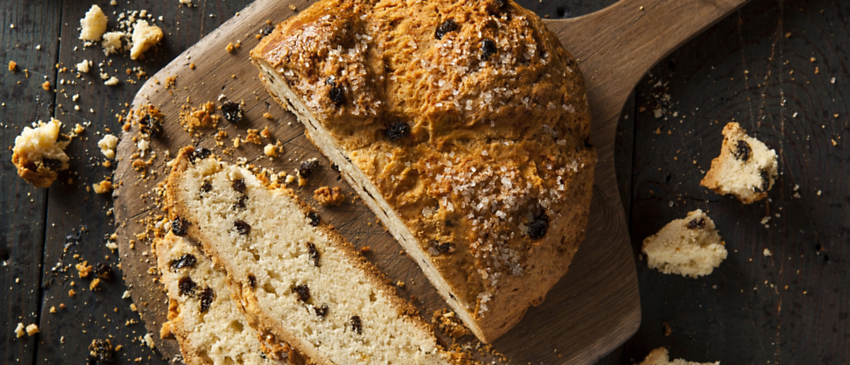 Sometimes the simplest recipes are also the most comforting. Classic Irish soda bread evokes a time when families baked fresh loaves daily over an open hearth—and when cooks made the most of every ingredient, grateful for whatever nourishment they shared around the table.
Traditional Irish soda bread contained just four ingredients: flour, baking soda, salt, and buttermilk. Together, the baking soda and buttermilk serve as the leavening agent—a technique that had long been used by indigenous peoples in the Americas before the Irish adopted it in the mid-19th century. The flour available in Ireland at the time was made from soft wheat, with less gluten than typical bread flour. When the buttermilk reacts to the baking soda, carbon dioxide is released, and the dough begins to rise immediately. Not only is this "quick bread" technique much faster than waiting for yeast dough to rise, it requires much less skill to execute successfully. We consider that a win-win.
This recipe from Epicurious breaks from tradition by including sugar, raisins, and caraway seeds—more similar to a version known as "spotted dog" in Ireland. You can watch the experts prepare it in a film following the recipe, and download an easy-to-print PDF.
Irish Soda Bread
Ingredients:
4 cups cake flour
1 tablespoon baking soda
1/2 cup sugar
1/4 teaspoon salt
1/4 cup vegetable shortening
1 cup dark raisins
1 tablespoon caraway seeds
1 cup cold buttermilk
Preparation:
Preheat oven to 400°. Prepare a baking sheet with a light coat of oil and a sprinkling of cornmeal.


In a large bowl, sift together flour, sugar, baking soda, and salt. Add shortening. Massage the shortening into the dry ingredients with your hands until the shortening is broken down. Add caraway and raisins. Continue to mix with your hands.


Add buttermilk to the dry mix and massage with your hands until a doughy consistency forms. Transfer the dough from the bowl to a flat surface. Knead the dough for 30 seconds.


Roll the dough into a cylindrical shape and cut in half (or sixteen equal pieces). Fold the two pieces of dough in half three times, rotating before each fold. Face the seam of the dough down toward the flat surface. While keeping the dough on the flat surface, cup it in your hands and pull it toward you. Rotate the dough and repeat.


Transfer the dough to the baking sheet and sprinkle with flour. Cut an X into the top of the dough. Bake for 25 minutes, or until golden brown and firm in the center. Cool the soda bread and enjoy!
Makes 2 loaves or 16 rolls
Download and print the recipe here >>
Experience the flavors and traditions of Ireland when you join our Maritime Jewels of the British Isles & Ireland Small Ship Adventure.