Recipe: French Crêpes
Posted on 11/21/2017 12:00:00 AM in The Buzz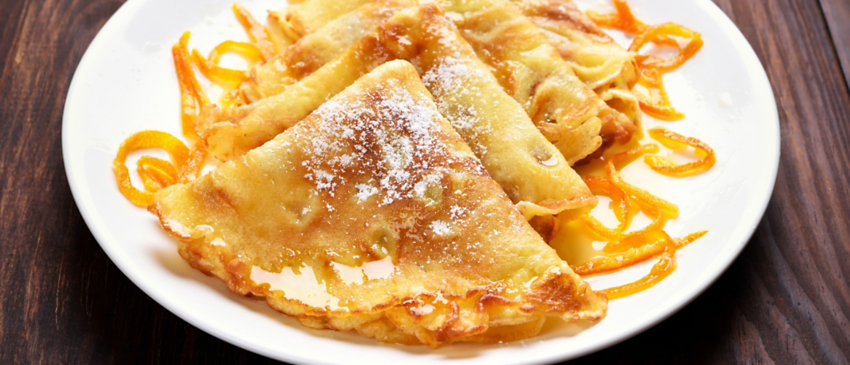 From sweet to savory, French crêpes can be prepared with an endless variety of fillings and enjoyed for any meal of the day—but this sophisticated snack came from simple beginnings.
The dish originated in the Brittany (Bretagne) region of northwestern France, between the English Channel and the Bay of Biscay. Somewhere around the 12th century, traders from the East introduced buckwheat to the area. While the landscape of Brittany is largely rocky and barren, the new crop thrived—and thin pancakes made from a batter of ground buckwheat, salt, and water became a favorite way to maximize the grain, which is rich in fiber and protein yet naturally gluten free.
If that all sounds a bit too healthy for you, white flour surpassed buckwheat in popularity when it became readily available in the 20th century. Today, it's typically used for sweet crêpes, while buckwheat is still preferred in savory preparations more commonly known as galette.
This recipe from Epicurious focuses on the sweeter side. There's definitely a bit of technique involved, so take a look at the film after the recipe, which is followed by an easy-to-print PDF.
Sweet French Crêpes
Ingredients:
2 3/4 cups whole milk
3/4 cup plus 2 tablespoons heavy cream
4 large eggs
2 cups all-purpose flour
2 tablespoons sugar
1/8 teaspoon salt
1 tablespoon vanilla extract
About 4 tablespoons unsalted butter, softened, for cooking crêpes
Assorted fillings, such as fresh lemon juice and sugar or bananas and Nutella
Preparation:
In large bowl, whisk together 1 3/4 cups milk, heavy cream, and eggs. Gradually whisk in flour until smooth. Whisk in remaining 1 cup milk, sugar, salt, and vanilla. Strain batter through fine-mesh sieve, discarding any lumps. Refrigerate at least 1 hour or up to 2 days.


Using pastry brush or paper towel, lightly coat 6-inch crêpe pan or cast-iron skillet with butter. Heat pan over moderately high heat until butter is hot but not smoking. Whisk batter briefly to reincorporate any settled solids.


Ladle about 2 tablespoons batter into pan, immediately tilting and rotating skillet to coat bottom. Cook until crêpe is just set and golden around edges, 10 to 15 seconds. Using tip of knife, loosen edge of crêpe, then, using fingertips, carefully flip crêpe over. Cook until underside is set, about 20 seconds more. Transfer cooked crêpe to platter and keep warm.


Repeat to cook remaining crêpes, coating pan with butter each time and stacking crêpes on platter. Fill crêpes with desired fillings and serve immediately.
DO AHEAD: Crêpes can be made 1 day ahead. Refrigerate, covered. To rewarm, transfer stack to baking sheet, cover with foil, and heat in 300°F oven about 15 minutes.
Makes 48 6-inch crêpes
Download and print the recipe here >>
Perhaps you'll sample crêpes and other traditional French delicacies when you join our Seine: Paris to Normandy River Cruise.