Recipe: Fiš Paprikaš
Posted on 1/23/2018 12:00:00 AM in The Buzz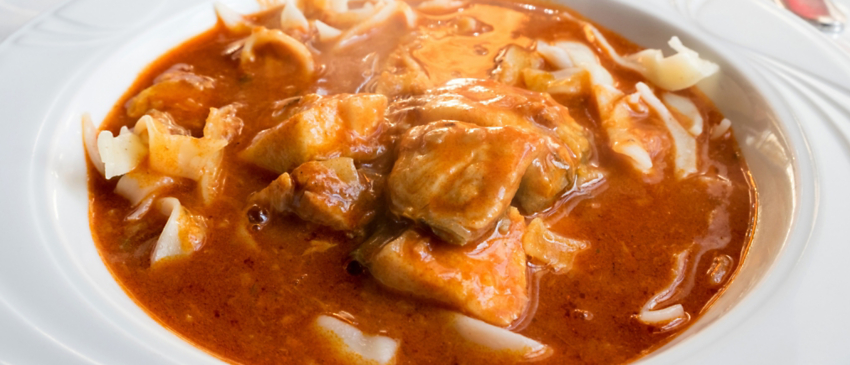 As you enter the little town of Karanac, you'll see that the porches of the little colonnaded one-story houses seem to be garlanded with strings of bright red ornaments. The truth, however, is a little spicier: these houses are hung with drying peppers.
Paprika, the spice made by grinding up the dried peppers, is a staple in Croatia, just as it is in neighboring Hungary. It comes as little shock that the region of Osijek-Baranja has a small but important Hungarian minority in its northern towns. Signs in the region are frequently written in both Croatian and Hungarian, and, at least in this region, paprika-laden dishes are king.
The cuisine of Osijek-Baranja also makes use of an abundance of freshwater fish, and some family-owned restaurants keep their own fish ponds to make sure the day's catch is truly fresh. There are many recipes for fiš paprikaš, a paprika-flavored fish stew, calling for multiple fishes, such as pike, perch, carp, and catfish. Fiš paprikaš is a thin, soupy stew, laden with paprika flavor, and the huge chunks of fish are often un-boned. It's generally served with pasta, similar to tagliatelle, and eaten in two courses. First, the liquid from the dish is ladled over the noodles, and eaten as a soup. Then, the chunks of fish are eaten as a main course. In restaurants, it's often cooked for two, simply because of the sheer volume of ingredients.
Fiš Paprikaš
Ingredients:
2 Tbsp cooking oil
2 onions, minced
1 Tbsp sweet paprika
1 Tbsp hot paprika
2 Tbsp tomato paste
2 tsp salt
3 1/2 lbs various freshwater fish (such as trout, pike and catfish), cleaned and cut in large pieces
1/4 to 1/2 cup white wine
1 to 2 small hot peppers
1 package (16 ounces) wide egg noodles, cooked
Preparation:
1. Heat the oil in a large stockpot over medium-high heat. Add the onions and sauté.
2. When soft, sprinkle in both the sweet and hot paprika, stir and then add the tomato paste.
3. Pour in 8 cups of water, add the salt and put the fish in the stockpot.
4. Simmer over medium heat for about 45 minutes and then add the wine and hot peppers.
5. Simmer for another 15 minutes.
6. You can either add the noodles directly, or, to eat like the locals, ladle the liquid over the noodles and enjoy it as a soup, followed by the fish as a main dish.
Serves 5
Sample the cuisine of Osijek-Baranja when you visit Karanac during Crossroads of the Adriatic: Croatia, Montenegro, Bosnia & Herzegovina, and Slovenia.