Recipe: Egyptian Om Ali (Bread Pudding)
Posted on 8/6/2019 12:00:00 AM in The Buzz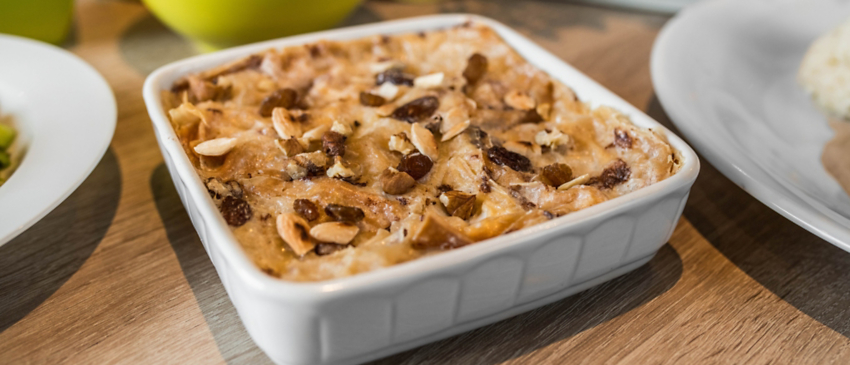 In Arabic, om Ali translates to "Ali's mother"—which sounds like a perfectly innocent name for Egypt's most popular dessert. But according to local legend, the sweet dish has unsavory roots.
Most versions center on Shajarat al-Durr, a real woman—and feminist hero—who married a sultan in the 13th century. When the sultan died, he left no official decree as to who should succeed him—but the law forbid al-Durr, or any woman, from taking the throne. At the time, the crusaders threatened to invade Egypt. Concerned about the welfare of the country, al-Durr and the army commander both thought it best to conceal the sultan's death until they could neutralize the threat—which, together, they did.
By the time al-Durr made the sultan's death public, she'd gotten used to the taste of power. So even though she did agree to marry, she assumed she'd keep pulling the strings for her husband behind the scenes. She chose Izz al-Din Aybak, a Turkish warrior who already had one wife. But al-Durr soon discovered he had ambitions of his own, which included taking a third wife: the daughter of a powerful emir who would help expand his reign. Furious, al-Durr had him put to death.
At this point, two divergent endings emerge. In one, Aybak's first wife—who had a son named Ali—still had hard feelings of her own, and was delighted by the assassination. She ordered her staff to prepare the most delicious dessert with whatever they had in the pantry. She distributed it to local households as she spread the news of Aybak's death—and of her son, Ali's, succession. Om Ali would forever bear her name.
In the second version, Om Ali instead avenged her husband's death by having al-Durr murdered—and it was her death that prompted the celebratory dessert.
Both of these tales have a prominent place in Egypt's culinary folklore—but we prefer a third theory, which may be less popular but also less bloody. An Egyptian ruler became enamored with an Irish nurse, and took her as his mistress—and she created the bread pudding that Egyptians would adopt as their own. The nurse's last name?
O'Malley.
Om Ali (Egyptian Bread Pudding)
Ingredients
1 package frozen puff pastry (approximately 17 ounces) or store-bought palmier cookies
1 15-ounce can sweetened condensed milk
1/2 teaspoon vanilla extract
1/4 tsp cinnamon
3 cups water
3/4 cup pistachios (shelled and chopped)
1/2 cup pine nuts
1/2 cup slivered almonds
1/2 cup raisins
1/2 cup coconut flakes
1/2 cup heavy cream or crème fraiche
Instructions
Preheat oven to 400 degrees Fahrenheit. If using palmier cookies, skip to step 3.
Grease one large or two small baking sheets or line with parchment paper. Unroll puff pastry and place on baking sheets. Bake for 15 minutes, or until golden brown and puffed. Remove from oven, but leave oven on.
In a saucepan, combine condensed milk, vanilla, cinnamon, and water over medium heat. Cook for 3-5 minutes. Remove from heat and allow to cool.
Rip cooked pastry or cookies roughly into 1-to-2-inch pieces. Place in a large bowl and add nuts, raisins, and coconut flakes. Mix well. Place in an even layer into a greased 9x12-inch baking dish.
Pour the milk mixture over the pastry. Pour the cream on top. Bake, uncovered, for 15 minutes.
Serve warm or at room temperature.
Serves: 8-10
Do as the Egyptians do and end a meal with Om Ali when you join O.A.T.'s Suez Canal Crossing: Israel, Egypt, Jordan & the Red Sea Small Ship Adventure.