Recipe: Dutch Bietensalade
Posted on 11/6/2018 12:00:00 AM in The Buzz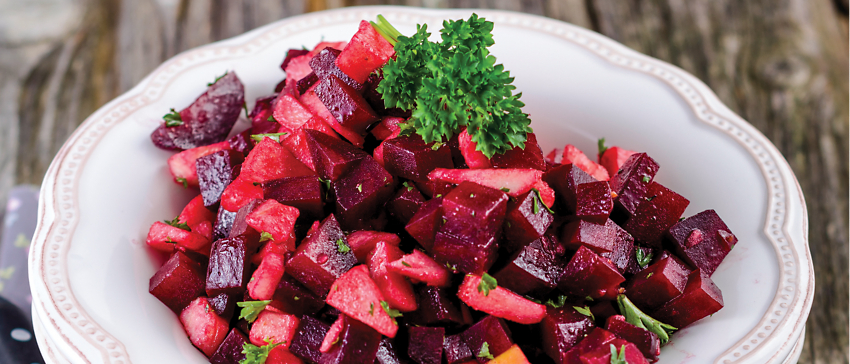 Dutch cuisine is famous for sticking to your ribs—so perhaps it's not surprising that the salads here are typically much heartier than a simple plate of greens. A traditional koude shotel, or "cold salad," can be made in advance and served at the center of a buffet platter. Ingredients might include potatoes, root vegetables, meats, or cheeses, with apples, gherkins, and pickled onions providing a sweet-salty-sour balance of flavors.
In this version, we use beets—though you could certainly substitute potatoes if you prefer. Beets get their signature earthy flavor from a substance called geosmin–the same compound responsible for the scent of soil. If red beets are too much for you, try yellow or other lighter varieties. You'll still benefit from a powerhouse nutritional profile that includes antioxidants, fiber, folic acid, and potassium.
Bietensalade
Ingredients:
4 large beets
1/4 cup olive oil, plus 2 Tbsp for drizzling
1/2 tsp sugar
1 tsp cider vinegar
1/2 red onion, sliced into rounds
2 apples𠊄 pickles (gherkins), diced
1/3 cup white wine vinegar
Pepper & salt to taste
Preparation:
Preheat oven to 400 degrees Fahrenheit. Drizzle beets with oil, then wrap each beet individually in tinfoil and place in oven, directly on center rack. Roast for 45 minutes. Remove beets, unwrap, and then rinse in cold water. Slip off the skins. Cool until they're easy to handle.
While beets are roasting, dissolve sugar in the cider vinegar, then toss with red onions, letting them quickly pickle for the remaining time.
Finely dice the pickled onions. Dice the beet and apple into small cubes. Toss beets, apple, pickles, and onion with oil and white wine vinegar, then season with salt and pepper to taste, and serve in small bowls.
Serves 4
Sample hearty Dutch cuisine when you join Grand Circle Cruise Line for Holland & Belgium in Springtime.