Recipe: Ethiopian Doro Wat (Spicy Chicken Stew)
Posted on 10/1/2019 12:00:00 AM in The Buzz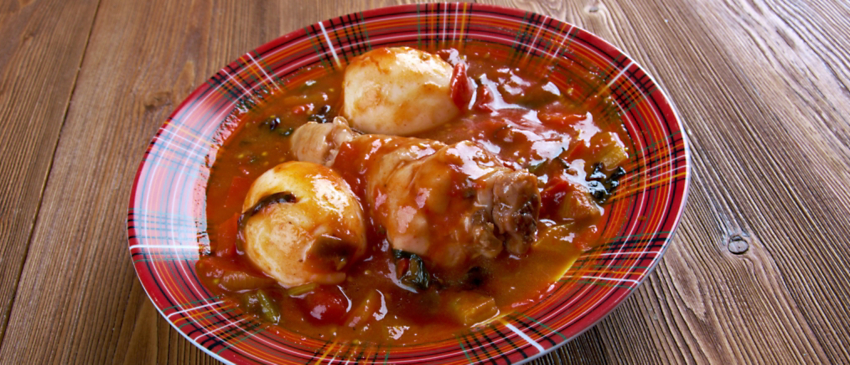 There's no way to hurry making Doro Wat—not if you want results that would make an Ethiopian home cook proud. Yes, the national dish contains bold flavors from its Berbere spice powder and niter kibbeh (spiced butter), but its true secret is the velvety texture made possible by caramelizing onions for up to an hour first. The hearty chicken stew, without which no celebration would ever be complete, is most often served with crepe-like injera bread but it's great with rice or any good bread (which you want for sopping up the sauce). It's a communal food, meant to be shared as slowly as it was made.
Doro Wat
You can find Berbere spice in many grocers or also online. Niter kibbeh is harder to come by but can be ordered online or replace with butter or ghee. Traditional doro wat calls for tej, a honey wine, but we used white wine with a dollop of honey instead. Set aside two hours for making this dish.
Ingredients
2 ½ to 3 lbs chicken thighs and drumsticks
2 Tbs lemon juice
2 Tbs butter, ghee, or niter
2 Tbs extra virgin olive oil
3 cups finely minced yellow onions
3 Tbs butter
1 Tbs minced garlic
1 Tbs minced ginger
1/4 cup Berbere spice
1 1/2 tsp salt
1/2 cup white wine
1 tsp honey
1 cup chicken stock
4 hard-boiled eggs, pierced all over with fork
Instructions
Heat 2 Tbs of butter, ghee, or niter kibbeh and all of the olive oil. Add the onions and sauté, covered, over low heat for 50 minutes to an hour, stirring occasionally, until they have broken down and become creamy.


While onions cook, place the chicken pieces in a bowl and pour lemon juice over. Let them rest at room temperature for at least 30 minutes or until onions are ready.


Add 1 Tbs of butter along with garlic and ginger to the onion, sautéing on low, covered, for 20 minutes, stirring occasionally.


Add the final 2 Tbs of butter and the berbere spice, sautéing on low, covered, for 30 minutes, stirring occasionally.


Add the chicken, broth, salt, wine, and honey, and bring to a boil. Reduce heat to low, cover, and simmer 45 minutes, stirring occasionally.


Add the boiled eggs whole and simmer on low heat, covered, for 15 minutes.


Remove from heat. Halve or quarter the eggs and then return to the stew. Serve with rice, bread, or injera.
Taste the hearty flavors of Doro Wat when you join O.A.T. for Ethiopia: Cultural Discoveries in an Ancient Land.