Recipe: Croatian Kebabs
Posted on 6/27/2017 12:01:00 PM in The Buzz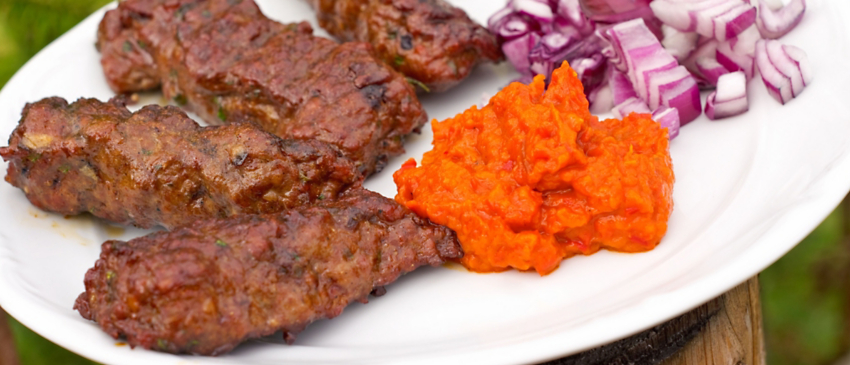 Now that we've officially entered grilling season, give your next cookout an international flair with this easy recipe for cevapcici—a type of kebab, made with ground meat, that you'll find throughout the Balkan Peninsula. As the Ottoman Empire extended its influence throughout the region beginning in the 16th century, they brought with them elements of their cuisine—which the countries of Croatia, Romania, and Serbia eventually adopted as their own. Cevapcici is the Croatian version of this particular dish, which varies slightly from country to country but always stays true to its Turkish roots.
The Croatian term cevap is derived from the Persian kebab, which means "to grill." According to culinary folklore, the dish was invented by medieval soldiers who skewered meat onto their swords to cook over an open fire. While you could certainly use skewers in our recipe, we opt to omit them, grilling the meat more like a hamburger.
We've paired our cevapcici with a traditional Croatian condiment called ajvar—often referred to as "vegetarian caviar." Every cook in the Balkans has their own family recipe for this ubiquitous spread of eggplant and peppers. Tailor yours to your liking by tinkering with the proportions of vinegar, garlic, and red pepper flakes. The kebabs are delicious with ajvar on their own, or in a sandwich on pita or flatbread topped with a dollop of yogurt.
Cevapcici with Ajvar
Kebab Ingredients
1 lb ground beef
1 lb ground lamb
5 cloves of garlic, crushed
1/2 onion, finely diced
1/2 bunch parsley, chopped
1 tsp paprika
1 tsp baking soda, dissolved in 1/4 cup of water
1 tsp salt or to taste
1 tsp freshly ground black pepper
Instructions
In a large bowl, combine all ingredients and mix with hands until just incorporated—do not overmix.
To test seasoning, cook a small patty in a pan on the stovetop. Adjust salt and pepper if needed.
Form mixture into sausage-shaped kebabs about one inch thick and three inches long.
Grill over high heat for 3-4 minutes per side. Alternately, cevapcici can be baked in a 400-degree oven for about 12-15 minutes.
Serve with ajvar (recipe follows).
Ajvar Ingredients
1 large eggplant (about 1 1/2 lbs)
10 red bell peppers
3 cloves of garlic
1/4 cup olive oil, divided
1 Tbsp white vinegar
Salt and pepper, to taste
Red chili flakes (optional)
Instructions
Preheat oven to broil.
Halve eggplant and lightly score flesh with a knife. Drizzle with olive oil and salt.
Halve each pepper and remove seeds and stems.
Broil eggplant and peppers, turning frequently, until blackened on all sides, about 15 to 20 minutes.
Remove from oven and place peppers in a large bowl, covered with a dish towel. Allow them to steam until cooled, which loosens the skins and makes them easier to remove.
Scoop the flesh of the eggplant into a food processor, removing the largest seeds. Add 2 Tbsp of the olive oil and garlic and pulse until combined but not a smooth puree. Place in a large mixing bowl.
When peppers are cool enough to handle, remove skins and add the peeled flesh to the food processor. Pulse until coarsely chopped.
Add pepper mixture to eggplant mixture along with salt, pepper, vinegar, the remaining olive oil, and chili flakes (if using). Stir and season to taste.
Serves 4-6
Perhaps you'll sample this traditional street food during our Hidden Gems of the Dalmatian Coast & Greece Small Ship Adventure.