Recipe: Cambodia's Adopted Culinary Treasure
Posted on 5/16/2017 12:01:00 PM in The Buzz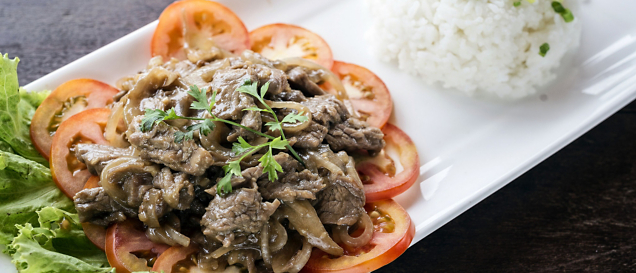 This delicious beef dish came to Cambodia by way of Vietnam and France—but it's still a quintessential classic.
Slices of meat to sate the carnivore. Fresh veggies for a healthy dose of vitamins. Soy sauce for a salty blast, sugar for the sweet tooth, and a tangy hit of lime. Pretty much every palate is guaranteed something to enjoy in lok lak, the ultimate Cambodian comfort food.
Just about every Khmer family has its own recipe, which is not surprising for a dish that allows for plenty of improvising on the fly. It's such a quintessential Cambodian dish now that it might surprise you (and some Cambodians) to learn that it's an import. This is no secret in Vietnam, where almost exactly the same dish existed first and is called bo luc lac (shaking beef). But many Vietnamese home cooks have no idea that they borrowed it too: it was the creation of a visiting French chef who was trying to capitalize on the flavors and foodstuffs he found while living in what was then Indochina.
The dish swept Vietnam, becoming a staple, and then crossed the border into Cambodia, where the Khmer people took it to heart so thoroughly (coming up with their sound-alike name, lok lak) that it's now hard to imagine a time when it wasn't on the menu.
For home cooks, as long as you marinate the beef in advance, then the meal will fly when it's time to cook. It's mostly a matter of mixing a few easy sauces and slicing vegetables, then doing a quick stir fry once your guests arrive.
INGREDIENTS
Marinade:
1 lb beef, cut into one inch cubes or matchstick slices
3 cloves garlic, finely minced
1 tsp sugar
1 Tbsp oyster sauce
1 tsp black pepper
Stir Fry Sauce:
4 Tbs soy sauce
1 Tbs sugar
1/2 cup water
1 tsp corn starch
2 Tbs oil
Lime Dipping Sauce:
1/4 cup fresh lime juice
1/8 cup water
1 tsp diced or crushed garlic
1 tsp fish sauce
1 tsp black pepper
Optional: 1 Thai chili or chili de arbol, thinly sliced OR 1/4 tsp dried chili flakes
Salt to taste
Salad:
5 cups lettuce of choice
2 cups ripe tomatoes, sliced
2 cucumbers, sliced
1 medium size red onion, thinly sliced
4 scallions, green part only, diced
PREPARATION
1. Mix the marinade ingredients and toss with beef. Marinate an hour or two or up to one day.
2. Mix stir fry sauce ingredients together. Set aside.
3. Mix lime sauce ingredients together. Set aside.
4. Arrange salad ingredients on a platter.
5. Heat oil in a saute pan or wok. When oil is sizzling, add beef and quickly stir fry for 1 minute (or to desired doneness).
6. Add the stir fry sauce, stir, and boil for one minute to thicken.
7. Pour beef over salad and top with scallions.
8. Serve with lime sauce (as a drizzle, or dip bites of salad in sauce) and, if desired, white rice.
Compare the best lok lak and bo luc lac across Southeast Asia when you explore Ancient Kingdoms: Thailand, Laos, Vietnam & Cambodia with O.A.T. Learn how to make another Cambodian dish, green papaya salad, in this short film.
Produced by Epicurious