Recipe: Bosnian Eggplant Dolmas
Posted on 4/9/2019 12:00:00 AM in The Buzz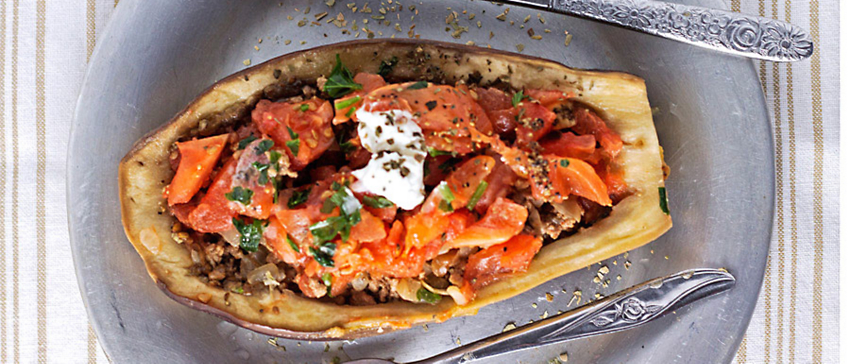 It would be impossible to grow up in the Balkans and not have a soft spot for dolmas, the name given to array of stuffed vegetable dishes which are just about the ne plus ultra of regional comfort foods.
Originating in sultanate-era Turkey, Balkan dolmas are most often whole vegetables (peppers, eggplants, zucchini, even onions) with their cores removed, then stuffed with rice or meat (or both), and roasted in liquid. A meat-filled dolma is usually served hot, while a rice-filled dolma may be served at room temperature. Our favorite Bosnian version is punjeni patlidzani, a hearty combination of succulent eggplant (which caramelizes from the heat) and savory ground beef.
Punjeni Patlidzani (Stuffed Eggplant)
You can't hurry dolma: letting them roast slowly is key, so allow yourself at least 90 minutes to prep and cook this dish.
Ingredients
2 good-sized eggplants
1/4 cup salt for prep, plus 1/2 tsp for seasoning
1/4 cup olive oil
2 small onions, diced fine
4 garlic cloves, minced
1 lb ground beef
2 tsp paprika
½ tsp ground pepper
28 ounce can diced tomatoes (with juice)
Optional: fresh parsley
Instructions
Preheat the oven to 375 degrees.
If desired, peel the eggplant, either in stripes or wholly. (If you like the texture of the skin, by all means leave it on.)
Cut each eggplant in half lengthwise and scoop out the center of each, yielding four "boats."
Sprinkle the quarter cup of salt over the boats and let them rest for at least half an hour to draw out their juices.
Meanwhile, heat the olive oil in a skillet on medium-high, then add the onion and garlic.
When the onions are translucent, add the ground beef, the remaining salt, and the pepper.
Brown the meat mixture and cook through (8 minutes or so), then remove from heat.
Rinse the salt and juices off the eggplant boats and pat down with a paper towel.
Coat a baking pan with oil or cooking spray and lay the boats inside.
Divide the meat mixture to fill the hollows of the four boats.
Spread diced tomatoes across the tops of each boat and on the floor of the pan, pouring the juice into the pan as well.
Cover the pan with foil and puncture to make several small steam vents.
Bake for one hour, then remove the foil.
Serve each boat on its own plate, garnished with parsley (optional) and a squeeze of lemon.
Serves 4
Sample the flavors of Balkans when you join O.A.T. for our enhanced Crossroads of the Adriatic: Croatia, Montenegro, Bosnia & Herzegovina, and Slovenia adventure.