Recipe: Argentinian Steak Matambre
Posted on 7/17/2018 12:00:00 AM in The Buzz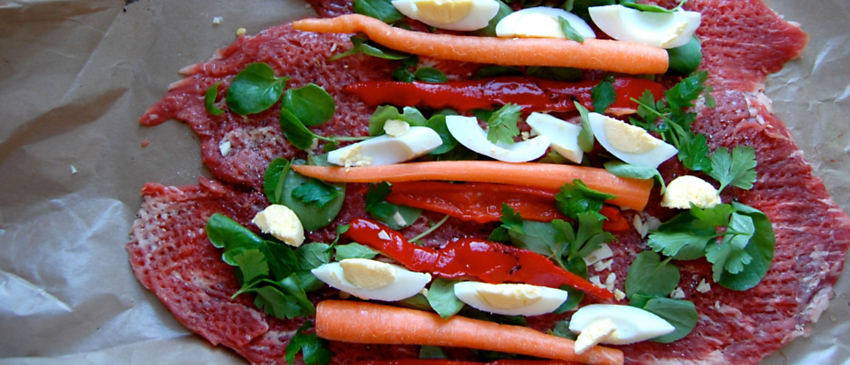 When the Spanish introduced cattle to Argentina in the 16th century, they laid the foundation for a nation's cultural identity. Cows thrived on the Argentinian pampas, and beef eventually became a successful export to the U.S. and Europe. From gauchos on horseback to grand estancia ranch houses—and, of course, the gluttonous asado barbecue—some of the best-known symbols of Argentine culture (tango notwithstanding) evolved around the business of beef.
Today, grains and soybeans have dethroned beef as Argentina's chief exports, and the majority of meat is consumed domestically—which still translates to a lot of beef. In 2016, only Uruguay topped Argentina in overall beef consumption per capita, with both countries exceeding 120 pounds. (The U.S. ranked fourth, at nearly 80 pounds.) The highest quality steaks need little more than salt, pepper, and olive oil to shine—though a dollop of vibrant chimichurri sauce certainly doesn't hurt. But true beef aficionados know how to use the whole cow—including tougher cuts like matambre, which comes from the bottom of the ribs. With a bit of finesse, even these muscly bits can yield culinary magic—as in this recipe that bears the same name.
The word matambre is a portmanteau of the Spanish words for "kill" (matare) and "hunger" (hambre)—and that's exactly what this recipe will do, no matter how you slice it. As part of a typical asado, this dish is actually served as an appetizer; the thin cut of steak cooks so quickly, impatient guests can enjoy it while waiting for thicker slabs of meat to come off the grill. But we think the beautiful presentation—not to mention the labor involved—deserves main course status. The actual matambre cut is nearly impossible to find in the U.S., but flank steak makes a great substitute.
Argentinian Steak Matambre with Chimichurri
Ingredients:
For the chimichurri:
1 large garlic clove
1/2 tsp salt
1 1/2 cups fresh cilantro
1 1/2 cups fresh flat-leaf parsley
1/4 cup distilled white vinegar
1/3 cup olive oil
1/4 teaspoon cayenne
For the steak:
1 flank steak, about 1 1/2-2 lbs, butterflied
Juice of 1 lime
2 tsp dried oregano
1 tsp salt
Freshly ground black pepper
2 cloves garlic, minced
1/2 red pepper flakes
1 cup spinach leaves
1 bell pepper, sliced
1 carrot, thinly vertically sliced
2 hard-boiled eggs, quartered
1/2 cup green olives, sliced
Salt and pepper
Olive oil
Preparation:
To prepare the chimichurri, add garlic to a food processor with the motor running and finely chop. Add salt, cilantro, parsley, vinegar, oil, and cayenne, then pulse until herbs are finely chopped. Set aside.


The easiest way to butterfly a flank steak is to ask your butcher to do it for you. But if you're inclined to DIY: lay the steak flat on a cutting board, and using a sharp knife, carefully slice it in half horizontally almost all the way through, following the grain of the meat fibers. Open it up like a book.


Using a meat mallet, pound the steak to flatten a bit further and even out the thickness.


Sprinkle the lime juice, oregano, salt, pepper, garlic, and red pepper flakes evenly over the surface of the meat.


Spread the spinach over the surface of the meat, leaving a one-inch border on all sides.


Arrange the peppers in three parallel rows about two inches apart. Make sure the vegetables follow the grain of the meat, so that when you roll and eventually slice it, you'll be cutting against the grain.


Place the eggs and olives in between the pepper rows.


Carefully roll the meat up over the filling as tightly as you can, jellyroll-style. Secure with butcher's twine. Slather the outside of the roll with olive oil and season liberally with salt and pepper.


Heat your grill to 400 degrees.


Grill steak for 5 minutes per side, for a total of 20 minutes.


If you prefer your steak well done, cook for about 20 minutes longer in a 400 degree oven.


Allow steak to rest for 15 minutes before slicing. Serve with chimichurri.
Serves 4-6
Sample the beefy delights of Argentina—and some of the world's most spectacular scenery—when you join O.A.T. for The Wilderness Beyond: Patagonia, Tierra del Fuego & the Chilean Fjords.