Recipe: Sicilian Arancini di Riso
Posted on 2/26/2019 12:00:00 AM in The Buzz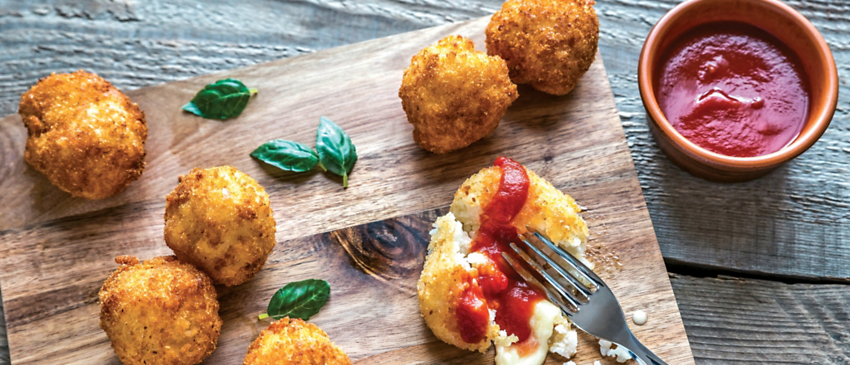 In Italian, arancia means "orange"—the prized fruit of Sicily, home of the namesake fried rice ball. While the exact origins of the dish are murky, it resembles Middle Eastern recipes from the Middle Ages. Indeed, the Arabs introduced both oranges and rice to Sicily, along with advanced irrigation techniques required to cultivate them, when they ruled the island during the tenth century. While rice grown in northern Italy has entirely separate origins, Sicily's agricultural evolution mirrors that of Spain.
Early variations of arancini lacked the crispy breadcrumb crust, which evolved to make the croquettes more portable. They stayed intact when taken on hunting excursions or into farmers' fields. Today, Sicily's original takeaway food is served everywhere: bakeries, pastry shops, bars, takeout shops known as rosticceria, and—of course—street food stalls.
As with all their regional cuisine, Sicilians are passionately protective of arancini—which, by the way, you should never call them in Palermo. In that city to the west, where the dish is considered feminine, they're known as arancia, and pluralized arancine. While you'll rarely see one the size of an actual orange these days, they have a perfectly round shape like their namesake. To the east, in Catania, they take the masculine form of arancino, and the plural is arancini. Here, they're conical or pear shaped.
All rivalries aside, Palermo and Catania agree on one thing. Arancini or arancine, if you eat one in Rome, it doesn't matter from which city you hail: the Romans stole rice balls from Sicily.
Sicilian Arancini di Riso
This recipe comes courtesy of the experts at Epicurious. You can watch them prepare the dish—shaped Catania-style—in a short film following the instructions.
Ingredients
3 cups leftover cooked risotto
1/2 cup grated Parmesan cheese
2 tablespoons heavy cream
2 tablespoons minced fresh flat-leaf parsley, chives, oregano, or basil
1 large egg yolk
Salt and freshly ground pepper
5 ounces mozzarella or Fontina cheese
All-purpose flour for dredging
Egg wash: 1 large egg whisked with 2 tablespoons cold milk or water
1 cup fresh white bread crumbs
Vegetable oil for deep-frying
2 cups tomato sauce
Preparation
In a large bowl, combine the risotto with the Parmesan, heavy cream, herbs, and egg yolk. Season with salt and pepper.


Cut the cheese into 16 cubes. Scoop up about 3 tablespoons of the risotto mixture and pack it around a cube of cheese to make a croquette, a ball the size of a Ping-Pong ball. Repeat to form 16 croquettes.


Put the flour, egg wash, and bread crumbs in 3 separate bowls. Dredge the croquettes in the flour, dip in the egg wash, and roll in the bread crumbs. Chill thoroughly, 2-24 hours.


Pour oil into a tall pot to a depth of 5 inches. Heat the oil over medium-high heat until it registers 375°F on a deep-frying thermometer. Deep-fry the croquettes in batches, without crowding, until they are evenly browned, 4-5 minutes. Using a slotted spoon or tongs, transfer to paper towels to drain briefly.


Serve on a pool of warmed tomato sauce.
Preparation Time: 30 minutes
Total Time: 24 hours
Servings: 8 appetizer servings
Compare Palermo's arancine with Catania's arancini when you join O.A.T. for Sicily's Ancient Landscapes & Timeless Traditions.