Recipe: Alfajores (Dulce de Leche Cookies)
Posted on 2/12/2019 12:00:00 AM in The Buzz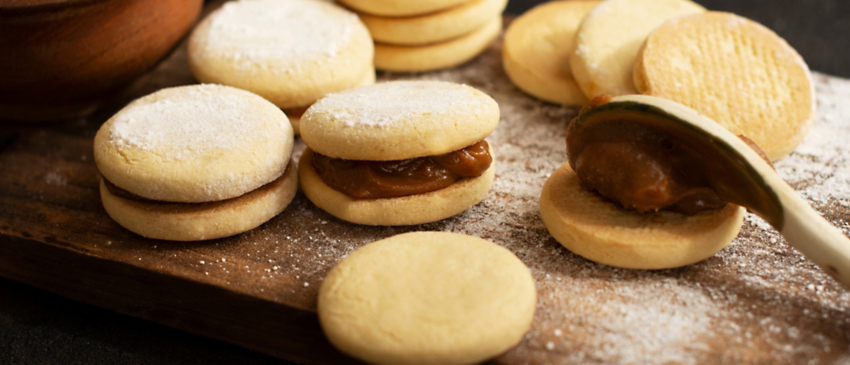 While variations on this lightly sweet, crumbly sandwich cookie are popular throughout Latin America, Argentina reveres the alfajor as a national dish. More than just a dessert, you'll also see them served at breakfast alongside coffee and tea.
The traditional recipe arrived in Latin America by way of Spain, which in turn inherited it from a similar Moorish treat called mamoul: a buttery cookie filled with date paste. Today, while alfajores still exist in Spain, they resemble the Argentine version in name only. While they share a crumbly texture, the Spanish version is oblong rather than round, and contains no filling.
Cornstarch gives the cookies their tender, crumbly consistency—but to appreciate the real textural beauty of alfajores, exercise patience and wait at least a day before eating them. The cookies absorb the moisture from the dulce de leche filling, so they literally melt in your mouth.
Argentinian Alfajores
Prepared dulce de leche can be found in cans or jars in Latin markets or the international aisles of major grocery stores. Look for a thicker variety—not a pourable syrup. Or, prepare your own at home with the method suggested below.
Ingredients
1 cup dulce de leche or 1 can sweetened condensed milk
1/2 cup cornstarch
1/4 cup+ 2 Tbsp unbleached all-purpose flour
1/2 tsp baking powder
3 Tbsp unsalted butter
2 Tbsp sugar
1 egg yolk
1/8 tsp freshly grated lemon zest
1/2 Tbsp brandy
Preparation
If using store-bought dulce de leche, skip to step 2. Otherwise, place the can of sweetened condensed milk in a large pot and cover with water by one inch. Bring to a gentle boil and cook for about 3 hours. Allow to cool completely before opening.


In a small bowl, combine cornstarch, flour, and baking powder. Set aside.


In a medium bowl, use an electric hand mixer to cream butter with sugar. Add egg yolk, lemon zest, and brandy. Beat until fluffy and light in color.


Turn down the mixer speed to low. Gradually sift in the cornstarch and flour mixture. Mix until just incorporated, about 30 seconds. The mixture should look like wet crumbs.


Knead with your hands until it just forms a dough. Shape into a ball and wrap with plastic wrap. Refrigerate for 1 hour, up to 3 days.


When you are ready to make your cookies, preheat oven to 350 degrees Fahrenheit and line 2 baking sheets with parchment paper.


Roll out the dough until about 1/4-inch thick. Use a 1 3/4-inch cookie cutter to cut into 24 circles, re-rolling scraps until desired number is reached. Place onto parchment-lined baking sheets about 1/2-inch apart.


Bake for 12-14 minutes until just firm but not yet browned. Gently transfer to a wire rack to cool—but not completely.


While cookies are slightly warm (to help prevent crumbling), flip half the rounds over and place 1 tsp dulce de leche on the exposed bottom surface. Top sandwich-style with a second cookie and press down gently to spread the filling.


Allow the cookies to rest overnight before serving. Store for up to 3 weeks in an air-tight container.
Makes 12 cookies
End a meal with alfajores—or maybe enjoy some for breakfast—during our Wilderness Beyond: Patagonia, Tierra del Fuego & the Chilean Fjords Small Ship Adventure.