Recipe: A Scandinavian Smorgasbord
Posted on 7/25/2017 12:01:00 PM in The Buzz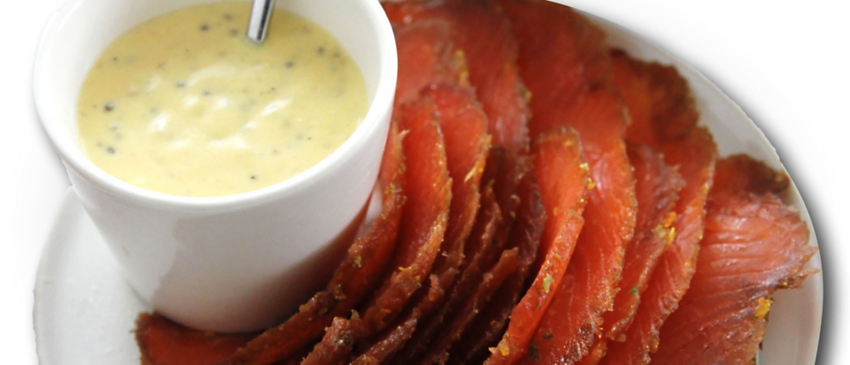 In America, the term "smorgasbord" is used to describe any abundant spread of delicious food. So why is it that—with the notable exception of the Swedish meatball—the cuisine of Scandinavia, home of the true smorgasbord, is so often ignored?
Scandinavian food is commonly misconceived as being boring and bland—which couldn't be further from the truth. In cold-weather countries like Norway, Denmark, and Sweden, flavor practically comes with the territory: In the old days, people wouldn't have survived the long, bitter winter without preserving a wide variety of food—and the traditional methods of pickling, curing, smoking, and drying all result in bold, intensified flavors.
Our recipe for gravlax, a national dish in Norway and Sweden, is both an homage to this tradition and a celebration of Scandinavia's abundance of seafood. Using salmon that has been frozen eliminates the slight risk of harmful bacteria—just make sure it's completely thawed before curing. If you love Nova lox, we insist that you try this recipe!
Scandinavian Gravlax
Ingredients
2 lb salmon fillet, skin on
1/3 cup kosher salt
¼ cup granulated sugar
1 tsp white peppercorns, crushed
1 bunch dill, very coarsely chopped
¼ cup aquavit or vodka (optional)
With your fingers, press down along the center of the salmon to check for pin bones (sometimes not removed during the filleting process). Remove any bones with tweezers. Place salmon, skin side down, on a large piece of plastic wrap.
Mix together the sugar, salt, peppercorns, and dill. Pile the mixture onto the salmon, being sure to coat it completely. Sprinkle the aquavit or vodka over the top.
Wrap the fish tightly with plastic wrap and place in a glass baking dish. Cover the fish with a flat, non-porous surface that fits inside the baking dish (such as a plastic cutting board or a smaller dish) and place a weight on top—a few full cans of beans or a brick wrapped in foil.
Refrigerate for 48-72 hours—a longer cure results in a drier texture and stronger flavor. Turn the fish every 12 hours.
When the cure is complete, scrape off the salt mixture and discard any liquid that has accumulated. Rinse lightly under cold water and pat dry.
With a very sharp knife, slice salmon as thinly as possible on an angle—almost parallel to the skin. Serve on greens or toasted bread with mustard-dill sauce (recipe follows).
Serves 8 as an appetizer
Mustard-Dill Sauce
Ingredients
¼ cup Dijon mustard
1 tsp dry mustard
1 tbsp sugar
½ tsp salt
1 tbsp fresh lemon juice
¼ cup olive oil
2 tbsp fresh dill, minced
Mix together Dijon and dry mustard, and whisk in the sugar, salt, and lemon juice.
While whisking, slowly drizzle in the olive oil.
Stir in minced dill and serve alongside or on top of gravlax.
You might find yourself pleasantly surprised by Scandinavian cuisine when you join our new Fjord Cruise & Lapland: Norway, Finland & the Arctic Small Ship Adventure.