Recipe: A Ceviche with Bite
Posted on 5/30/2017 12:00:00 AM in The Buzz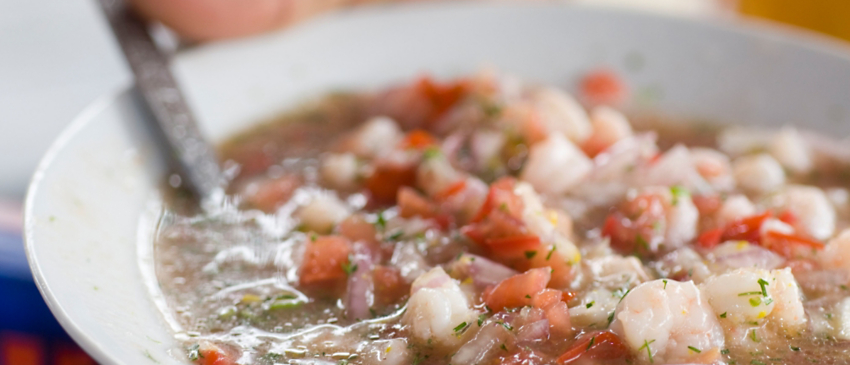 There are an estimated 2,000 cevicherias (Latin American-style restaurants with a dedication to ceviche) in Lima alone. In fact, Peru's love for ceviche is so profound, the National Institute of Culture (INC) acknowledged the dish as part of the nation's cultural heritage in 2004.
The national pride behind this dish stems from Peru's deep passion for creating dramatic, distinct flavor profiles. As the third largest country in South America, Peru is brimming with fertile land—which is prime for agricultural use. The eleven ecological areas of the country make it a hot spot for cultivating a diverse array of food. Dubbed a gastronomical hub in recent years, Peru provides innovative twists on fresh ingredients and celebrates the food it cultivates.
The classic dish is composed of firm, raw fish, usually cut into cubes or small slices, and enhanced in texture and flavor by marinating it in leche de tigre or "tiger's milk" (typically lemon or lime juice mixed with onions, salt, and pepper). It's then paired with peppers, sweet potatoes, corn, and other vegetables. Insider tip: in Peru, this refreshing meal is typically consumed during the day—not for dinner.
The first variation of ceviche can be traced to Moche civilization (an ancient Peruvian culture) thousands of years ago when this group flourished from the first to the eighth centuries BC. The Moche people ate fish and seafood marinated in chichi, or corn beer. As the Spanish began colonizing Peru in the 1500s, they introduced foreign ingredients, such as onions and lemon, to the Peruvian people. Today, the Japanese technique of soaking the fish in citrus juice is what is widely considered to be modern-day ceviche.
With influences from ancient civilizations and modern cultures, ceviche has come a long way—and it's pretty simple to make at home.
Ceviche in Leche de Tigre
One fish, two fish, firm fish, fresh fish. The most important thing to keep in mind when you make ceviche is the freshest fish, so visit a fishmonger you trust. This classic ceviche recipe uses fluke, flounder, or sole and is paired with an array of vegetables.
Ingredients:
Leche De Tigre
2/3 cup fresh lime juice
2 garlic cloves, smashed
1 tablespoon (packed) chopped fresh cilantro leaves
1/2 ají limo or habanero chile, seeded, halved lengthwise
1/2 small red onion, chopped
1/2 cup bottled clam juice (optional)
Kosher salt
Ceviche:
1 small sweet potato (about 8 ounces)
1 ear of corn, husked
1/2 ají limo or habanero chile, seeded, halved lengthwise
1 pound fluke, flounder, or sole, cut into 1/2-inch cubes
1 small red onion, quartered and thinly sliced, divided
Kosher salt
Cilantro leaves
Instructions
For the leche de tigre:
Place the lime juice, cloves, cilantro, chiles, and 4 ice cubes in a blender and pulse until there are no lumps.
Add onion and combine until smooth.
Drain the mixture into a strainer placed over a medium bowl.
Add clam juice (if using) and salt.
Refrigerate until ready to use.
For the ceviche:
Boil water in a large pot with a fitted steamer basket. Add sweet potato and steam for around 30 minutes or until tender. Remove the potato from the pot and let cool.
Refill the water in the pot and return to a boil. Place ear of corn in the pot and cook for about 3 minutes. Remove from pot and let cool.
Cut the potato in half lengthwise and spoon out small pieces with a melon baller. Set pieces aside.
Cut 1/3 cup of corn kernels from the cob and set aside.
Cut chile in half lengthwise and wipe against the side of a large bowl.
In the bowl, combine fluke, 2/3 of the onion, the leche de tigre mixture, and 4 ice cubes. Let soak for about 2 minutes and then discard ice.
Add potato and corn into the wet mixture and season to taste with salt.
Spoon the mixture evenly into small bowls and pour the leche de tigre over each. Garnish with onion and cilantro.
Serves 4–6
Sample the fresh flavors of Peru's beloved ceviche during Machu Picchu & the Galápagos.