Panama Beyond the Canal
Posted on 4/9/2019 12:00:00 AM in The Buzz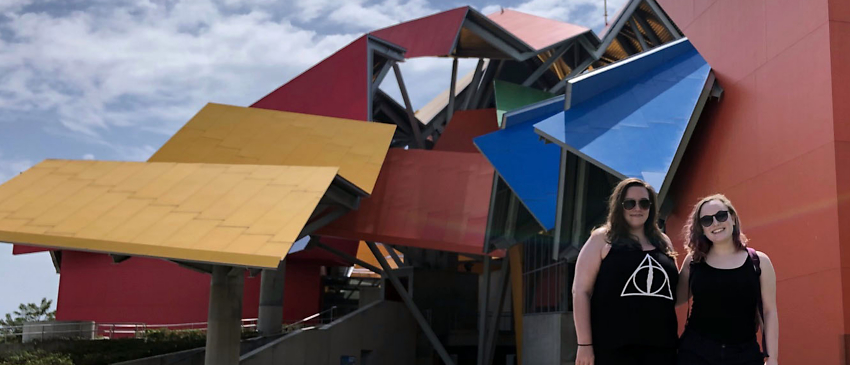 By Jenna Tramonti, Copywriter for O.A.T. Small Ship Adventures
When our Trip Experience Leader, Octavio, asked us at the start of our Small Ship Adventure to share why we chose to visit Panama, many travelers had a similar answer: "I'm excited to learn about the Canal."
And who wouldn't be? An almost unfathomable technological feat, the 50-mile long historic Canal has served as a bridge between cultures and oceans for over a century. And on this Small Ship Adventure, we'd not only witness Panama's iconic display of engineering prowess—we'd get to cruise it on a 24-passenger catamaran.
The cruise, though, made up just three days of our journey. And from the moment I arrived in Panama, it was clear that this multifaceted country consisted of so much more than its impressive man-made waterways.
Flora and Fauna
My fellow O.A.T. associate Caity and I arrived in Panama City before the start of the trip to get a feel for our surroundings. Based on the recommendation of another coworker, we headed to the Biomuseo, a complex dedicated to preserving the history of biodiversity in the country. Upon arrival, we found the museum itself closed for Mother's Day (December 8th), but the sprawling botanical park was walkable (and free to the public).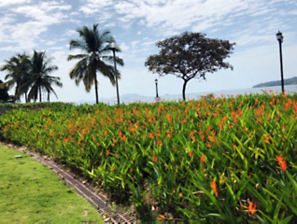 We strolled down paved paths, taking in the vibrant flora—an array of over 1,000 plant species, with bursts of color at every turn. Toward the center of the park was a walkthrough of Panama's agricultural history, plants and herbs clustered in rich soil marked with their scientific and common names. As I bent down to get a closer look, a Greater Ani fluttered down to say hello, tilting his ebony-feathered head curiously. Unafraid, he waddled toward us.
"Nice to meet you," I said. He seemed to nod in recognition before taking flight again.
From bird calls to trees rustling in the wind, nature was an unwavering presence that day, filling peaceful silence with the sounds of the species who call this country home. Throughout my journey, Panama offered unique glimpses into wildlife—upon entering the ruins of Panama Viejo, Octavio pointed out two little green parakeets greeting us among the trees; while kayaking in Gatun Lake, two-toed sloths and howler monkeys peered down at us from high up in the forest.
A word of advice: if you plan to visit Panama, bring binoculars.
The Arts and the People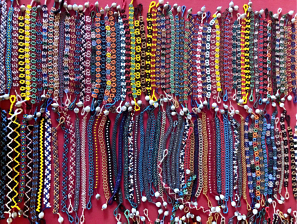 Our visit to the indigenous Embera village allowed us to experience Panama beyond the context of the capital city's tall buildings and the regimented day-to-day of the Canal Zone. Somewhere seemingly frozen in time across the Chagres River, a tight-knit community of fewer than 100 people preserves and shares the traditions of their ancestors. The Embera people graciously welcomed us into their village and shared a meal with us, after which point we got to peruse the craft stands in the village center.
One young man approached me as I made my way from table to table. He explained that each stand represented the work of an individual family within the tribe. He gestured to his family's table with pride, and I marveled at the bursts of color in each detailed beaded bracelet and woven basket. For the people of Embera Drua, art represented not only Panamanian history and culture, but also family ties.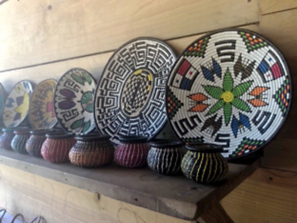 Today, I glance at the papier-mache mask decorating my desk, remembering our visit to Panamanian mask-maker Dario's home as he demonstrated the meticulous work of shaping the clay bases on which he constructs his masks. These detailed masks, worn in traditional festivals throughout rural Panama, tell ancient stories of good and evil, devils and angels, and reflect the spread of Christianity in rural Panama in centuries past.
My favorite part of the visit, though, was perusing the tiny shop attached to his home. Knowing the items on display were products of his creativity—and that of his children to whom he's taught the craft—made them special.
From shoemakers to pollera dressmakers, our small group came to understand through our exploration of rural Panama the interwoven relationship between art and self. Individuals often worked out of their homes honing their crafts, generating business simply by word of mouth in the small towns where they worked.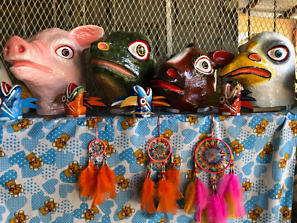 I felt that I got the best sense of each person we met when I witnessed the crafts they produced and learned about the intricate processes involved in their production. Art served not only as a source of revenue, but also as a reflection of an individual's values, passion, and sense of community. The group and I shared in each artisan's reverence of the parents and grandparents who passed down their trade, and felt their pride in the next generation keeping the traditions alive.
More than the Canal
The mighty Panama Canal is truly special to see. There were moments aboard the M/S Discovery in which I looked out onto the water, gusts of wind and warm sunlight filling my senses, and could barely comprehend what a marvel it truly is.
But what I'll remember most fondly about my trip to Panama is that the country itself. Panama is more than its ideal location, situated between its Colombian and Costa Rican neighbors. It is a mosaic of many shapes and colors—of undisturbed wildlife, friendly and open people, and fascinating, enduring history.
Discover the beauty of Panama beyond the canal when you join O.A.T. for Panama Canal Cruise & Panama: A Continent Divided, Oceans United.