Out of the Office: Exploring the Galápagos Islands
Posted on 11/19/2019 12:00:00 AM in The Buzz
At O.A.T., we encourage our associates to travel as much as possible—because it helps inform the work we do, no matter what our role in the company. Recently, Jackie C. from our marketing department experienced a portion of our Machu Picchu & the Galápagos Small Ship Adventure, along with several of her coworkers. Below are her highlights from the trip.
By Jackie C., VP, OAT Small Ships Digital Marketing:
Snorkeling for the first time in the Galápagos
I had never been snorkeling before and got the opportunity to try it out for the first time by jumping off of a zodiac into the cold waters of the Galápagos. I figured I would be excited to see the sea lions and turtles, but I definitely did not predict I would get as excited as I did to swim with the fish! I was amazed by the colors and massive schools that swam past me. We even got to swim with some Galápagos penguins, string rays, and even a shark! It was also a very unique way to see the different landscapes of the islands. Snorkeling in the Galápagos was by far one of my favorite travel moments to date.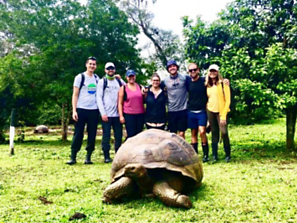 Hiking through the Islands
When I choose a destination to travel to, I always try to find every opportunity I can to get out into nature and go for an extended walk or hike. I've done a lot of hiking throughout the states, but experiencing the different terrains on the islands was one of my favorite parts of the trip! Around every corner you would find new wildlife and absolutely stunning views. I personally loved the morning we spent walking through the lava field. Every step you took, the patterns in the lava on the ground were completely different.
Lasting Impressions
Machu Picchu & the Galápagos is one of O.A.T.'s most popular adventures, so it was great for me to experience it firsthand—now I completely understand why our travelers love it! Even though I'm not a huge history buff, I was fascinated by the history of each island and the unique ways plants and animals adapted and evolved. It is so important to preserve this precious ecosystem for future generations, and I was happy to see that the people of the Galápagos care deeply about conservation and responsible travel.
I'll never forget my time on the islands, and my memories are even more special because I share them with the people I work with. After all, travel is the ultimate bonding experience—and just like it brings friends and family closer together, it really helped me get to know and appreciate my coworkers better. Even though we're back to real life at O.A.T., we'll always have the Galápagos!
Experience Jackie's favorite experiences for yourself when you travel on O.A.T.'s Machu Picchu & the Galápagos Small Ship Adventure.