Recipe: Macadamia Hummus
Posted on 6/25/2019 12:00:00 AM in The Buzz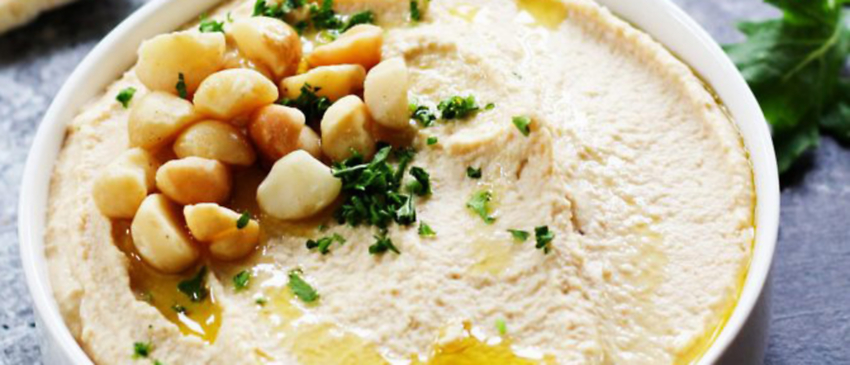 Here in the U.S., most of us associate macadamia nuts with Hawaii—and while more than 70% of the world's macadamias do come from the Aloha State, all of them share distinct genetic markers with a tiny population of trees in southern Queensland, Australia. In fact, their genetic makeup is so similar, scientists believe they may all have come from a single plant in the small town of Gympie.
Macadamias first came from Australia to Hawaii at the end of the 19th century, when a U.S. navy captain named Robert Jordan brought a few seeds to plant in his brother's backyard outside Honolulu. The little grove eventually blossomed into a major industry, with the rest of the country taking notice of the sweet, creamy nut in the 1950s. Australia, meanwhile, had been cultivating macadamias since the 1860s; the oldest tree, planted in 1858, still grows in the botanical gardens of Brisbane. Even today, the nuts remain the only native Australian plant to be traded internationally.
As with many commercially grown plants, macadamia trees are grafted, meaning an entire orchard can be created from just a few individuals. While the original trees grown in Hawaii were obviously well chosen for commercial production, a lack of diversity amongst the crop could leave it vulnerable to disease or the effects of climate change.
To combat this down the road, researchers are now seeking out wild species of macadamia, or trees grown on private land that may harbor rare DNA. While the wild trees have different characteristics than those grown commercially—such as size and yield—they could still be valuable in future breeding. And since southeastern Queensland and northern New South Wales are the only places on Earth where macadamias grow in the wild, preserving each species is important to Australia's native biodiversity.
In Australia, you'll find macadamia in all manner of recipes from sweet to savory. For summer, we love this unique spin on hummus.
Macadamia Hummus
Ingredients
1/2 cup roasted macadamia nuts
2 cups canned chickpeas, drained
1/4 cup tahini
3 Tbsp water
1 Tbsp lemon juice
2 cloves garlic, minced
2 tsp paprika
Salt and pepper, to taste
Preparation
Add all ingredients to a blender or food processer and process until smooth. Serve either at room temperature or chilled with crackers or crudités for dipping.
Discover the land of the macadamia when you join O.A.T. for Australia & New Zealand: An Adventure Down Under.