Hitting the Books in Zimbabwe
Posted on 2/13/2018 12:00:00 AM in The Buzz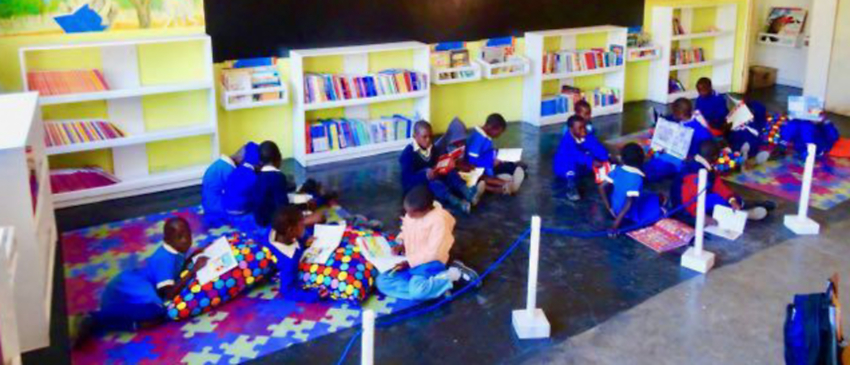 By Sue Goatley, Grand Circle Foundation Project Manager and Wilderness Safaris Program Coordinator
A new partnership between Wilderness Safaris [O.A.T.'s longtime partner in Southern Africa] and Book Aid International resulted in the donation of 55 cartons of children's books. Grand Circle Foundation funded the first of what we hope will be many Children's Corners, set up at St. Mary's School as an inviting space for junior primary school children to discover the joys of reading.
Book Aid International is a United Kingdom registered charity that provides books and supports libraries in Africa and elsewhere around the world. Every year the charity sends around one million brand new books to public, community libraries as well as libraries in prisons, refugee camps, hospitals, schools and universities. In 2016, an estimated 29.8 million people read the books that Book Aid International provided.
With a limited number of books in the majority of schools, and more often than not, nothing at home, many children struggle to improve their reading skills. The children's corners provide a dedicated area for children to develop a love for books and reading, while at the same time developing their language and boosting their vocabulary. Since 2014, 60 Children's Corners have been opened in seven African countries providing them with a library space, a trained librarian, and thousands of books.
At St. Mary's, the children are thrilled with their bright, user-friendly reading corner, all so eager to finish their classwork in order to be rewarded with time browsing their new collection of story books. The corners give children the freedom to read out loud, show each other pictures, and experience the fun of reading.
See firsthand the difference Grand Circle Foundation has made in Zimbabwe when you join us for Ultimate Africa: Botswana, Zambia & Zimbabwe Safari.