Harriet on the Road: Bolivia
Posted on 7/24/2018 12:00:00 AM in The Buzz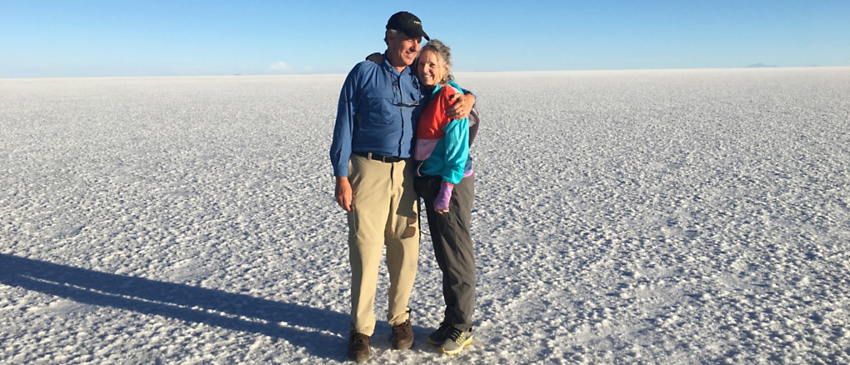 By Harriet Lewis, Vice Chair, Overseas Adventure Travel
After Alan and I returned from Peru, Bolivia, and Chile this past May, I had so much to share, I decided to tell my stories one country at a time. In case you missed it, you can read about my adventures in Peru here—including my impressions of visiting Machu Picchu for the first time. Now, on to Bolivia!
Uyuni: Salt, sky, and shifting perspectives
Imagine 4,000 square miles of nothing but salt and sky.
You'll often hear the word "otherworldly" used to describe the Uyuni Salt Flats—and it's definitely like no place I've ever seen on Earth. It's about the size of Puerto Rico, and pure white as far as the eye can see. Because it's so flat, you can play tricks with perspective—like the photo I took of Alan that looks like he's in the palm of my hand. So trippy!
My mind played tricks in other ways, too: I didn't expect my brain to think it was looking at snow! I kept expecting my feet to get cold and feeling like I should be wearing gloves. (While it can get chilly in May, the temperature during the day averages around 60.) And do not underestimate how easy it is to get lost when you have so little to guide you as a frame of reference. We rented bikes one morning, and really needed to be guided around because we couldn't gauge how far away land was. You don't know the boundaries, you can't see the edges. It was like an art installation.
All of this sits at an altitude of over 12,000 feet. Alan and I had already acclimatized, but we still got pretty winded. We didn't need the pills we brought—but I definitely recommend bringing them just in case.
La Paz: Weavers and witches
I'm a textile nut, so I was obsessed with traditional Andean weaving techniques—and there's a little textile museum outside the center of La Paz that ended up being my favorite of the trip. It's called the Museo de Textiles Andinos Bolivianos, and it guides you through 3,000 years of weaving history in Bolivia—the processes, the cultural significance, and the evolution of clothing styles.
After seeing the museum, it was especially cool to see examples of weaving in local markets. I dressed up as a Bolivian weaver and tried my hand at the loom—which was not easy! I bought a tote bag and probably paid too much, but it's worth it to support artisans who create traditional crafts.
I can go crazy shopping in markets, but the Witches Market in La Paz was an exception—I definitely wasn't qualified to purchase most of this stuff! In the expert hands of a shaman, though, locals believe that the talismans for sale here can bring them health, prosperity, and good luck. The dried llama fetuses are definitely the most famous, but there are also dried turtles, frogs, and snakes—along with figurines, tinctures, and herbs for the more squeamish "window shoppers" to admire.
The llama fetuses are typically placed in the foundation of a new home to bring blessings of safety. We didn't purchase one. We did, however, do a ritual to honor the health of Pachamama (Mother Earth). I'm often struck by how careless some people and cultures are when it comes to taking care of the Earth. In the Andes, the people and Earth are one—which is incredibly beautiful.
Death Road: Dangerous beauty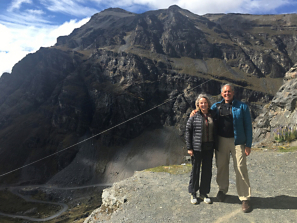 And really, it's difficult not to be in awe of our planet as you travel in this region—even on a place called Death Road. For about 40 miles, it twists and turns through mountain terrain that used to be literally death-defying: Until very recently, this was the only road connecting La Paz with certain parts of the country. With one-lane sections, no guardrails, and hairpin turns, conditions sent a staggering number of vehicles careening over the cliffs. Today, with new roads available to commercial vehicles, it's only truly dangerous to thrill-seeking mountain bikers—though I'm still glad Alan wasn't driving.
Sucre: Lessons from a cemetery
For the time being, none of our O.A.T. itineraries visit Sucre—though you could certainly get there independently before or after you begin your trip. It's a beautiful city filled with whitewashed Spanish colonial architecture and a lively town square that showcases local life. Strange as it sounds, though, the main attraction here was the Sucre General Cemetery.
Yes, the cemetery. It's actually representative of other cemeteries in the region, including a smaller one you could visit in La Paz—and I highly recommend that you do. It provides such an eye-opening glimpse into local culture and the people's attitude toward death.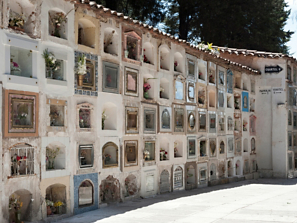 The cemetery is filled with walls of shrines—almost like dioramas—that families create to represent the person they lost. They're filled with flowers, pictures, and offerings—including plenty of liquor bottles and cigarettes, because what harm will they cause now? You can look at each one and imagine the essence of the person. It's contemplative, beautiful, and interesting—but strangely, not sad.
The deceased can't stay here forever. After a few years, the body is moved from the vault to the ground—and several years later, it is removed from the cemetery completely, supposedly to a medical college or hospital. I asked my guide about this practice, and he told me how years after his grandmother died, he went with his grandfather to visit the grave. They looked everywhere and couldn't find her. Turns out, the family had stopped paying the rent, and the grandmother's time was up.
And by that point, the family was absolutely okay with it. They had time to mourn in the beginning, and then they moved on. It's just a part of culture, and a part of life.
In a way, the cemetery perfectly summed up my impressions of the Andean people: their enormous respect for community, and the way they blended indigenous beliefs with traditions introduced by the Spanish. They honor their dead the way they honor Mother Earth—because their spirits are very much alive.