Giving Back to the World We Travel: Defending the Ecuadorian Amazon
Posted on 9/7/2021 12:00:00 AM in The Buzz
In the video above, hear from Amazon Watch, our partner organization, about how indigenous communities hold the key to defending the region's biodiversity—and why protecting their rights is so important.
The Amazon has been called the "lungs of the world", producing one-third of the world's oxygen. Deforestation and oil excavation threaten this rich biodiverse region, and ultimately, all of us. Many of those fighting to defend the Amazon are the Indigenous leaders who call these communities' home. Worldwide, indigenous people represent only 5% of the population, yet protect 80% of global biodiversity.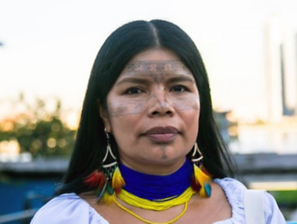 For many indigenous leaders, the work is dangerous as they speak up, stand their ground and fight giants like big oil, mining and the government. Last fall, Alan and Harriet met one such courageous leader, Patricia Gualinga, of the Sarayaku Kichwa Ecuadorian Amazonian community, who has worked to protect the forest and defend her people's rights for more than 20 years, particularly as part of the Network of Women Defenders.
In 2012, she helped her community win a court case that found the Ecuadorian government guilty of authorizing oil exploration and militarization of Sarayaku property without permission from the inhabitants. The ruling fined the government $1 million and set a legal precedent that indigenous people must provide consent for governments or private corporations to enter their territory.
Her father asked her to spread the word that it was madness to destroy the Amazon for oil, and she also did her best to educate people about the negative effects of climate change. Patricia blames climate change for more frequent river flooding and plummeting the temperature of her tropical homeland into the 40s at times, causing hardship for her people who don't have the proper clothing to keep warm.
Her home has been attacked; she has received death threats, and yet she persists. For this courage in the face of adversity, Alan and Harriet presented Patricia with the 2021 Alnoba Moral Courage in Leadership Award, which honors a visionary leader whose body of work, vision, passion and personal example have made a meaningful and measurable difference.
When we learned that Patricia's homeland of Sarayaku, already suffering during the pandemic, had been all but devastated by an oil spill and historic flooding in March of 2020, Grand Circle Foundation partnered with Amazon Watch—whose mission you can discover in the video above. We provided an initial $20,000 donation to help reconstruct two of the traditional schools and add classrooms to the community high school.
We are honored to support Patricia in her lifelong quest to protect this vital ecosystem and advance the rights of indigenous peoples—because they hold the key to combating climate change by keeping fossil fuels in the ground.
Learn firsthand about how oil drilling and deforestation threaten the Amazon—and what can be done to protect it—during Ultimate Galápagos Exploration & Ecuador's Amazon Wilds.