From the Ground Up
Posted on 2/27/2018 12:00:00 AM in The Buzz
By Sandra Vaughan, Grand Circle Foundation Project Manager, East Africa
Since 2011, Grand Circle Foundation has been partnering with the Maasai community of Amboseli, Kenya. The primary school we support here is a shining example of the difference the Foundation can make in a community with the help of O.A.T. travelers. We've seen Amboseli Primary flourish since we began our partnership: In 2010, it was a low-performing school, ranked #67 of 90 schools in the region. I'm proud to report that in 2017, it ranked #3—which we could not have achieved without the support of generous travelers like you.
In the years we've been working with Amboseli, we've completed several projects that not only improved school performance, but also helped better the lives of the community at large. We built the school a new well that benefits the entire village; restored the water storage tank; provided water filters; and irrigated a garden that grows fruit trees and vegetables. We've surrounded the school with a solar-powered electric fence to protect students from wild animals. We've sponsored the education of 18 students—one of whom we saved from being sold into marriage at the age of 11. And we've built a new dormitory for girls, who have historically dropped out at an alarming rate due to chores at home, pregnancy, and the simple fact that education for girls in East Africa is not deemed as important as it is for boys.
Six years ago during one of my visits to the region, the village chairman asked me if the Foundation could build a secondary school and adjoin it to Amboseli Primary School.
My immediate response was no. After all, what do I know about building?
As months turned into years, I realized the passion and commitment that several of the leaders had about education. They continually explained that education was the key to life. Our partnership with the community grew in strength, and before I knew it, the Maasai community had actually immersed themselves into the work of the Foundation and were very much part of our life.
Two years ago, with Amboseli Primary School thriving, they asked me again for a secondary school. This time, I had a different answer—and I had faith.
Harriet Lewis agreed to support the project and committed to match all traveler donations dollar for dollar. Within a year we had raised $60,000, and in 2017 we started to build. The land was donated by the Ololarashi Group Ranch, and Patrick Papatti from Pat Supplies won the contract to build the classrooms.
Around August of 2017, we began the process of getting the school registered, agreed on a name, and worked on logistics like raising further funds for toilets, a computer, desks, books, stationery, solar lights, access to water … the list seemed never-ending! But we had a goal: to open on January 15, 2018, beginning with Form 1. Very roughly, we spent $60,000 on building the four classrooms; $12,500 on building toilets; $1500 on bringing water to the school; $2000 on textbooks; $1000 on all the stationery supplies necessary to start a new school from scratch; $2100 on a computer, printer, photocopier, and projector; and $5000 on school desks and teacher's furniture. Every dollar donated by our travelers has 100% gone to funding the above. Not a single cent went to cover administration costs.
The week of the opening, we invited more than 700 guests from the community, the surrounding primary schools, the government education office, the county government office, Kenya Wildlife Services, personnel from all the surrounding lodges, and, of course, the kids. Incredibly, even the elephants heard about the opening and attended!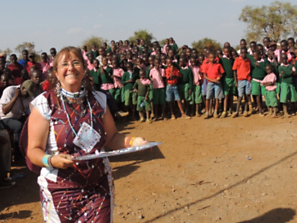 We slaughtered a cow, cooked a huge lunch for everyone with typical nyama choma (roasted goat and beef), rice, beans, stir-fried vegetables, and fruit. Of course, we added some typical Western "best practices," like a ribbon-cutting ceremony and a cake.
Our official opening was nearing an end. We had speeches, prayers, thank-yous, and entertainment from several schools.
And so, the Amboseli Lewis Secondary School is officially on the map.
We had 30 children apply for places, and four teachers arrive ready to teach—one of whom comes from Turkana, which is over a 15-hour drive away! We also received an official promise from the County Assembly: If we as a Foundation can commit to raising funds to furnish a computer laboratory and a science laboratory, they will build it!
Now, we move into a new era. Amboseli has a secondary school, which will be fed by up to nine local primary schools. What an opportunity for so many Maasai children, who might otherwise never been given a chance to further their education.
Thank you to Harriet for saying yes, and to everyone at Grand Circle Foundation for their support in this mammoth project. Of course, our biggest thanks go to our travelers, who continue to astound us with their generosity. Without you, this project would never have even broken ground.
See firsthand the difference Grand Circle Foundation is making in villages like Amboseli when you join O.A.T. for The Best of Kenya & Tanzania.