Emanuel's Impact on Education
Posted on 7/4/2017 12:01:00 PM in The Buzz
By Sandra Vaughan, Grand Circle Foundation Project Manager, East Africa
Emanuel Mamysha came to Njia Panda in 2014 with one hope: to enhance learning at the school and make a better environment for the pupils to learn in. It was such a simple priority and yet, he was met with resistance at every step until Grand Circle Foundation stepped in to lend a helping hand. We explained the school partnership to the community and that we could only continue to support the school if the community in return supported the new Headmaster and Grand Circle Foundation.
Emanuel came from a school with little support from parents and no stakeholder/community support. There was negligible funding received into the school account and so in order to ensure Emanuel had teachers teaching, he would buy chalk out of his own pocket and distribute two pieces every day to every teacher. If he didn't, they would sit in the staff room or not come to school.
He was then transferred to Njia Panda, a Grand Circle Foundation supported school, and he has never been happier.
The last two years have seen Njia Panda grow academically in leaps and bounds, so I sat with Emanuel and interviewed him about life before and after Grand Circle Foundation. In 2014 when Emanuel joined, the school was 48th out of 106. Within one year, the school moved to #7 and last year, they came in at #3—an incredible achievement!
Although Emanuel receives about $130 a month to run the school, the support from Grand Circle Foundation has been far greater. With our donation, he was able to plant over 500 trees and he received 1,000 from the forestry commission. He has planted 100 banana trees which have already fruited, enabling him to feed a whole school as a treat and also sell some at market. The greenhouse we built generates a very good income, which not only supports the school financially, but it also enables them to expand the project to cultivate and irrigate another half-acre of land.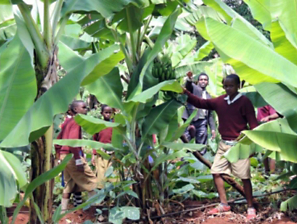 Our continuous donations of school supplies ensures such basics like chalk, pens, pencils, and books are freely available to every child. No one gets sent home because they can't afford a pen or pencil. But one of the best practices Emanuel has introduced at school has been with the help of our generous travelers.
Every week, children in grade seven take a practice test, and once a month they take a "mock test/exam" with the local nearby school. The top 10 students all receive a reward, and this comes from donations our travelers bring from the U.S. such as crayons, colored pencils, playing cards, etc. Already at two months into the New Year, 52 children are passing their mock exam out of 80 children.
When Emanuel came to Njia Panda in 2014, attendance records were only at 80%, but today it's as high as 94%. In 2015, he had 574 students and now has 738. In 2015 he struggled to establish a lunch program in school supported by parents, but today the children get a lunch every day.
Emanuel, you are amazing and we all wish you every success this year and for the future. All our schools need to learn from you. Emanuel's dream is to get Njia Panda ranked as the number one school out of the 106 in the region.
Learn how Grand Circle Foundation is making a difference in Tanzania when you join O.A.T. for Safari Serengeti: Tanzania Lodge & Tented Safari.