Cooking with Love in Colombia
Posted on 5/15/2018 12:01:00 PM in The Buzz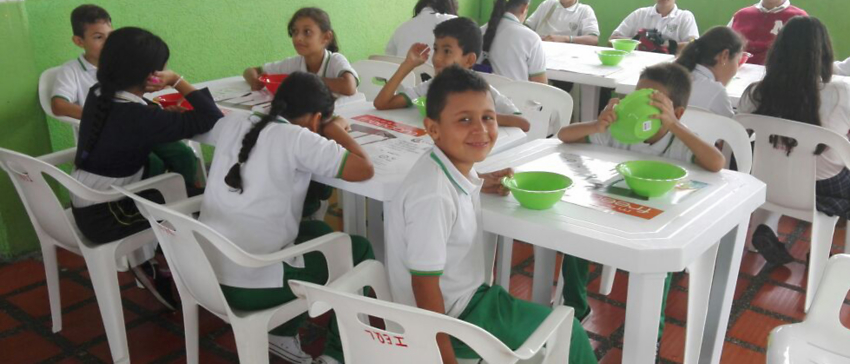 In the heart of Colombia's Coffee Triangle region in the Santa Ana Valley, Escuela El Laurel serves around 230 boys and girls—most of whom are sons and daughters of coffee pickers. The school is responsible for education through primary, secondary, and high school.
Since we began our partnership with El Laurel in 2015, we've completed several projects to better the lives of both the schoolchildren and the community at large. At the school, we've provided a computer room equipped with proper security; completely renovated the library with new flooring, ceiling, air conditioning, and windows; outfitted the students with new uniforms; and installed solar panels to raise awareness around clean energy while creating an affordable source of electricity. We also constructed a chicken coop that houses 300 chickens, which are sold for profit at local markets to benefit the entire community.
Our latest project at El Laurel will help ensure that all students are properly fed during the school day. While the government provides the supplies necessary to prepare a free lunch for every student, the kitchen at El Laurel was not properly equipped to handle the volume of cooking. We also had concerns about the standards of hygiene. Thanks to a grant from Grand Circle Foundation—made possible by the generosity of our travelers—we provided new kitchen equipment including a refrigerator, stove, pressure cookers, and all the utensils necessary to prepare a healthy daily lunch.
In a region where half of the local households don't have access to adequate food for the whole family, this quality, balanced meal will go a long way toward improving the health of El Laurel students, and giving them the energy they need to focus on their studies. Thanks to all of our travelers who supported this important project.
See firsthand the difference the Foundation has made in El Laurel when you join O.A.T. for Colombia's Colonial Jewels & the Coffee Triangle.