Clean Water for Ecuador
Posted on 10/2/2018 12:00:00 AM in The Buzz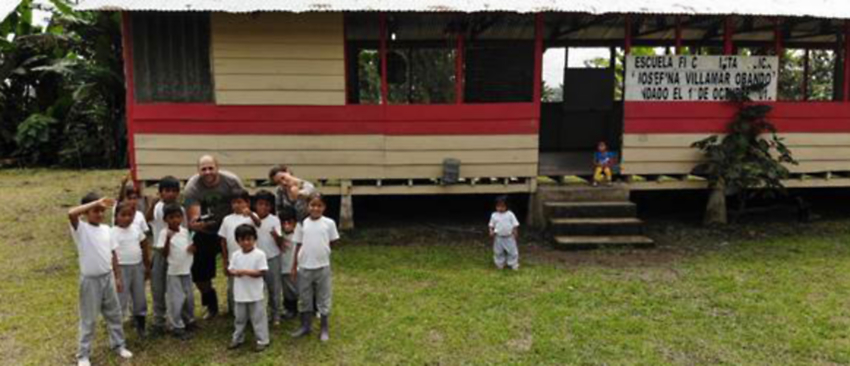 By Victoria Peñaherrera, O.A.T. Country Manager, Ecuador
In the year 2011, the Yarina Ecological Reserve gave (in a disinterested way) one hectare of its land for the construction of a school that would serve boys and girls of a community in Ecuador. It is located on the south side of the Napo riverbank. The children, who are from the Quichua San Carlos community, come from the closest places along the Napo River.
In the same year and with a great economic effort, the Yarina Ecological Reserve began the construction of what later was the Josefina Villamar Obando School. The name of the school is in honor of the owner's wife, who passed away.
In 2012 the school, Josefina Villamar Obando, was inaugurated, located next to the community of San Carlos Quichua in the province of Orellana, Ecuador. The school also has a recreational area, where there is an indoor soccer field and a children's play area. It currently serves 18 children between the ages of five and twelve (10 girls and 8 boys).
Grand Circle Foundation recently helped bring a water pump to the Josefina Villamar Obando School. Before the pump was installed, the school lacked drinking water. They had brief moments where they could obtain water because they had a water tank, which was filled by suction pump with raw water from the Napo River. It was used for cleaning the bathrooms and children's consumption, and repeatedly caused diseases in the children.
The first objective was to find an underground water well, which, being purer and less polluted, serves for human consumption. Once the ideal place was located, the dig began, and the water pump helped bring up the water.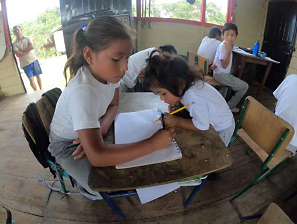 In order to deliver a drinking water plan to school children, a carbon filter was added to purify the water to make it suitable for human consumption. This water filter is located in the most suitable and safe place, which was decided by the technicians who carried out this project.
Grand Circle Foundation launched the W.A.S.H. (Water, Sanitation, and Hygiene) initiative in 2015 with the goal that all Grand Circle Foundation-supported schools and villages would have access to an adequate supply of clean water. Since 2015, we have funded $787,000 supporting 102 water projects including wells, water tanks, and water filters, impacting 17,000 people. Eighty-nine of the 92 schools (97%) and 19 of the 27 villages (70%) supported by Grand Circle Foundation now have an adequate supply of clean water.
We are grateful to the Foundation our generous travelers for supporting this important work, in Ecuador and beyond.
See the difference Grand Circle Foundation is making when you join O.A.T.'s Ultimate Galápagos Exploration & Ecuador's Amazon Wilds Small Ship Adventure.