Changing Lives in Nepal
Posted on 6/6/2017 12:01:00 PM in The Buzz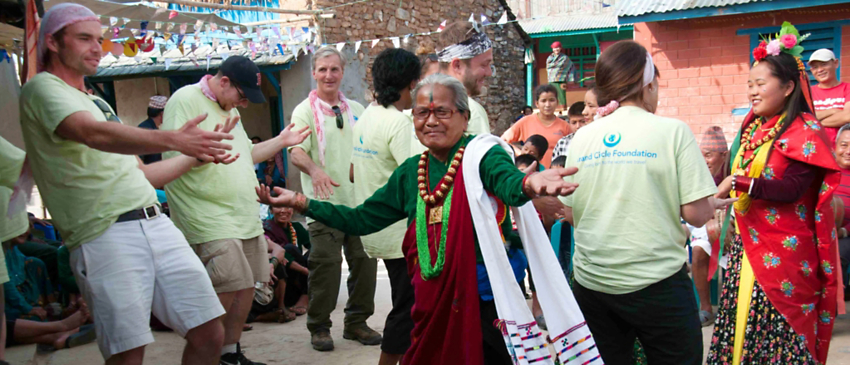 By Elizabeth Whiting, 6-year associate and pre-trip copywriter
On April 25, 2015, a devastating earthquake with a magnitude of 7.8 struck near Kathmandu, Nepal, leaving 9,000 dead, nearly 22,000 injured, and countless buildings destroyed or badly damaged. Two years later, progress has been made, but many of the Nepali people continue to rebuild and repair the damage.
For the two-year anniversary of the earthquake, Grand Circle Foundation assembled a group of 12 volunteers to travel to Nepal to bring much needed supplies to the locals, meet with the great organizations with whom the Foundation has partnered, and to work in Dharampani village.
After a long journey from Boston to Kathmandu's spectacular setting of craggy mountains and narrow, winding roads, our group arrived in Dharampani on the evening of April 23, ready and eager to meet the villagers and get to work the following day.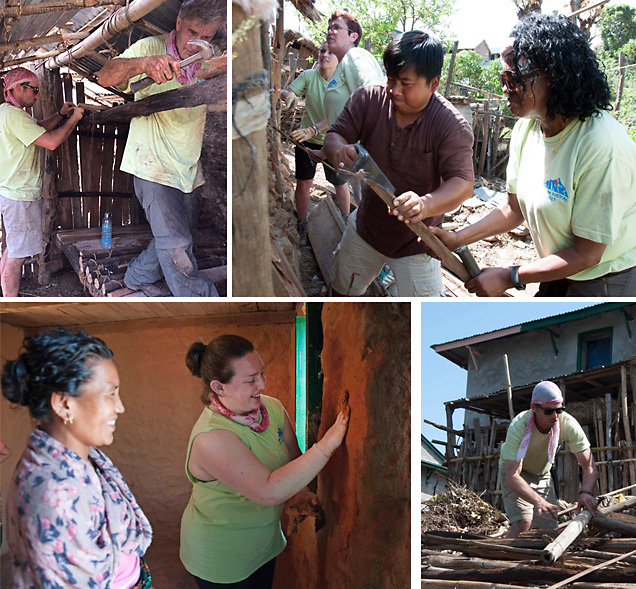 The next morning, we made our way to the village and after an hour of hiking, we arrived to find all of the villagers there to greet us with song and dance. The Chairwoman welcomed us individually and applied tika (a rice paste) to our foreheads. After some introductions, the Chairwoman unveiled a plaque honoring Grand Circle Foundation and we had the opportunity to distribute six duffle bags full of donations to the villagers, which included t-shirts, jackets, shoes, school supplies, fleece blankets, and medical supplies.
Over the course of the next three days, we helped to paint and mud plaster the villagers' homes; we distributed reading glasses causing an excited throng of villagers to gather as they tried on pair after pair of various strengths until finding the right one; and we built a goat pen out of salvaged wood with a few old tools for one of the women in the village who raises goats for a living. She had nowhere to keep them at night to prevent predators and had been bringing the goats into her home. She was so grateful for the new goat pen that she offered to sacrifice a small goat for us, though we assured her that her smile was thanks enough!
"Although the purpose of our trip was to help the Nepali people, my life will be forever changed after meeting and getting to know them. I will always remember their gratitude, the way they greeted us in a line of singing and dancing, the way they gathered around and laughed as we put cow dung clay on the walls, their smiles as we interacted with limited English, and how their faces lit up when we brought bags of supplies. They helped me to appreciate what I have and reminded me that you don't need material things to be happy."

– Lori McMillan, Account Manager, 7-year Associate
During the course of the trip, we also had many opportunities to meet with Grand Circle Foundation partner organizations, such as the Himalayan Trust, which has been working diligently to rebuild schools with a new construction method to prevent damage in case of any future earthquakes.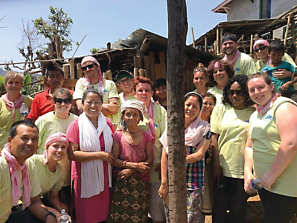 Upon our return to Kathmandu, we visited the Nepal Orthopaedic Hospital (NOH) to meet with the hospital leaders and to bring another six duffle bags of donations for the hospital. The hospital leadership gave us a tour of their facility to see the projects that have been completed with funding from Grand Circle Foundation, such as purchasing new machines to sterilize equipment, which minimizes the number of patients that develop infections after treatment. They were proud to share the special services that the hospital offers, including free care for those who otherwise could not afford it and special training opportunities to their doctors to ensure that they are aware of the latest techniques.
"Returning to the Nepal Orthopaedic Hospital was an emotional and humbling experience for me. I had been there on the day of the second earthquake in 2015, when the grounds were covered with people, beds, and triage tents because nobody would go indoors. The hospital staff is very proud of the difference the equipment funded by Grand Circle Foundation has made. The equipment allows them to provide better medical care and generates much needed income which is used to offset the free care offered since they do not deny medical care to anyone."

– Jan Byrnes, Vice President of Grand Circle Foundation, 12-year Associate
One of the most memorable visits for me was when we met with Seven Summits Women, an organization dedicated to educating and empowering women, where we met Shailee and Maya. Maya shared her inspiring story about leaving home at a young age to escape an arranged marriage and the consequent decision by her family to disown her. Despite the tensions with her family, she continued to pursue her dreams of becoming a mountaineer and went on to climb Everest. She has since repaired her relationship with her family and has become a role model within her local community. The original mission of Seven Summits Women was to become the first female team to climb the highest peak on each continent, which they achieved in December 2014. Since then, they have started training female trafficking survivors to empower them and equip them with the necessary skills to acquire a job in the trekking industry so they can provide for themselves.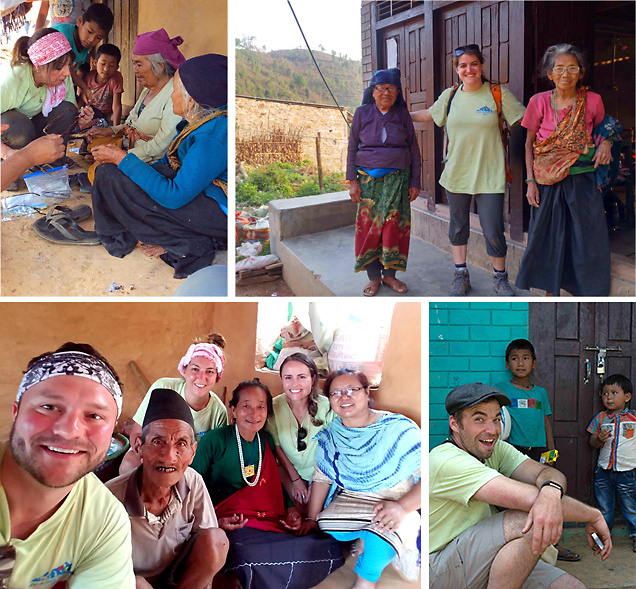 While our work in the village and discussions with Grand Circle Foundation partner organizations and non-profits will never be forgotten, it was the Nepali people who made the greatest impact on us, from getting to know the villagers in Dharampani to improvised conversations with people we met along the way.
"This community service trip to Nepal was a life-changing experience for me. I've taken many trips, visited homes, and communicated with the locals while traveling, but nothing will surpass the fact that I was able to spend entire days in a village communicating with the people mostly through body language. My emotions ran high multiple times, not because I felt sorry for the people, but because of the gratitude they showed each and every day. I could feel what they were thinking—their faces said it all."

– Mary Ann Lawrence, Receptionist, 12-year Associate
Together, we have made a huge impact in Nepal, but the need will continue for many years to come. Therefore, we're still accepting donations from anyone interested in helping. You can donate to our Nepal efforts—or any other Foundation project—here.
Thank you for your continued trust in Grand Circle Foundation.
See the difference being made in Nepal with O.A.T. during Nepal & the Mystical Himalayas.