Bringing Water to Laos
Posted on 11/12/2019 12:00:00 AM in The Buzz
By Phet Panthavong, Operations Coordinator, Laos
On August 10, 2019, I led the team of O.A.T. Laos Trip Experience Leaders, locals, and vendors in installing well water pumps in Nonsaard, Laos.
Fortunately, after spending one week on the well drilling, we found out that the three wells were successful. They produced 3,000 liters of water per hour, meaning they will serve 56 families with 16,800 liters of water per day. This was a big dream for villagers. The three water stations will serve families and the village's school.
In the past, most people in this village relied on the spring water nearby, but since the beginning of 2018, they faced the issue of slash and burns for agricultural purposes, which caused a drought and the spring water to disappear. The Mekong River was also impacted in the northern part of Laos and China. About 80% of people were lacking water, especially during dry season from February to June.
After a discussion with villagers, they've proposed construction of a water well system right near the communal center areas. We worked with a local water well drilling company to drill the well and process the stainless steel containers to set up a reservoir system. The drilling company has a six-month warranty to repair any issues on site upon requests without any extra charge to villagers.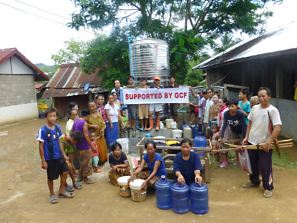 Villagers said "this is a great long-lasting way to support our daily life and a basic demand that we cannot believe has come true. Now it is happening for real, and we will preserve the wells so that they last for the long run in our community".
Many thanks sincerely from our whole hearts, and we wish the best as Grand Circle Foundation continues to do their best for others.
See the ways in which Grand Circle Foundation is making a difference when you travel to Laos on O.A.T.'s Ancient Kingdoms: Thailand, Laos, Cambodia & Vietnam adventure.