Bringing Clean Water to Tanzania
Posted on 4/10/2018 12:00:00 AM in The Buzz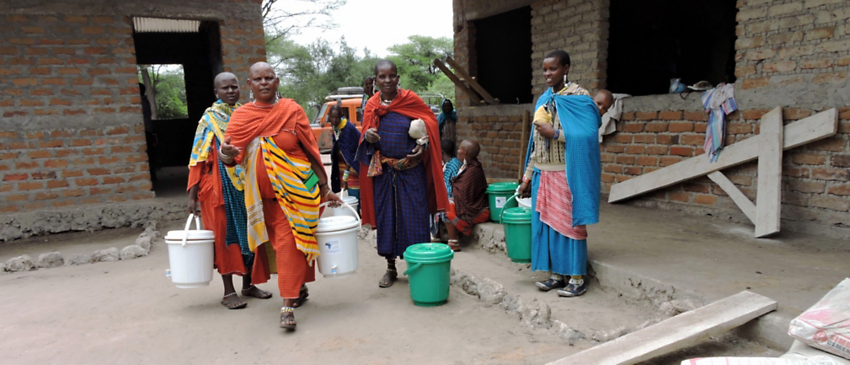 By Sandra Vaughan, Grand Circle Foundation Project Manager, East Africa
March 22nd was declared in 1993 as World Water Day. Many ask, "Why celebrate water?"
Well, it's a day we focus on the importance of fresh and clean water; and the importance of universal access to clean water, sanitation, and hygiene facilities in developing countries. In the developed world you turn a tap on and water gushes out. In many countries, you can drink straight from the tap, and it's pretty much there 24/7. In East Africa that is not so.
I live in a good neighborhood and I can only access water between every ten days to three weeks. In rural areas like Sinya and Tarangire, there is no access to clean water, no piped water, and sometimes the water sources dry up and residents have to walk half a day to a day to get water.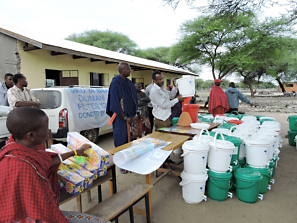 We were inspired by something Alan Lewis said recently, "We need to change Tanzania." So we took on a project we all thought would have a massive impact on a community, something that would touch and save literally thousands of lives.
Our O.A.T. travelers visit a small family-run business in Arusha that makes an incredible ceramic water filter which filters out 99.99% of all known pathogens, including those that cause cholera, dysentery, and stomach upsets. In 2017, our travelers brought over 300 filters and in 2018, they have already brought 140 filters which they distribute to vulnerable families they meet on their tour. They also donated additional funds to purchase more filters—so we proposed to purchase 120 filters, deliver them to the Tarangire community, and donate them to those who needed access to clean, safe water in one morning!
We did it. And so many more turned up than we had filters for, so I have decided to return in April with more for those who missed out. The ladies waited patiently and listened intently to the short training conducted by Kim from Safe Water Ceramics East Africa.
We held a question and answer session and then started the distribution. We had teachers from the nearby secondary school, another small primary school, an orphanage, two medical centers, and then close to 200 ladies from the surrounding Maasai bomas.
Finally, I wanted to share this unforgettable moment from an O.A.T. Trip Experience Leader, Goodluck, who, whilst driving with our travelers, came across a young Maasai woman collecting water from a muddy pool on the side of the road. He radioed Trip Experience Leader Ombeni and they donated a water filter right there and then. Our travelers helped fill her container with water from the dirty pool. Ombeni did a quick training session with the young lady on how to use the filter and more importantly, made it clear to her she would not have to drink dirty, contaminated water for five years. She left in tears, but they were tears of gratitude.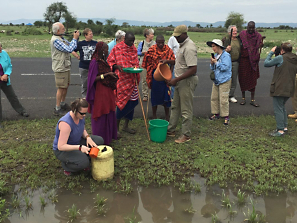 We are all grateful as none of this would be possible without our generous travelers continually donating to Grand Circle Foundation. Keep traveling. Keep making a difference. Keep making an impact on the world we travel in.
See the impact of these water filters firsthand when you join O.A.T. for Safari Serengeti: Tanzania Lodge & Tented Safari.