Better Bread & Butter: Smørrebrød Recipe
Posted on 2/28/2017 12:01:00 PM in The Buzz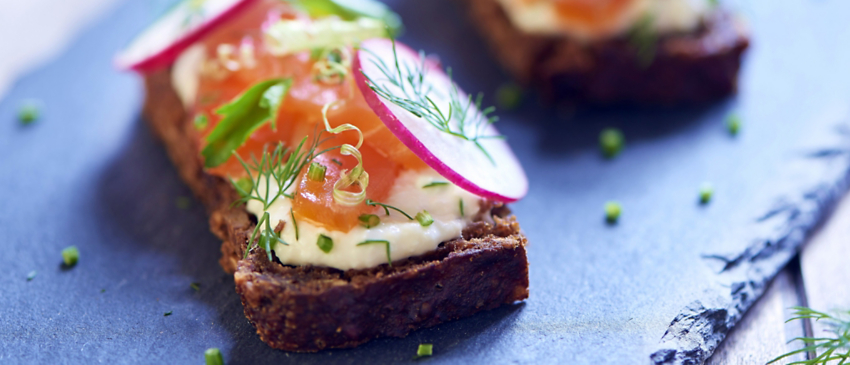 When the name of a dish literally means "butter bread," you know it has to be good. Look no further than the legendary Danish smørrebrød—a local specialty that is so much more than the sum of its endlessly variable parts.
Like so many simple, portable foods, the tradition of smørrebrød began with laborers needing a quick and filling meal away from home. At its core, smørrebrød couldn't be more basic: the only non-negotiables for these open-faced sandwiches are hearty rye bread and a generous smear of butter or another creamy component. From there, the Danes have elevated the concept to an art form. Colorful combinations of proteins, vegetables, herbs, and sauces fill bakery cases like a rainbow of jewels. They almost look too pretty to eat—but perish that thought, because texture and flavor are even more important than visual appeal. Topping trends change with the seasons, ensuring freshness. Where there is richness, there must also be brightness or acidity—usually in the form of garnishes, which also add a welcome crunch.
You'll find smørrebrød everywhere in Denmark, from street vendors to fine restaurants to family tables. And now you can brighten up your own table with these classic combinations. Look for Danish rye bread in specialty grocers; pumpernickel is a fine substitute. In keeping with Danish tradition, enjoy your smørrebrød in the order presented: seafood first, followed by meat, ending with cheese. And the occasional toast of schnapps, also tradition, is optional but encouraged.
Smoked Salmon Smørrebrød with Horseradish Cream
Ingredients:
½ cup sour cream
1 Tbsp prepared horseradish
1 tsp freshly squeezed lemon juice
4 slices Danish rye bread
8 ounces smoked salmon, sliced
3 radishes, thinly sliced
Dill sprigs, for garnish
Preparation:
In a small bowl, combine sour cream, horseradish, and lemon juice.
Spread each slice of bread with sour cream mixture. Top sour cream with smoked salmon. Place a few slices of radish over the salmon, and garnish with dill sprigs.
Roast Beef Smørrebrød with Horseradish and Pickle
Ingredients:
4 slices Danish rye bread
Butter, room temperature
8 slices roast beef
½ cup thinly sliced dill pickle or cornichons
Thinly sliced red onion for garnish
1 Tbsp prepared horseradish
Preparation:
Generously slather bread slices with butter. Top each with two slices of roast beef, followed by pickles, a couple slices of red onion, and a dollop of horseradish in the center.
Danish Blue Cheese Smørrebrød
4 slices Danish rye bread
Butter, room temperature
8 ¼-inch slices Danish blue cheese
1 granny smith apple, cored and thinly sliced
4 slices cooked bacon
Preparation:
Generously slather bread slices with butter. Top each with a layer of sliced apple, followed by 2 slices of cheese and one piece of bacon.
Sample Danish smørrebrød for yourself on our our Grand Baltic Sea Voyage Small Ship Adventure.
You may also like…
Swedish Kroppkakor
Try this recipe for Swedish potato dumplings.
Where in the World?
Where is Red Square pink and Black Market white?