Question of the Month: September
Have you had a fun experience with local transportation in your travels—or one that didn't go as planned?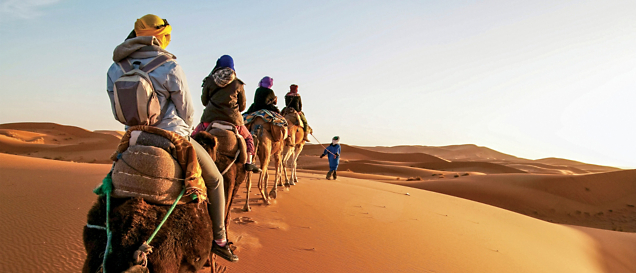 Taking local transportation can be a bit of a risk, especially when you don't speak the language. But even when plans go awry, it makes for a story you'll never forget. From slightly harrowing to just plain fun, our readers have run—or ridden?—the gamut.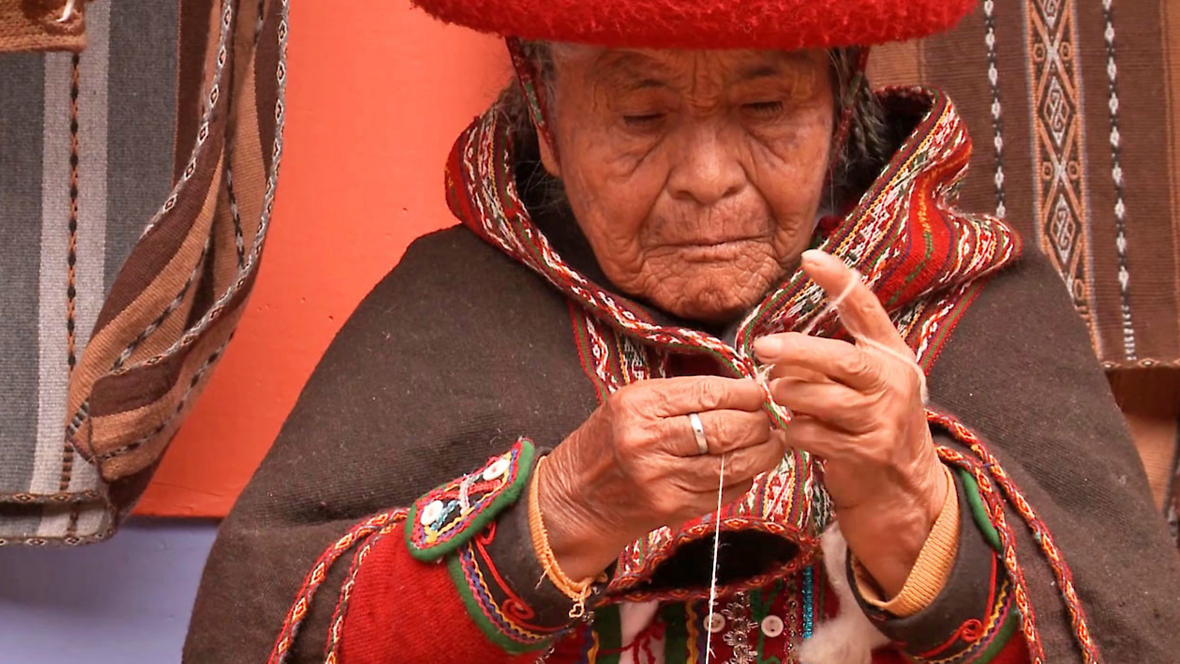 Perhaps you'll be sent on a similar missing during
Machu Picchu & the Galápagos
.
Make Your Own Way
My husband Troy and I just returned from a back-to-back trip in South America: Machu Picchu and the Galápagos then the Amazon River Cruise & Rain Forest.
While on our first trip, we were in a crowded market of local products. Our guide handed us all a sole, gave us an address, and told us all to first find our way out of the market, hail a tuk tuk (three-wheel motorcycle), and get to the next location. He did give us the address. When we arrived he wanted to know our driver's name, how old he was, if he was married and how many kids he had.
It was a great adventure. We used our internal compass to find our way out of this huge market, our sloppy limited Spanish, and made it to the destination on time.
Great fun!
Thanks to: Heidi & Troy V., 3-time travelers from Tempe, AZ • Machu Picchu & the Galápagos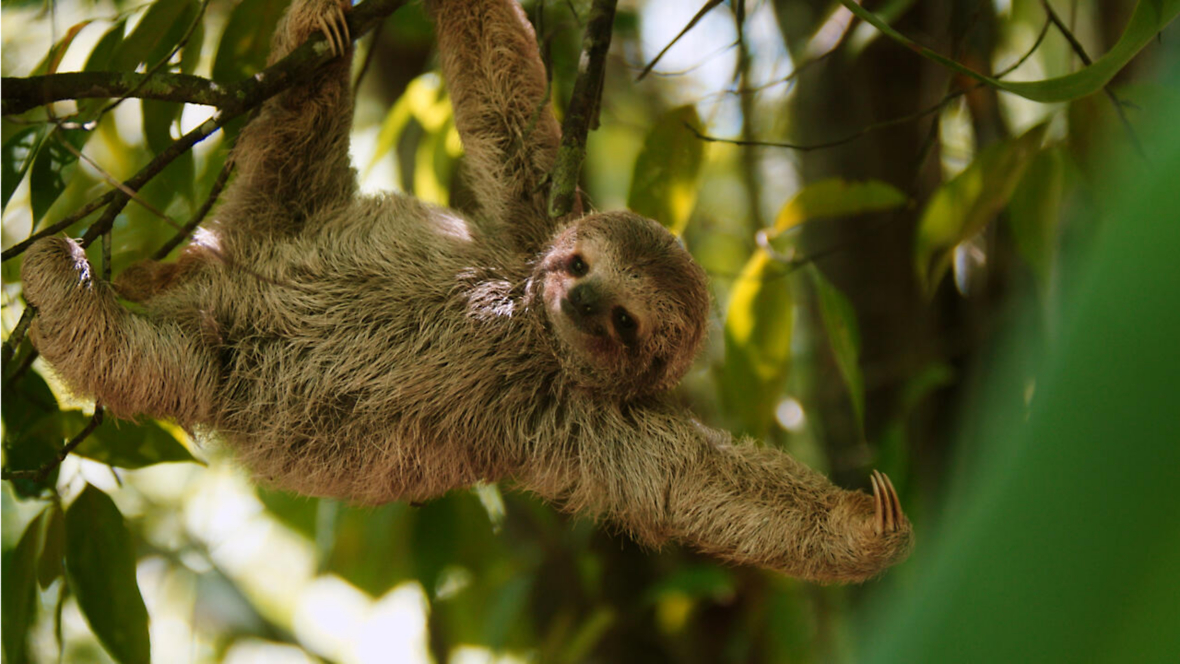 Perhaps you'll catch a buffalo ride during
Real Affordable Costa Rica
.
Shuffle Off on a Buffalo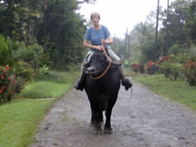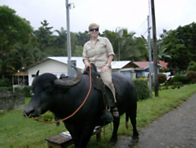 During our 2006 trip to Costa Rica, our guide had an invitation from one of the workers at the resort where we were staying. She (and her family) invited us to her home to make empanadas. They were the sorriest looking empanadas ever! But they tasted good! Her husband then put a saddle on the family's water buffalo and invited us to take a "spin." My sister, Judy, and I took advantage of trying out another unique mode of transportation. It is true that O.A.T. tries to provide every means of transportation available.
Thanks to: Jill S., 11-time traveler from Yakima, WA • Real Affordable Costa Rica
Let your Trip Experience Leader demonstrate the warmth of the Italian people during
Sicily's Ancient Landscapes & Timeless Traditions
.
What Goes Down, Must Come Up
Hi, this was a very fun adventure with local transportation!
The trip was the post-trip to Calabria after Sicily's Ancient Landscapes and Timeless Traditions. The photo was taken in Civita, Italy. We were a group of 10, mostly from Southern California. It was our third group experience (we are planning another group outing to Spain in 2021—we go every other year—always with O.A.T. or Grand Circle). We had hiked down a steep ravine with our Trip Experience Leader and we were all making smart-aleck remarks about the hike back up to the top and not looking forward to it, when what drives up but this all-terrain vehicle. Stefania, our Trip Experience Leader had ordered it and hadn't said a word about it to us. We had lingered on the bridge at the bottom of the ravine, hoping the steep climb would somehow lessen and she saved us! We whooped and hollered when we saw the vehicle. It was quite a ride to the top with us yelling all the way! We loved Stefania even more—if that was possible!
The people in the vehicle were me, Carrol M., Shara R., Bill H., Peggy H., Laura B., Karen B., Tom W., Suzanne H., Fred H.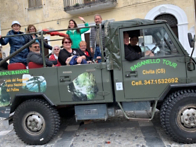 Thanks to: Linda P., 6-time travelers and 5-time Vacation Ambassadors from La Mesa, CA • Post-trip: Calabria: Southern Italy's Heartland on Sicily's Ancient Landscapes & Timeless Traditions
We can't promise handsome pilots, but Cessna flights are always memorable during
Ultimate Africa: Botswana, Zambia & Zimbabwe Safari
.
The Thrill of it All
As has been said, "this wasn't my first rodeo." I'd flown in a 5-passenger Cessna on my first trip to Botswana in 1992. But this time, I had returned with Overseas Adventure Travel on Ultimate Africa, and it was 2003.
This time, I found it particularly amusing on my first flight in the region, when the pilot pulled out a map as he was flying from Kasane to Chobe. It made me a little nervous to think that he didn't know where we were going (or so I thought).
The weather was looking fine, as we flew out of the Okavango Delta in Botswana. The pilot was looking pretty good as well. During our many flights in the area, we crossed paths often, and it was always nice to see a friendly, handsome, blond-haired South African pilot. Of course, none of the pilots in the bush country looked more than 16 years old.
Now it was my turn to fly with the handsome pilot, Spike. Take-off from the old Kasane airport went smoothly enough, but there was an impending storm, and it promised to be in our path. I squeezed myself into my seat just above the tail of the little plane, surrounded by three women I'd met on safari. Hunched over so as not to hit my head on the ceiling, my chin was nearly resting on my knees, as I struggled to take my hand-held electronic checkers game out of my bag. Hadn't played it in years, and I was just getting the hang of it once again.
All of a sudden, I noticed the ride getting a little bumpy. Taking my eyes off the game, I looked to my left and saw a wall of rain and storm clouds. I looked to my right, and found a mirror image. We were flying right through the storm! I was about to make a major play on the game board, when the plane took a huge dip, and I felt as though my seat was about to drop out from under me. Now THAT got my attention. My legs were nearly over my head, and my stomach wasn't far behind. I sobered up for a minute, then regressed to my childhood days. The others were saying what they thought could be their last prayers, while I rode the bumps with all their rocking and rolling like a kid on a rollercoaster, unable to contain my excitement!
At last we approached the runway at the airport near Chobe National Park. Elephants were on the periphery, as Spike pulled the plane to a halt, and helped us jump out, so we could make a dash for the small terminal in the downpour. A few minutes later, Spike entered the terminal. I couldn't help myself. I took one last peek over my shoulder, at the handsome young pilot. I wasn't too surprised to see that after that flight, he didn't look 16 years old anymore. No, he looked at least 19 now.
Thanks to: Bonnie M., 6-time traveler from Clearwater, FL • Ultimate Africa: Botswana, Zambia & Zimbabwe Safari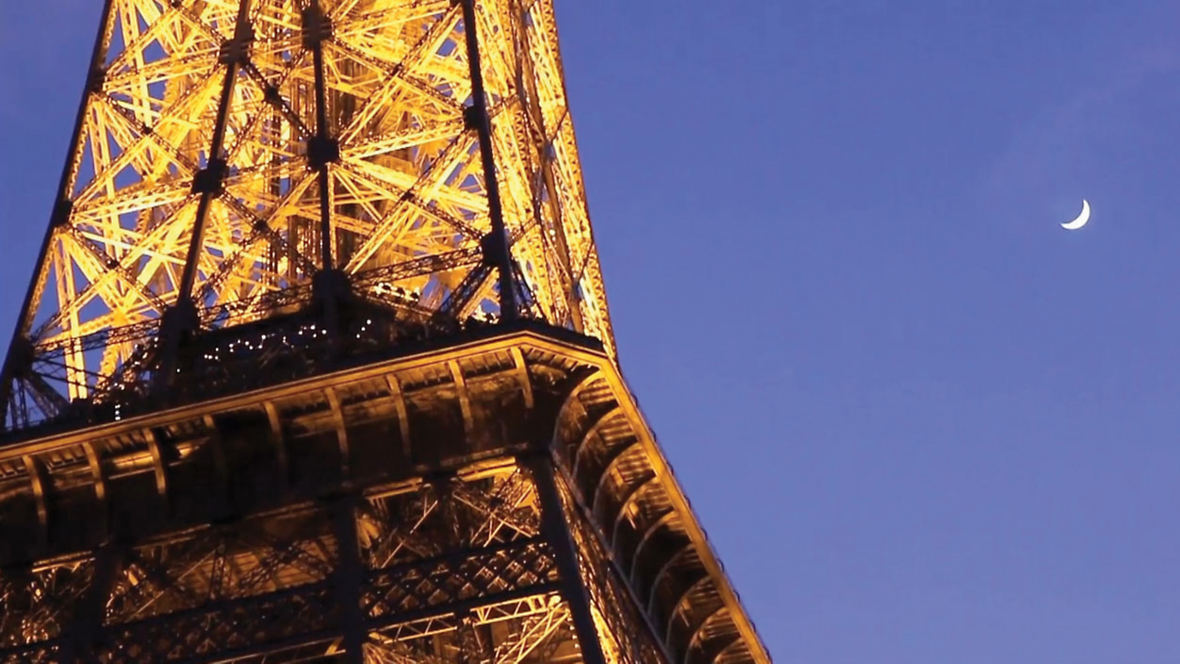 Soak in the signature style of the French Riviera during
Cruising Burgundy & Provence to the Cote d'Azur
.
Travel in Style
My friend and I were going to be staying in Monaco for a few days, and our flight arrived in Nice. We were able to arrange to grab a public bus to Monaco for a couple euros, so we took it. That bus took a gorgeous route along the French coast with breathtaking scenery, while we enjoyed it from a comfortable bus with huge windows, and all for a pittance. Upon arrival at the stop nearest to our hotel, we had to figure out how to walk or find a taxi to our hotel. A bit confused, we asked a local gentleman for assistance. Though he wasn't particularly friendly, for the next 10 or 15 minutes he proceeded to walk us the entire confusing route to the hotel before leaving us. What a great start to a stay in Monaco!
Thanks to: Bruce M., 2-time traveler from Baltimore, MD • Cruising Burgundy & Provence to the Cote d'Azur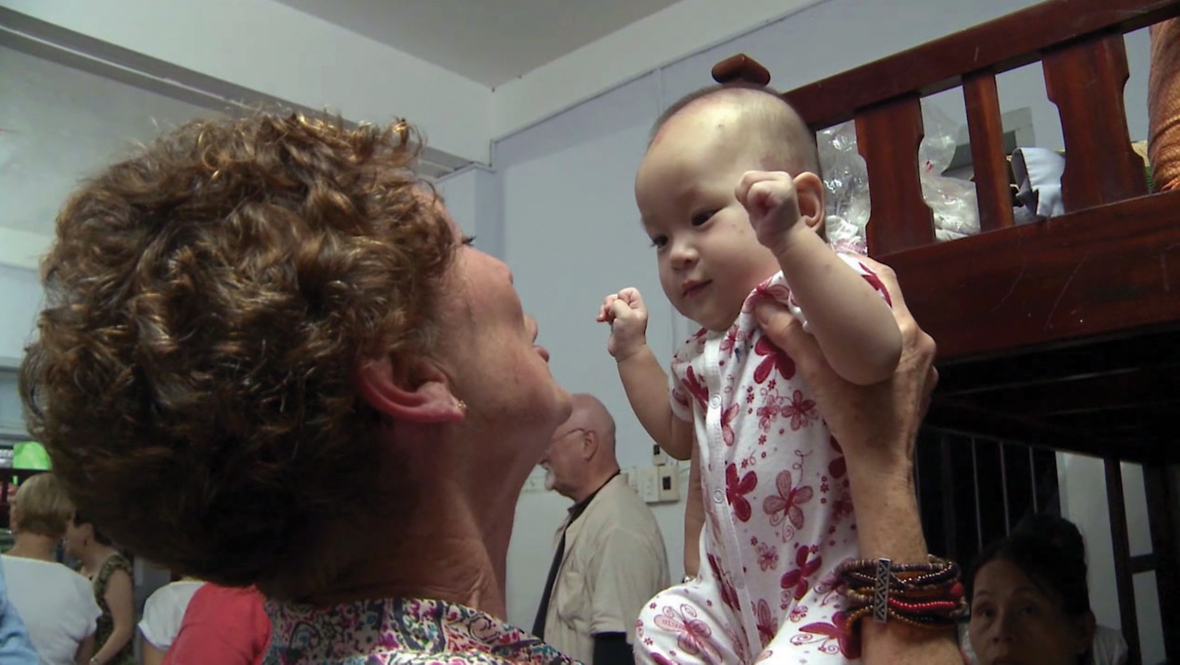 Don't miss the opportunity to have clothes custom made during
Inside Vietnam
.
Freewheelin'
We were on our first O.A.T. adventure, a trip to Vietnam. I had already emailed our tour guide, Phil, that when we reached Hoi An, I wanted to buy a custom made suit. He replied, "I know just the place."
After a morning touring Hoi An, Phil brought a few of us to Yala Couture, a large, airy building that still managed to blend into the Vietnamese neighborhood. After being photographed and measured in more ways than I thought possible, I was told to come back the next afternoon for a fitting. I replied that I didn't know where I would be, Phil intervened and gave them the address of the restaurant we would be at the next day. My hostess promised to send someone for me.
The next day, after another fabulous Vietnamese lunch, Phil called out, "Wayne your ride is here." I went outside looking for a car or taxi, as my wife also wanted to go back. I didn't see anything. Phil smiled and pointed at a sporty motorbike sitting on the sidewalk. I told the young driver that my wife also wanted to have a fitting. He replied that he hadn't known, but would come back for her.
"Climb on. Don't burn your leg on the exhaust." Once I was seated, he said, "hold on," and took off down the sidewalk, dodging pedestrians. He was soon on the road driving against traffic, laying the bike down around blind corners and giving me a thrilling two-dimensional roller coaster ride. I had witnessed this in Hanoi, but had never taken part. Vietnamese drivers' motto is: "traffic rules are just suggestions." Soon he dropped me off at the tailor and went back for my wife. Sooner than I would have guessed, they came racing around the corner, my wife's hair all askew and a huge smile on her face. As fun as the ride had been, the result was better. I ended up with an Italian wool suit, an English wool sports jacket and a custom cotton shirt. My wife had a new sun dress made to her specs and a custom-fitted Vietnamese ao dai, all for less than an off-the-rack suit and shirt in a men's store back home.
Thanks to: Wayne K., 3-time traveler and 2-time Vacation Ambassador from Grafton, NH • Inside Vietnam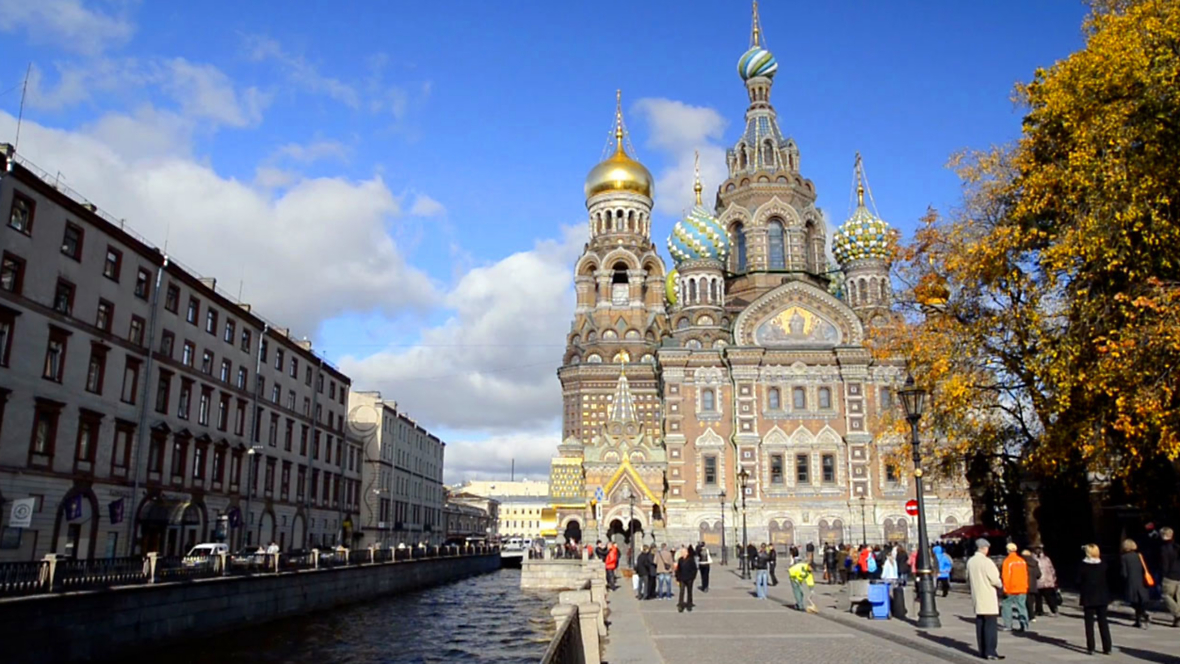 Consider visiting these museums in your free time during
The Baltic Capitals & St. Petersburg
.
Unmarked Car
When my friend and I traveled on the Russian river cruise we went to St. Petersburg. We wanted to go to the ethnic museum and art museum in town. Two other ladies were interested in joining us. We asked for a taxi to be ordered from the ship staff. The taxi came, we told him where we wanted to go and off we went. The staff had told us to call the number they gave us and wait with a flag that they gave us, so we thought we were okay.
The museums were lovely. Afterward, we called as we were told and waited with the ship's flag outside the museum. We noticed a regular car—not a taxi—with a man eating ice cream. After about 15 minutes, we called again. They obviously were able to get in touch with him and along comes the same man; however, he was not a taxi driver. We told him where we wanted to go and he started driving. I was up front with him and the other three were in the back. After the third time going around in circles, I turned to my friend in back and said we are going in circles. We kind of laughed.
We finally started to direct him in the vicinity of the direction of the ship and he eventually stopped and asked someone where the dock was and we got there. The two sisters with us were a little nervous, but we told them it was an adventure we could laugh about afterwards. We did arrive at the ship and we told the staff what had happened. They said that the taxi driver probably gave a friend the call.
Thanks to: Sandra W., 12-time traveler and 2-time Vacation Ambassador from Santa Monica, CA
Give your feet (or knee) a break and take a pedi-cab through Amsterdam during
Holland & Belgium in Springtime
.
Worth a Few Bumps in the Road
After hours of walking cobblestone streets and visiting an art museum in Amsterdam, my non- replaced (yet) knee said "enough." Not being able to figure out how to do multiple transfers on larger conveyance, we hailed a first-time-ever pedi-cab for a bouncy (and bit painful) ride to where we could see the bridge to cross to return to our boat. The "driver" took a detour or two for some very personal tour guiding, including the narrowest house! Unforgettable.
Thanks to: Sherna K. & Jerry S., 9-time travelers from Tahoe, CA • Holland & Belgium in Springtime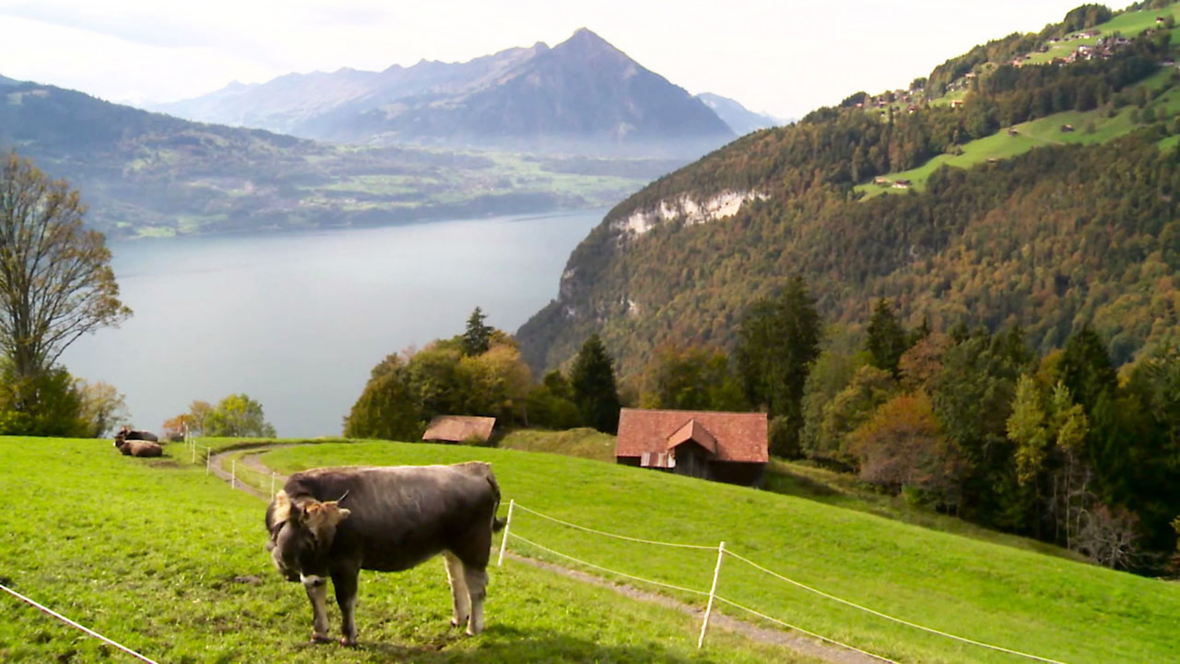 Grand Circle will get you safely to—and from—Interlaken during
Romantic Villages of Alpine Europe
.
Not So Local
One of our memorable transportation experiences occurred on a Switzerland trip with friends.
While staying in the small, lovely town of Lungren, south of Lucerne, we took the train to Interlaken for a day of hiking. While the hike was memorable for hearing the cow bells and feeling a cool mist, it was not so memorable for being unable to see the expected vistas of the Jungfrau and Eiger mountains due to fog.
When we made it back to the train station we discovered our express train had left. No problem. We would just take the local. After checking the many stops on the local, Lungren was not to be found.
Now it was dark and drizzly. So on we hop and and wonder what are we going to do now as the train lumbers down the tracks. The closest stop would still leave a 10-mile walk in the dark. Perhaps along the tracks. Beginning at about 10pm. My anxiety level, which rarely moves the needle, has now registered a significant number. My wife looks around at the other passengers and approaches a young woman with our predicament. She does speak English and volunteers to contact a taxi driver in her town. So off the train we hop.
After our benefactress explains to the reluctant taxi driver that she is sure we four wet but desperate Americans would not harm her, she is on the way to get us. That 70-franc fee was the best money we spent on the trip!
Thanks to: Harry M., 2-time traveler from St. Pete Beach, FL
Party Bus
A number of years ago, while vacationing in Puerto Vallarta, my husband and I opted to take the local bus back to our hotel instead of hailing a cab. What a fun experience! As the bus stopped in front of the cathedral, it picked up a bridal party, including a three-piece band who entertained us with a few musical pieces. We were seated in the rear seat. Next to me was an elderly woman holding a paper bag. In the bag was a live chicken with its head sticking out—not something we would have seen in a taxi. The floor near us bore a hole allowing us to see the road as we traveled. At one point during the ride, the driver hit a short brick wall separating the lanes. He just simply backed up a bit and continued on. All this excitement for just a few pesos!
Thanks to: Francine W., first-time traveler from Sun City Center, FL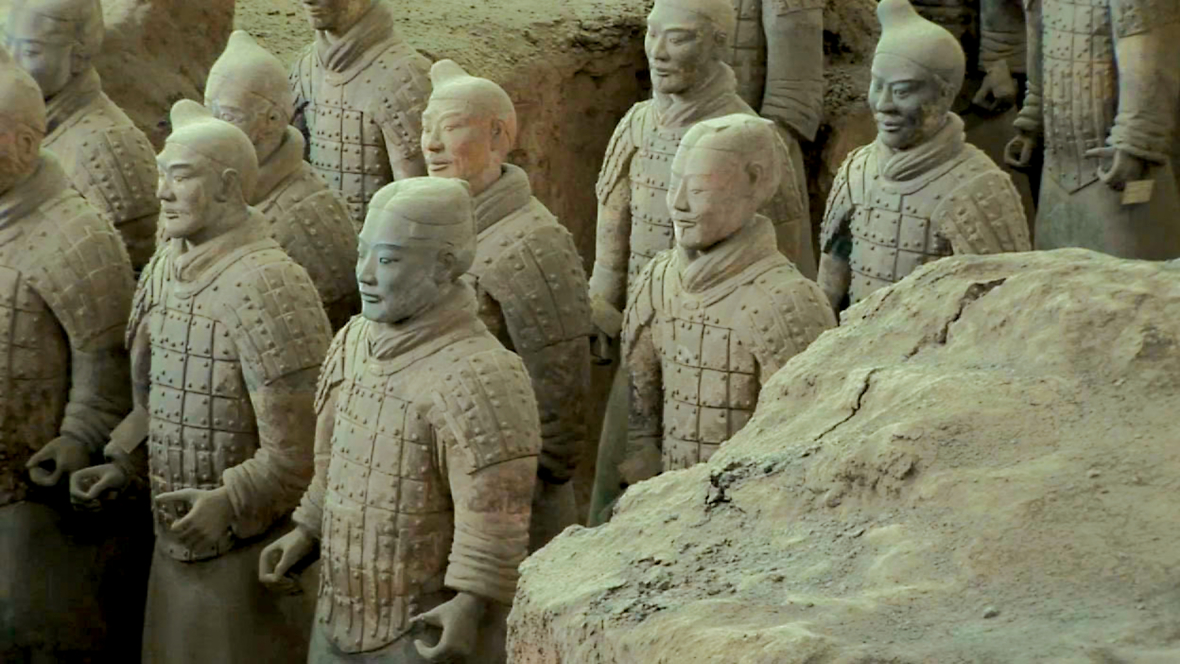 Be wary while negotiating rickshaw fares in your free time during
Imperial China, Tibet & the Yangtze River
.
Taken for a Ride
A college friend and I were traveling in Lhasa, Tibet. We had visited Jokhang Temple, a local market, and Potala Palace. We had a general feel for our hotel location. We had been advised to carry the hotel address with us and if taking local transportation to negotiate the fare before taking a ride.
One afternoon we had some free time so we decided to take a rickshaw ride around the city. Outside our hotel we found a man waiting to provide rides. We began to negotiate the fare. We were doing our best with the driver's limited English and our gesture of time on our watch. We showed him the amount of local currency we would pay. We wanted a half-hour ride for 20 yuan. It was taking some time to come to this agreement. An English-speaking native lady came by and helped us confirm the arrangement. We began our ride.
We went up and down streets, around corners, but always we were keeping an eye on the Potala Palace up on the hill. When we were about close to our half-hour ride being over, we felt we were not close to our hotel. So we poked the driver and showed him our watch. He shrugged and continued to pedal. We could tell we were not getting closer to our focal point, the Palace. My friend and I discussed if we should get off and find another ride back to the hotel, or believe that this man would take us back. We decided to stay and another half hour passed. Finally, we did arrive back at the hotel. Now the driver demanded 50 yuan. He became angry and would not accept the 20 yuan we had agreed upon. He used his watch to argue we'd had an hour ride. Suddenly a crowd of people were around us. We put the 20 yuan on the bike seat and hurried into the hotel. The man yelled at us!
A few hours later we wanted to return to the market but we were afraid the rickshaw driver would be by the hotel and recognize us. We dressed in different clothes and I put my long blonde braid up under a baseball cap. We did not see him.
Thanks to: Sarah J., 16-time traveler from Genoa, IL • Imperial China, Tibet & the Yangtze River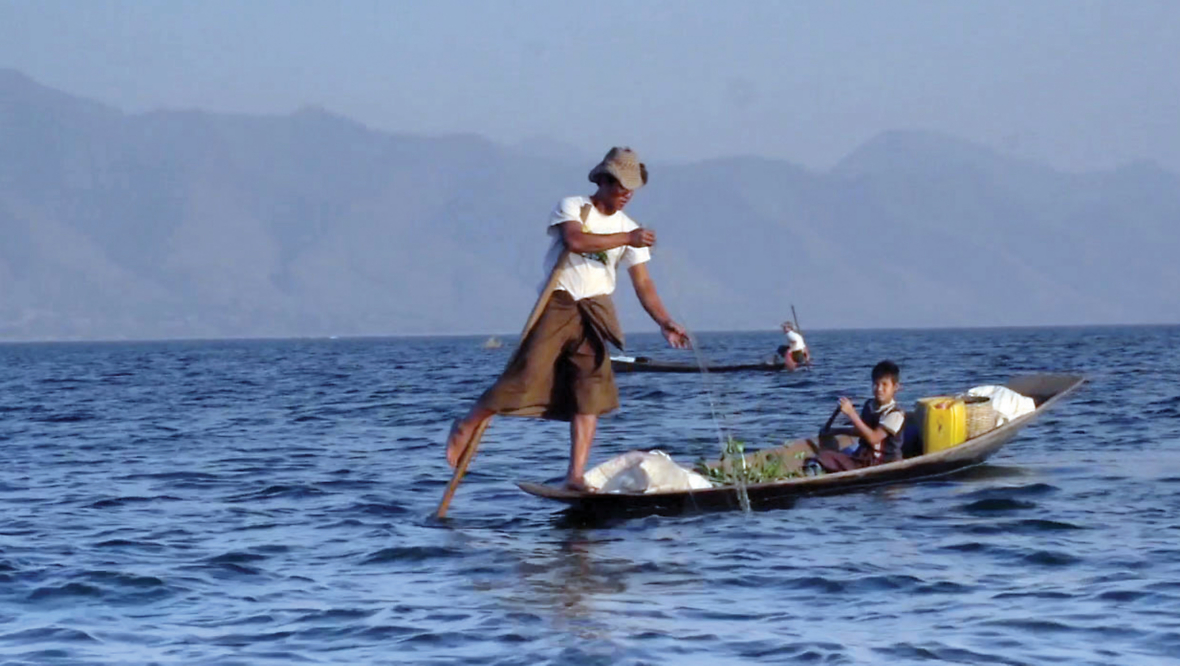 Loosen your definition of "taxi" during
Burma: Land of Golden Temples & Floating Gardens
.
Carted Off
During a 2014 O.A.T. adventure in Burma, we negotiated a taxi ride from a temple to a nearby river outside Mandalay. Then we discovered the taxi! It was great fun, even if unexpected!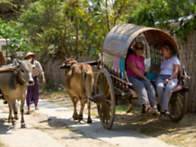 Thanks to: Barbara P., 6-time traveler and 4-time Vacation Ambassador from Clearwater, FL • Burma: Land of Golden Temples & Floating Gardens
You don't need to wait for a new Question of the Month to tell us a story. Email us any time at [email protected]. To read more stories from your fellow travelers, check out our archive of Traveler Insights from previous editions of The Inside Scoop here.
You're receiving this message because your web browser
is no longer supported
We recommend upgrading your browser—simply click the button below and follow the instructions that will appear. Updating will allow you to accept Terms and Conditions, make online payments, read our itineraries, and view Dates and Prices.
To get the best experience on our website, please consider using:
Safari (for Mac or iPad Devices)
Update Browser