Question of the Month: December
Do you have a story about giving back in your travels—either at a site supported by Grand Circle Foundation or on your own?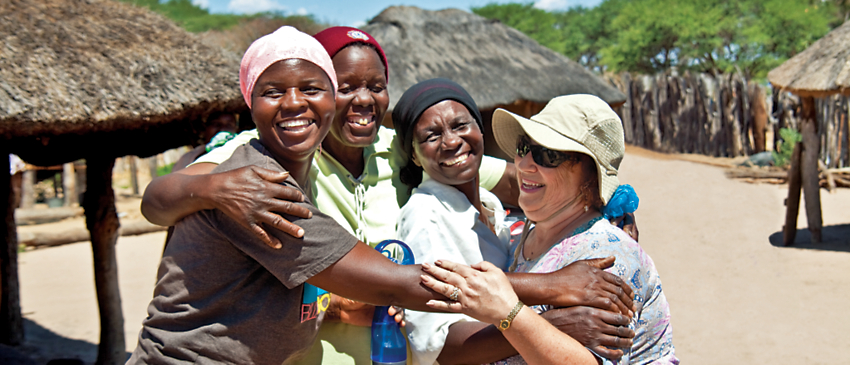 We've always believed in the importance of giving back to the places we visit—because the world has given us so much. We asked our readers to share stories of giving back in their travels. As these answers show, there is no greater souvenir than the joy of helping another.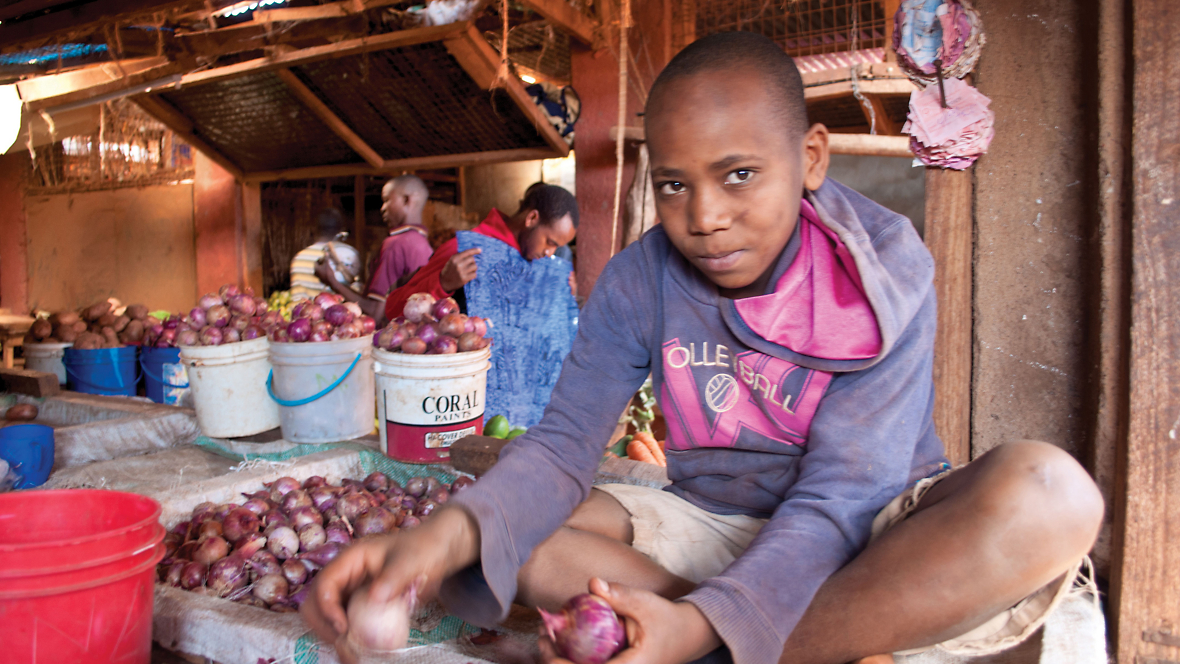 Make spontaneous connections with the people of Tanzania during
Safari Serengeti: Tanzania Lodge & Tented Safari
.
Happy Feet
On my first trip with O.A.T. to Tanzania, I looked in my overstuffed closet and decided to bring with me six pairs of tennis shoes, some brand-new, some slightly used. I had no idea how this was going to work. Well, the miracle worker was our Trip Experience Leader, Goodluck Kombe. I charged him with figuring out who would want a pair and gifting it. I remember one day we did a spontaneous walk near our lodge. I thought Kombe knew the woman who we dropped in to see, as he had such a warm conversation with her. But as was typical of all of his interactions, he made a new friend. She showed us around her little farm, walking around in flip-flops in the mud. He gifted her the sneakers and I am sure she will put them to good use. All women like to have a nice pair of shoes for an outing.
Thanks to: Lindley R., 2-time traveler from Stamford, CT • Safari Serengeti: Tanzania Lodge & Tented Safari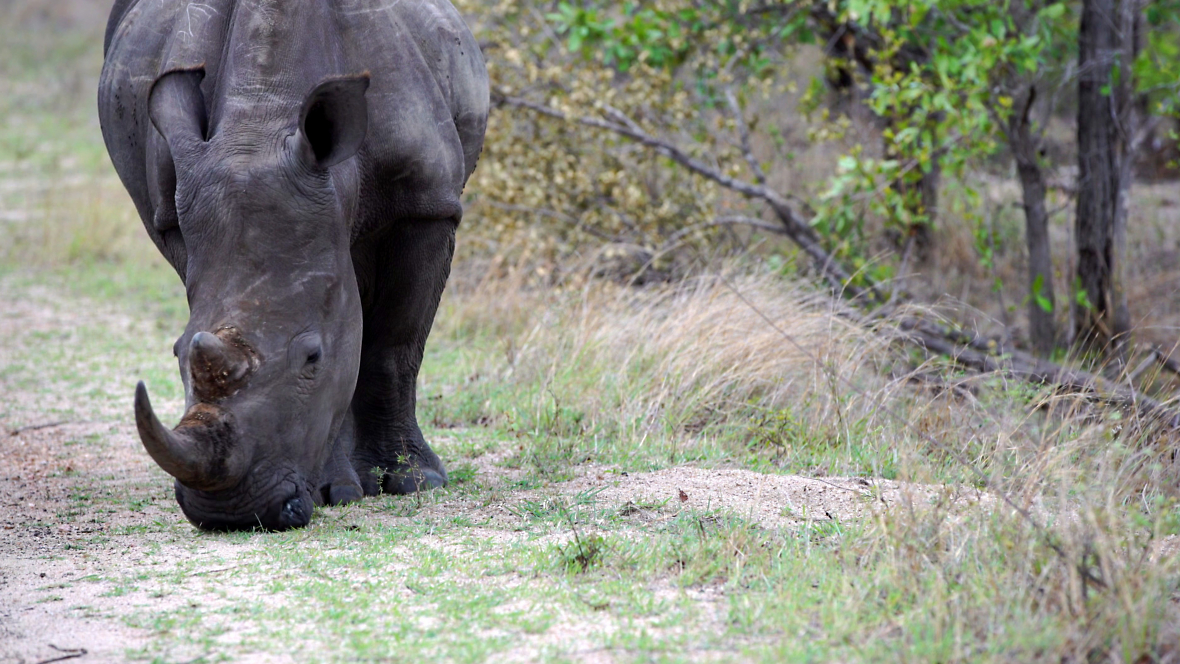 See how livestock impacts villages in southern Africa when during
Southern Africa Safari & Lake Kariba Cruise: South Africa, Zimbabwe & Botswana.
Getting her Goats
You have a wonderful guide in Vicki on your Southern Africa Safari adventure, with whom I connected on my recent trip late this fall. She has been helping me, with your office's permission. I left her with some money and she has been purchasing goats on her own time and getting them to needy individuals. So far, now that I am home, I've raised enough for about 40 more goats with 15 coming from my church. I've been gifting donors with cloth from Africa and have now made up packets of gift cards with photos from that trip as a thank-you to contributors. I have also been sharing photos Vicki has sent of the recipients and their thank-you notes, and contributors are naming their donated goats. I have shown several slide shows at meetings to generate more interest.
Vicki suggested that recent donations go through Grand Circle Foundation so that they can be channeled more effectively. I am waiting to hear back from the appropriate person in Boston.
In the past at Christmas, I have sent "animals abroad" through soliciting organizations, but a goat through there is between $65-$80. Vicki has been able to negotiate goats for $20-$22. It feels so much better to get multiple goats for that price and then to see who is getting one and to read the impact one goat means to their life. This has personalized this small gesture of goodwill on the part of the donors, and in turn they have shared this with others, resulting in "more goats."
As I write on this snowy day and appreciate the heat from my wood stove and warmth from my clothing, I think how fortunate I am. I remember now the boys at one village just needing several bags of cement to patch holes in their small dwelling to keep out cold weather.
Thanks to: Ann B., 13-time traveler from Arlington, MA • Southern Africa Safari & Lake Kariba Cruise: South Africa, Zimbabwe & Botswana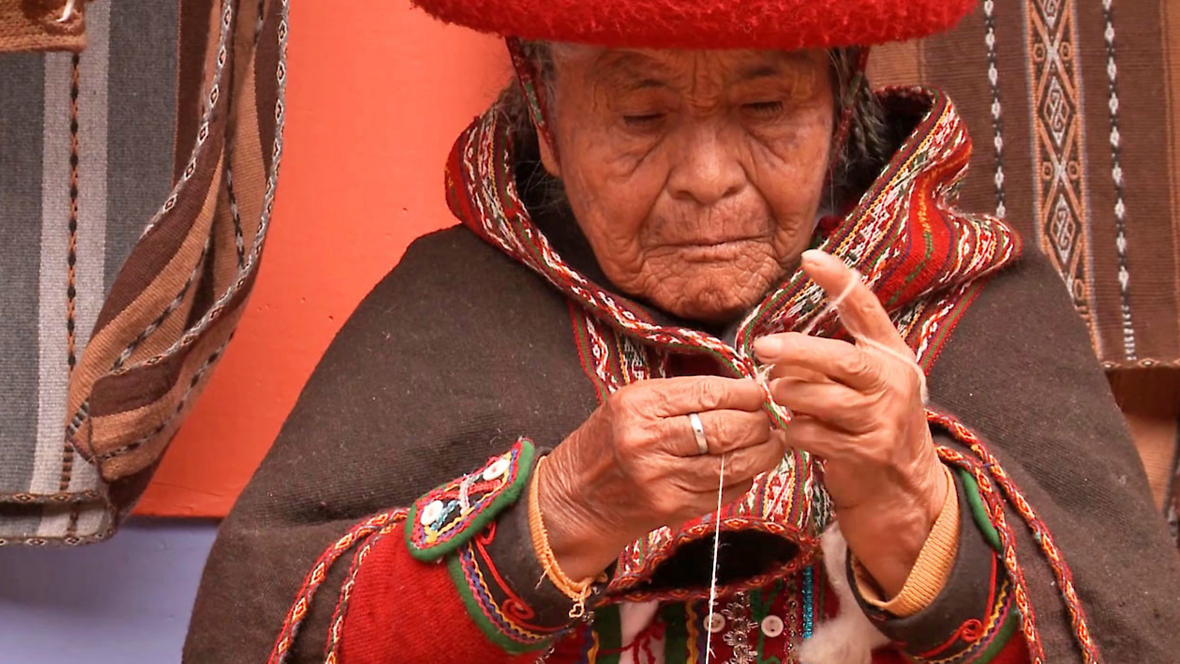 See two of the world's greatest wonders and meet the local people during
Machu Picchu & the Galápagos.
On the Ground Floor
My spouse, Roger, and I are about to take our eighth trip with O.A.T. in a couple of weeks (to Patagonia), and of course preparing for the trip evokes memories of adventures past.
On our very first O.A.T. trip, I fulfilled my dream of visiting both Machu Picchu and the Galapagos. This was during the winter of 2008-2009. In Lima we were offered an optional excursion to visit San Francisco, a community of very poor people living literally in shacks, built on dirt, who had come together to form a group dedicated to care for each other. As it was their summer, the children ran freely and played happily and the adults went about the business of their cooperative work.
We were shown into the community kitchen where a few women were preparing lunch for their community. They proudly held up large stainless steel pots that they were using, pots we were told that O.A.T. had donated. And they were very grateful. It was a touching moment, and I photographed one of the women, who had only a few teeth but a big smile as she proudly displayed the O.A.T. pot she was holding.
That image stayed with me, and a few days later I asked our Trip Experience Leader what else the San Francisco community might need. He was able to find out that the kitchen workers really wanted a floor. I asked how much it would cost and they got an estimate for a wooden one. It was our pleasure to fund that project, and a couple of months later the Trip Experience Leader contacted me to let me know that the work had been done.
He sent me some photos of the happy women in the kitchen—standing on their new wood floor, their wide smiles beaming at me, and through me, from my computer screen. It was a thrilling moment to see the small gesture we'd made make such a difference in the lives of so many. Every time I think about it I am filled with appreciation for the struggles of the inspirational people at San Francisco, along with immense gratitude for the opportunity given to me by O.A.T. to make a difference in their lives.
Thank you for taking the time to read this account of one of the most significant experiences I've had in my many years of travel.
Thanks to: Sandra S., 8-time traveler and 1-time Vacation Ambassador from Jamaica, NY • Machu Picchu & the Galápagos
The Greatest Reward
Several years ago my husband and I created PACforKids.com, offering information to travelers about how to give gifts that are useful, meaningful, fun, educational and ecologically friendly. Giving (typically books, school supplies, and toys) while traveling has become the most rewarding part of every trip we take. National Geographic Traveler magazine selected us to be among its "Travelers of the Year 2012" as a result of creating PACforKids.com. We were also invited to Catalunya, Spain, to be on a public TV program after a producer there saw our website!
We receive so much while traveling, including knowledge, kindness and understanding. We have learned that giving something back is a small way to thank our host countries and its people for welcoming us.
Thanks to: Mary Jean J., first-time O.A.T. traveler from Ann Arbor, MI
Editor's Note: Last April, we featured Mary Jean's experience in Egypt as an Inside Scoop Traveler Insight. Mary Jean, it's great to hear from you again!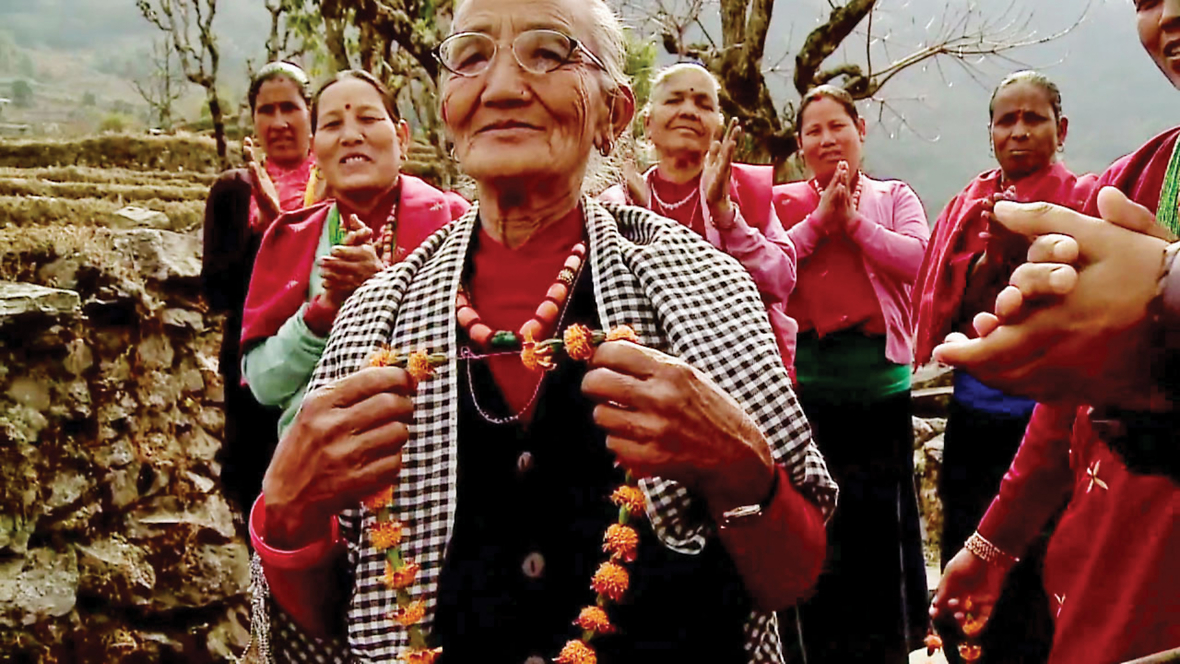 Pause during treks to interact with locals during
Nepal & the Mystical Himalayas.
The Simplest Gift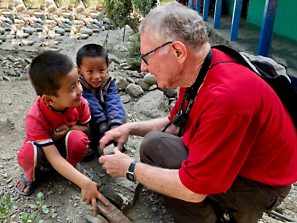 I love this photo of my husband, LeRoy Horn, interacting with these boys in a small, secluded village in Nepal. They had trucks and cars fashioned from wood and were thrilled to share them. One of the boy's flip-flops was worn out and kept falling off. He would fix it by wedging a rock into the toe hole. How we wished there was a store nearby where we could buy him a new pair. All we had to give him and his friend was some warm attention … and that seemed to be enough for them.
Thanks to: Jane & LeRoy H., 31-time travelers and 11-time Vacation Ambassadors from Prior Lake, MN • Nepal & the Mystical Himalayas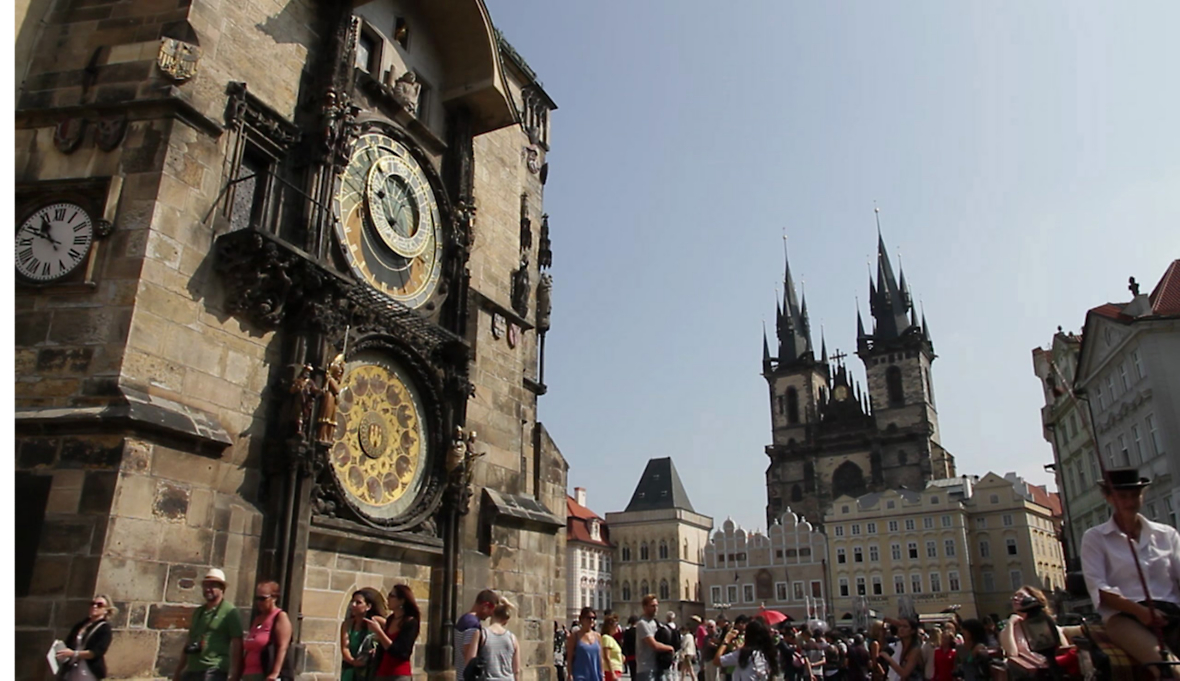 Experience the rich culture of Central Europe during
Jewels of Bohemia: Czech Republic, Slovakia & Hungary.
A Massive Undertaking
Several years ago we took an O.A.T. trip called Jewels of Bohemia. On the pre-trip we had a home visit in the Sudetenland, where we met Sona Cernocka and her family, who were remodeling a huge house that had been abandoned after many people had owned it over the years. It had sat vacant for many years and was a complete wreck when her husband bought it before they were married for a very low price. She took on quite a project when she agreed to marry and raise a family there. It had 75 windows on the front of the house, to give you an idea of the size of the place.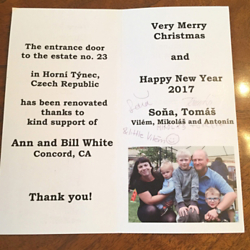 When we arrived for our lunch with our small group of seven, the reconstruction was in full swing and there was a lovely kitchen and one huge great room where the family, now including three charming little boys, ate, watched TV, did homework, and slept. The only other bedroom finished was the parents' room. The boys helped serve the lunch and we got a tour of the property. They had a cow and chickens, and Sona worked in the local museum. Her husband commuted to Prague where he worked for the State restoration organization.
We were so impressed with this wonderful family and the huge undertaking they had assumed that we decided to help with the restoration. That fall, we sent a check to them to help with the project and at Christmas they sent us a Christmas card showing a beautifully restored front door that made the entrance look so nice. Since then we have sent a few more contributions to them and now the upstairs is being beautifully restored, too. We hear from them a few times a year and their boys are getting older and can appreciate all the hard work involved. It is a true person-to-person connection that we are so privileged to make through these O.A.T. trips. They will be long distant friends for a long time.
Thanks to: Ann & Bill W., 16-time travelers and 2-time Vacation Ambassadors from Concord, CA • Jewels of Bohemia: Czech Republic, Slovakia & Hungary
Consider bring used shoes and reading glasses with you on
Ultimate Africa: Botswana, Zambia & Zimbabwe Safari.
Big Shoes to Fill
One of the first times I was in Victoria Falls, I was asked many times for the very shoes on my feet! Of course, I was not able to give them to anyone right there on the spot and I felt badly about that. The people of Zimbabwe have had such a hard time over the years, and so many are in such great need. But, the next time I went, I brought my used gym shoes with me. I tried to trade them for items in the market, but found that most times, the person I was "bargaining" with also wanted cash. Therefore, the bartering with shoes concept wasn't working very well—not for me, at least!
So, now, because I continue to go back to Victoria Falls on my many Ultimate Africa trips, I have begun saving my used tennis shoes. I take them with me every time, but now, I just give them away. Further, this last time, I also included sandals I don't wear anymore. I took eight pairs of shoes with me this last trip.
I also did something new. We always have lots of reading glasses around the house that our eyes have outgrown. I realized they might be really useful to the people in Zimbabwe. So, I also took a good sized bag filled with our old, but still very useable reading glasses.
It is not a whole lot that I am doing, but I feel if this idea could catch on, it would not be such a bad thing! The people in Zimbabwe have great needs, and if my fellow travelers also brought their no longer used shoes and glasses, what a great thing that would be!
Start saving them up now if you are heading over there! When the shoes are taken out of your duffle bag, they leave lots of room for beautiful souvenirs!
Thanks to: Elena C., 16-time traveler and 3-time Vacation Ambassador from Palm Coast, FL • Ultimate Africa: Botswana, Zambia & Zimbabwe Safari
You don't need to wait for a new Question of the Month to tell us a story. Email us any time at [email protected]. To read more stories from your fellow travelers, check out our archive of Traveler Insights from previous editions of The Inside Scoop.
See the answers to previous Questions of the Month here.
You're receiving this message because your web browser
is no longer supported
We recommend upgrading your browser—simply click the button below and follow the instructions that will appear. Updating will allow you to accept Terms and Conditions, make online payments, read our itineraries, and view Dates and Prices.
To get the best experience on our website, please consider using:
Safari (for Mac or iPad Devices)
Update Browser