Question of the Month: March
What have you brought home from a trip—in your suitcase, heart, or mind—that keeps the destination with you?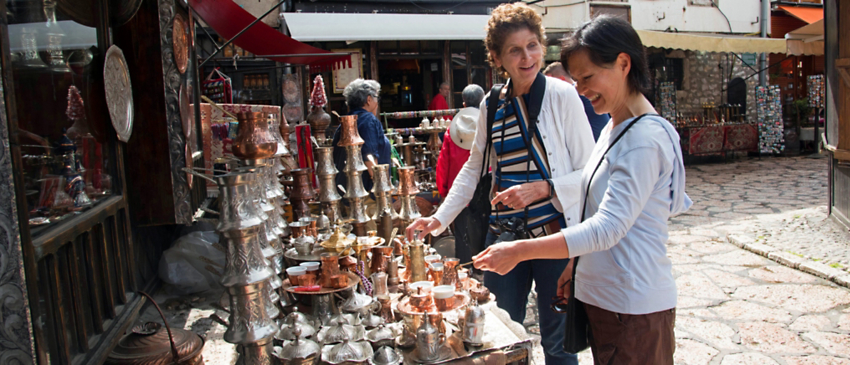 Bringing home a memento from a trip can help keep your travel memories alive, but those souvenirs aren't always physical. From magnets to music and journals to cherished new connections, this month our travelers shared what in their lives reminds them of their adventures.
If These Walls Could Talk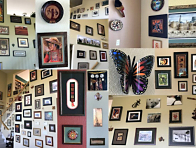 What have I brought home from 40-plus trips? Art: mostly small pieces that can be rolled in a tube and safely stashed into my suitcase. Art weighs nothing, but once it is framed and on my walls, it is worth its weight in gold. I sit and look at each piece, remembering the place, the Trip Experience Leader, the travel companions with me, or the artist from whom I bought it.
Over the years, certain art pieces grow in personal value for whatever reason—the way they are framed, the colors, the memories. My two-story family room walls are almost covered, floor to ceiling. I have begun a new art wall in my music room, and each foot of space between archways becomes home to another piece or two. Interspersed for dimensional interest are a few ceramic pieces, a marionette, a flute, a PVC butterfly. I buy what speaks to me as I travel—and in a couple cases, it has been five or six pieces that "spoke" during one trip! I think there is no more wall space, yet I find it or create it, and I am confident more art will come home with succeeding journeys.
Thanks to: Jane L., 44-time traveler from Shingle Springs, CA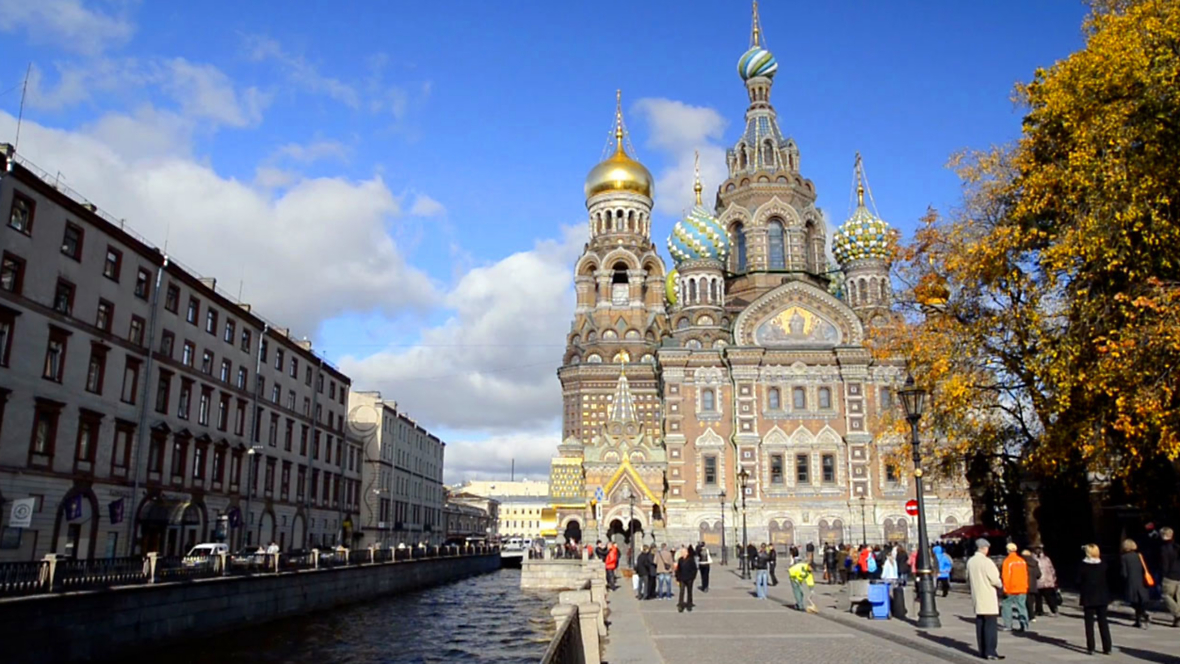 Experience a dedicated and memorable Trip Experience Leader like Laura during O.A.T.'s
Baltic Capitals & St. Petersburg
adventure.
Capturing Memories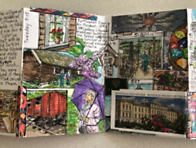 My husband, a longtime friend, and I traveled to the Baltic countries last May with O.A.T. Our guide Laura Aksika was wonderful sharing with our group her tremendous pride in the history and culture of not only her native Latvia, but of Lithuania, Estonia, and Russia as well. She was funny, energetic, and had a depth of knowledge that truly made our trip an experience of a lifetime.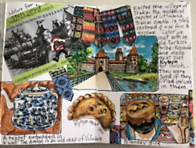 While we were traveling, most times by bus for several hours, I would work on my travel journal, recording events of the day that stood out in my mind and I didn't want to forget. While photos do capture the moments of each day, the paintings I make seem to have more meaning because I have to pick out the few that I actually have time (or room in my little sketchbook) to paint.
I occasionally pull out this little accordion book and relive our amazing journey with Laura through her part of the world.
Thanks to: Dalynn S., 7-time traveler and 2-time Vacation Ambassador from Laguna Niguel, CA • Baltic Capitals & St. Petersburg
Magnets & Ornaments
We keep every trip in our memories two ways. Our refrigerator at our lake house is the visible place where we place a magnet from every country we visit on our trips. We soon may have to buy a larger fridge! And in our main residence during the holiday season, we decorate a special tree with the many ornaments we collect from each and every country. It is fun to search to find an ornament that is significant to each country we visit in our travels with O.A.T. Many great memories are stirred every year as we adorn our special tree with the older and newest ornaments!
Thanks to: Jim & Jan N., 6-time travelers and 2-time Vacation Ambassadors from De Witt, IA
Shared Experiences
The pictures from our camera, small mementos, may all give us snapshots of our travels, but what keeps them alive are the traveling companions we have met and formed close bonds of friendship with.
Why, you might ask? It is because we have all shared the many same experiences of the trip. When we talk or meet, we always reminisce about those interesting, eye-opening, and funny moments we once shared together.
Thanks to: Ron & Dee Ann H., 3-time travelers from Boynton Beach, FL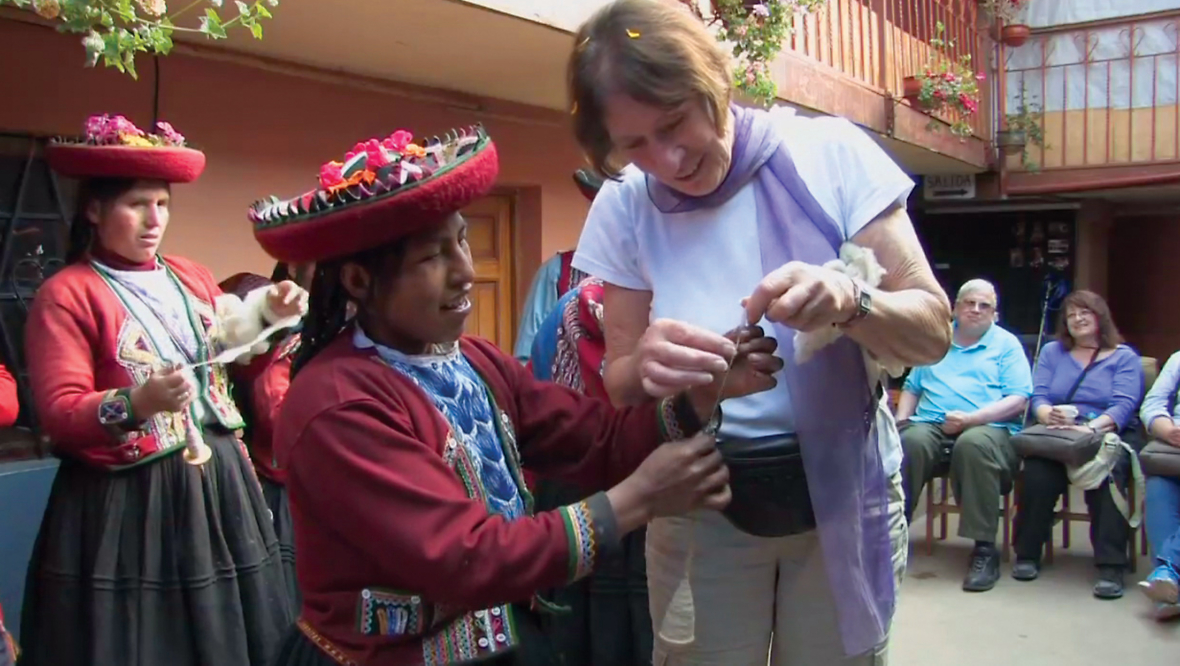 Sample some Inca Kola for yourself—or save it as a memento—with O.A.T. during
Real Affordable Peru
.
"Ancient" Inca Kola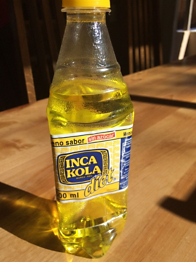 When traveling, I seek out local foods, drinks, people, customs and try as best to "blend in" and become part of the landscape. I enjoy going to open air markets and buying produce to snack on like I did in Peru at the Pisaq Market. I bought the most delectable avocados to supplement my lunch while visiting Machu Picchu. Eager to try the "local brew," I also bought a couple bottles of Inca Kola. Surprisingly, it is not the color of cola here, in Europe, or elsewhere where international brands Pepsi and Coca Cola are available, but is a bright yellow color that actually left me a bit apprehensive. While taking a lunch break at the national park, I enjoyed the avocado sandwich and Inca Kola and was approached by a hungry backpacker who had just completed the Inca Trail. He wanted to buy my last avocado and I could see he really wanted the fresh fruit. I parted with my last avocado reluctantly and didn't take any money for it. I had one more bottle of Inca Kola and I saved it in my backpack for "later."
Later never came because I thought this would be a fabulous souvenir to take back home, so I packed it in my carry-on when I returned to the United States. This was in the year 2000 and pre 9/11, so liquids in carry-on luggage were not prohibited. To this day, I display the bottle of Inca Kola in my dining room hutch. Although the bottle has contracted, it is still intact and not leaking. I love to reminisce when I look upon that bottle of the memorable trip I took to Peru, Machu Picchu, and Cuzco back in the year 2000.
Here is a photo of Inca Kola. Diet no less!
Thanks to: Barbara A., 8-time traveler from Durango, CO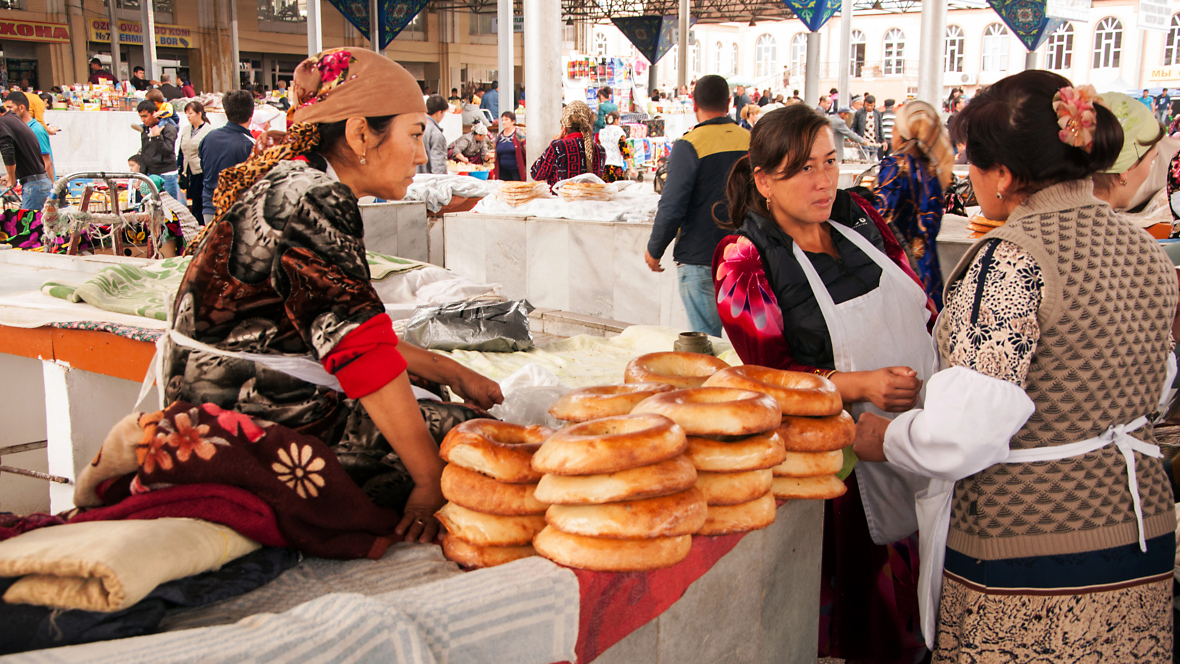 Return home from
The Stans of Central Asia: Turkmenistan & Uzbekistan
after making rewarding connections with locals.
An Intangible Souvenir
I think that I am a seasoned traveler. I go to a place because it is there. I often don't bring things home in my suitcase. I travel light with a carry-on suitcase. I am at a stage in my life where I am getting rid of things. When I do bring small things home, they are gifts for other people I know.
I do bring home things in my heart and mind. I bring home the realization that most people are decent and happy even in awful circumstances. I also realize that you can't tell people what to do or how to live. I accept people as they are and hope that they will accept me as I am. Humbleness is a real virtue when you travel and connecting with people is too.
On a trip to three of the Stan countries with O.A.T., I brought home a lot in mind and heart. I managed to travel to two of the other former Soviet Stans on my own before I went on my tour with O.A.T. If you open your heart and mind, travel is very rewarding. The unhappiness here is due to the lack of connectivity with other people. Facebook and the cell phones are not a good substitute for face-to-face contact with the people who are around us. Keep up the good work.
Thanks to: Mike G., 2-time traveler from Redwood City, CA • The Stans of Central Asia: Turkmenistan & Uzbekistan
Musical Memories
On my first Grand Circle trip and my first to Europe, a group of local musicians played for our group at a dinner in Belgrade. I purchased their "not really great" CD. My husband put the usable tracks on a travel playlist which was the start of attempting to acquire music on every trip I take.
Now my travel playlist includes music reminding me of Machu Picchu, County Wexford in Ireland, the isles of northern Scotland, Cambodia, and South Africa. Listening to this music takes me back to the setting in which I first heard the music.
Thanks to: Jeanette M., 10-time traveler from Cheboygan, MI
Reliving the Good Times
There are two items which we are always on the lookout for:
Our multi-holiday tree from November to March exhibits ornaments from every place we visit. Sometimes a fancy ornament such as a Delft Christmas globe from Amsterdam or Murano glass bulb from Venice; and sometimes just a fancy keychain such as a revolving Nepalese flag or a Terra Cotta Warrior; hand-crafted beaded ornaments from Guatemala or yarn llamas from Peru and olive-wood carved miniature manger scenes from Bethlehem are some favorites.
We always look for interesting artwork from local artisans which we can have framed by our framer here at home and hang on our disappearing walls: a trio of Vietnamese silk-thread paintings framed in bamboo on the stairway; a framed embroidered Silver-Leaf Fern from New Zealand; Egyptian papyrus paintings over the couch; Australian Aboriginal dreamscape paintings; watercolor bird scenes on rice paper from China, and many more.
Every time we look at an ornament or one of the wall items, we have a story to tell or a memory to re-live and share with our friends and visitors.
Thanks to: Joe F. & Robert D., 28-time travelers from Cortland, NY
Be on the lookout for these wooden treasures when you join O.A.T.'s
Ancient Kingdoms: Thailand, Laos, Cambodia & Vietnam
adventure.
Where's My Cow?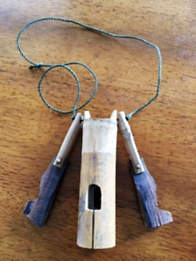 Your question of the month asked what item have we brought home that means something for us. The gadget in my photo is a souvenir from our fascinating tour Ancient Kingdoms: Thailand, Laos, Cambodia & Vietnam.
We visited a school and a village. While walking through the village, one older villager had a small table selling these wooden gadgets for just $1.00. We had no idea what they were for, so our translator asked. They would make clicking sounds when put on their cows, so the villagers would know where their cows were.
This cowbell has a special place on a cabinet shelf where our grandchildren can reach it. They love to wear this cowbell, shake themselves, and have it make its sound. Each time we see one of our grandchildren put the cowbell on, it brings back memories of our wonderful, informative, and touching tour to the Ancient Kingdoms.
Thanks to: Sue W., 2-time traveler from Seattle, WA • Ancient Kingdoms: Thailand, Laos, Cambodia & Vietnam
A World Traveler's Tree
I collect items from markets in each country we visit which I convert into Christmas tree ornaments. They are small, light, inexpensive, and usually unbreakable, yet each one evokes a memory of a place and experience. Every Christmas when I decorate my tree, I travel the world all over again.
I have a small folk doll from Bhutan, a cloisonné bell from China, tiny ceramic clogs from Holland, bongo drums painted with the Cuban flag (previously a key chain), and a tiny stuffed wombat from New Zealand amongst many others.
Thanks to: Shelley B., 16-time traveler and 11-time Vacation Ambassador from Orinda, CA
Magnetic Map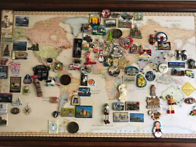 I bring a magnet from every country I visit, and sometimes more than one. They fit easily in my suitcase and are relatively inexpensive. Originally I had them on my refrigerator, but the refrigerator got a little overwhelmed. When I moved three years ago, I found a magnetic world map online. While it looks cluttered, the map hangs in my kitchen to provide wonderful memories of all the trips I've taken throughout the years while I have my cup of coffee each morning. Thanks to O.A.T. and Grand Circle for providing so many fantastic trips to add to my collection.
Thanks to: Maureen R., 17-time traveler and 3-time Vacation Ambassador from Saint Louis, MO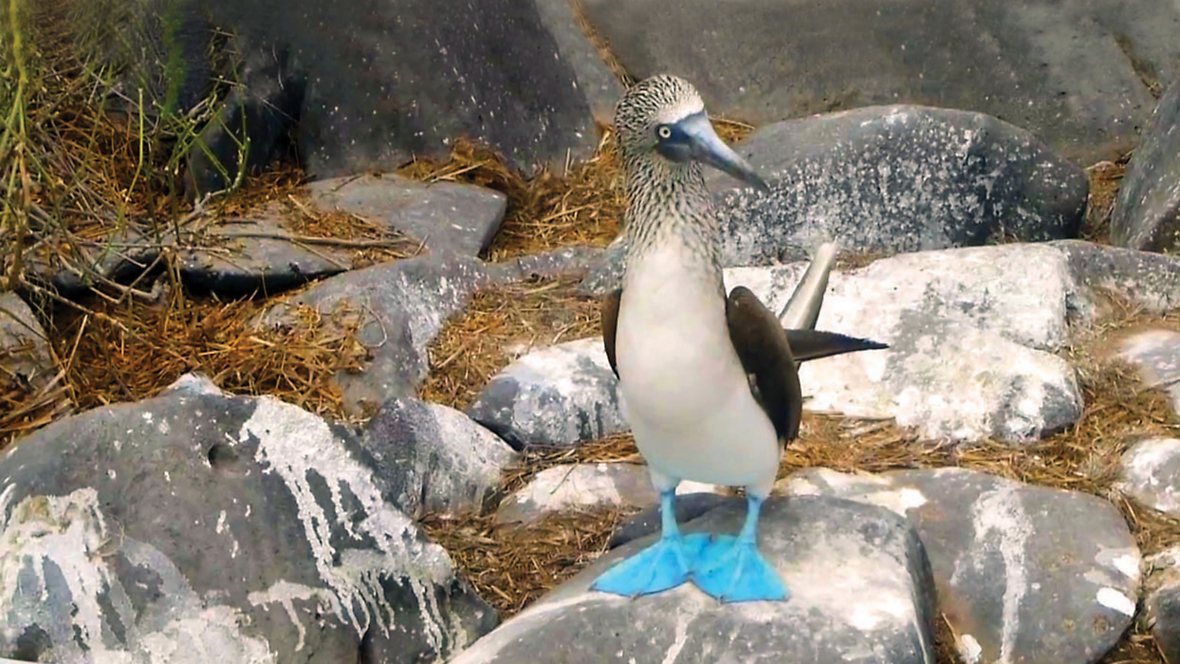 Meet inspiring locals like this young artist during O.A.T.'s
Ultimate Galápagos Exploration & Ecuador's Amazon Wilds
Small Ship Adventure.
An Inspiring Artist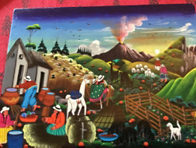 One of my favorite trips was to Ecuador and the Galápagos. While in Quito, this young woman with her daughter would come to our hotel and sell her artwork on the front steps. She painted her home village, and I think of her after hearing of the recent volcano eruption in her country.
She used dried sheep skin as a canvas, and when I asked her about the vibrant colors, she told me she uses car metal paint. That might not be safe, but she can buy leftovers, I am sure. She stole my heart and I so enjoy thinking back to her and the skills she uses to feed her family in the poor country of Ecuador.
Thanks to: Gun J., 11-time traveler from Diablo, CA • Ultimate Galápagos Exploration & Ecuador's Amazon Wilds
Paying Tribute to the Artist
Tauna, my wife, and I like to bring a piece of art back home from our trips. It could be something small or a framed watercolor. We'll take a picture of the artist to keep with the piece (our preference is to buy art from the artist, usually at a craft fair or from the artists that tend to gather to show their work around the sites we want to see). We have a series of three small watercolors (3 inches by 3 inches each) of the cityscapes of Florence from an artist just outside the Uffizi Gallery, as an example; or a small clay and fused glass piece, no more than 2 x 4 inches, in San Juan from an artist in one of the squares in town. It reminds us of the day, the trip, and the people we met.
On a sillier note, my wife also collects "smashed" pennies … you know, the machine where you put 50 cents in and a penny and the penny is smashed in a die that imprints an image on to it. She turns them into small wind chimes.
Thanks to: Jim C., first-time O.A.T. traveler from Columbia, MD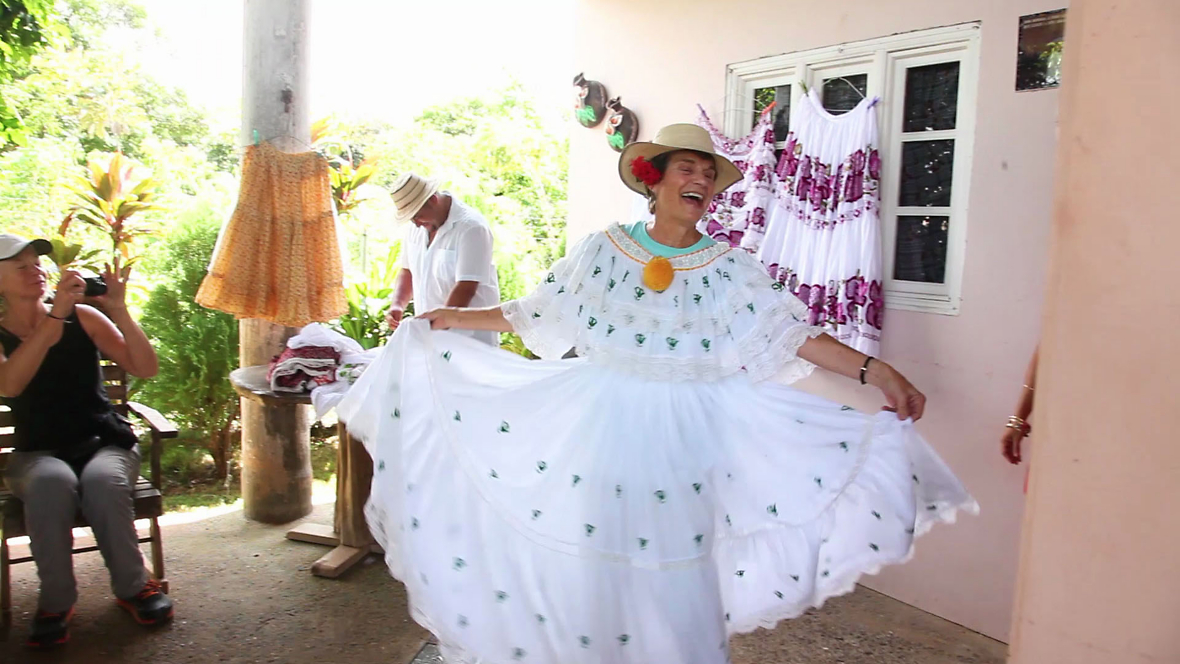 What will you bring home from Panama? Find out during our
Panama Canal Cruise & Panama: A Continent Divided, Oceans United
Small Ship Adventure.
A Zest for Travel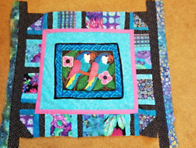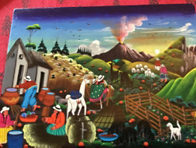 My prized souvenir is a small patch of embroidered and appliqued artwork that I brought back from the San Blas Islands near Panama. The San Blas native women make these colorful fabric art pieces and sell to tourists. They are called molas. To remind me of these beautiful and colorful San Blas artisans, and a wonderful trip to these islands, I incorporated the appliqued square in a quilt that I am working on. In celebration of Women's Day, too!
Thanks to: Judy A. from Hayward, CA who we hope to welcome on her first trip soon
You don't need to wait for a new Question of the Month to tell us a story. Email us any time at [email protected]. To read more stories from your fellow travelers, check out our archive of Traveler Insights from previous editions of The Inside Scoop.
See the answers to previous Questions of the Month here.