Dispatches
This quarterly magazine is filled with notes from the field that celebrate the adventurous spirit of our most experienced O.A.T. travelers. Hear from travelers themselves as they bring their trips to life through letters, stories, photos, and artwork. Other regular features include interviews with our top Trip Leaders, holidays and festivals around the world, book reviews, recipes, and much more.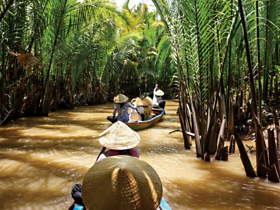 (Vol. 9, no. 3)
Discover how Dispatches Editor-in-Chief Laura Chavanne's solo journey to Vietnam changed her views on travel. Read 5-time traveler Hugh Beykirch's first-hand account of his transformative month exploring Dubai, India, and Bhutan. And delve into the centuries of crusades and conspiracies of the Knights of Malta.
View Issue
Past Issues
View Issue
(Vol. 9, no. 2)
Navigate the labyrinth of Japan's etiquette and customs with writer Catherine Groux. Board a VW bus for New Zealand's Milford Sound with writer Jenna Thomas. And learn how Grand Circle and O.A.T. became the facilitator of chance reunions around the world.
View Issue
(Vol. 9, no. 1)
Find out what happens when writer and Vietnam War veteran Geof Childs returns to area he was once stationed in decades earlier. Discover the history, artwork, and cathedrals of Sicily with 15-time traveler Diana White. And learn why Lonely Planet named Montenegro's Bay of Kotor the #1 travel destination in 2016.
Call us to reserve your next adventure
1-800-955-1925