The 230-foot M/V Skorpios III is a 90-passenger expedition ship uniquely designed for cruising the ice-encrusted waters of the Chilean fjords. Onboard, our group can relax in two bar lounges and enjoy the views from the panoramic dining room. We'll enjoy regional cuisine and wines, plus complimentary drinks. Each cabin features twin beds, private bath, safe, and TV.
This ship is featured on this popular adventure:
Shipboard Features
Dining areas. Our group will enjoy open seating at our reserved dining tables. Regional cuisine and complimentary wine and beer will be served with each meal.
Indoor common areas. In addition to the panoramic dining room, you may also spend time in the ship's two comfortable bar lounges.
Outdoor common areas. Relax on the ship's open-air sun deck where you can take in stunning views of the fjords.
Icebreaker boats. From our expedition ship, we'll board smaller, specialized icebreaker boats to go ashore, getting close enough to touch some of the towering glaciers that line the icy fjords.
Cabin Features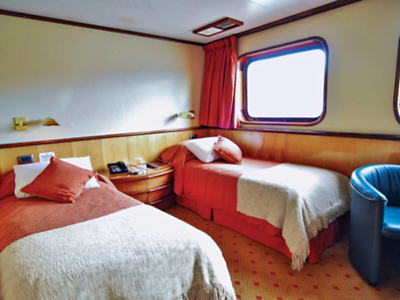 45 cabins with an average size of 161 sq. ft.
Two twin beds (or one double-sized)
Most cabins have windows
Private bath with shower
Plasma TV, background music, AC, mini-bar, and in-room safe
Ship and Crew Information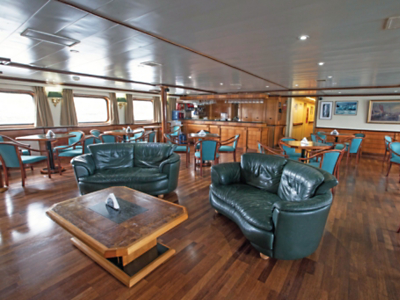 Registry: Chile
Length: 230 feet
Beam: 33 feet
Draft: 11 feet
Built: 1995
Renovated: 2012
Cabin Size: 161 sq ft.
Number of Cabins: 45
Passenger Capacity: 90
Crew/Nationality: Chilean
Group Size: 20-25 travelers (average of 22) with 1 Trip Experience Leader